BU Wheelock Special Education Program Partners with UC Santa Barbara to Prepare Doctoral Students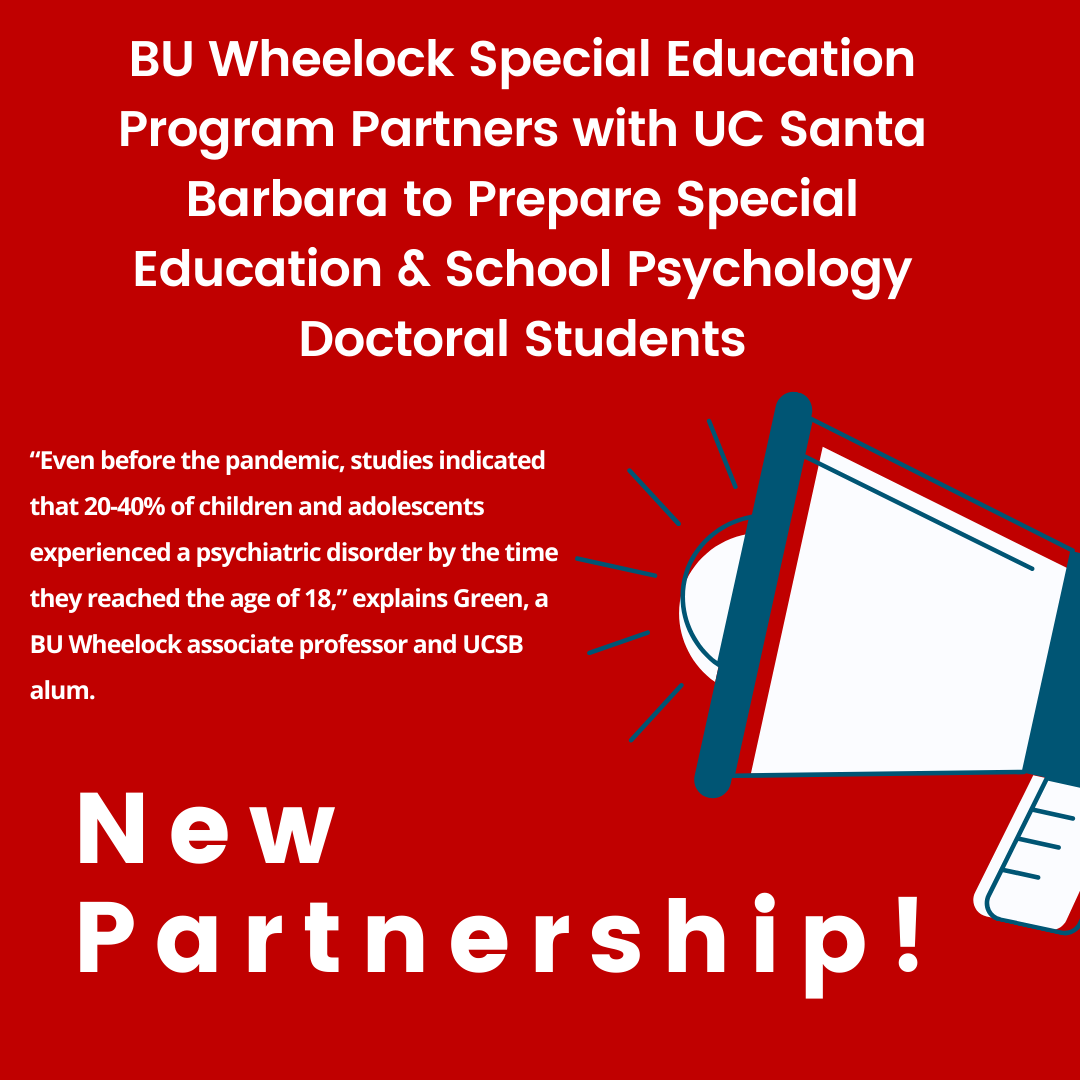 BU Wheelock's Special Education faculty, in collaboration with the University of California Santa Barbara (UCSB), have been awarded a grant from the U.S. Department of Education to establish a new cohort of doctoral students focused on advancing equity in the study of students' mental health. The project, led by Dr. Jennifer Greif Green at Boston University and Shane Jimerson at the University of California Santa Barbara, will prepare special education and school psychology students to meet the complex mental health needs of diverse students.
Project TEAMS (Collaboration to Train Special Education and School Psychology Scholars to Advance Equity in the Study of Mental Health among Students: A Special Education Leadership Preparation Program) was developed by a BU Wheelock team that included Drs. Liz Bettini, Nate Jones, and Zach Rossetti, along with Drs. Hardin Coleman, Scott Solberg, Kim Howard, Stephanie Curenton, BU Wheelock Dean David Chard, and UCSB faculty. It will fully fund doctoral students at BU Wheelock and UCSB for the duration of their studies and support their travel between the two universities to collaborate with faculty, students, and area schools.
"Even before the pandemic, studies indicated that 20-40% of children and adolescents experienced a psychiatric disorder by the time they reached the age of 18," explains Green, a BU Wheelock associate professor and UCSB alum. "Current studies show rates this year are even higher than before. This grant will help prepare doctoral students in special education and school psychology to conduct research on preventing the development of mental health problems and supporting students with mental health needs."
Project TEAMS will give doctoral students a deep knowledge of assessment and intervention related to youth social, emotional, and mental health needs for all students, with a focus on serving culturally, linguistically, and racially diverse students. Doctoral students will be prepared to produce new research related to students with emotional/behavioral disorders, and a will acquire a comprehensive understanding on how to prepare diverse special education teachers, and school psychologists to collaborate on interdisciplinary teams.
"This program aims to focus research on increasing students' access to culturally and linguistically sustaining mental health supports and services," says Green.
"These collaborative efforts across BU and UCSB will prepare the next generation of faculty who will advance equity in mental health services" says UCSB Professor Shane Jimerson. "These future faculty will contribute leadership, scholarship, and to the preparation of the next generation of professionals who support and promote the healthy development of diverse children."
"Between BU Wheelock and UCSB, we have an unmatched group of special education and school psychology faculty and researchers who are all eager to begin this groundbreaking partnership," says Dean Chard. "This project truly leverages the strengths of each university and surrounding areas to provide the best learning opportunities."
For more information about applying to the special education program at BU Wheelock, visit Admissions | Wheelock College of Education & Human Development (bu.edu) or contact Dr. Jennifer Green.
For more information about applying to the special education and school psychology programs at UCSB, visit Department of Counseling, Clinical, & School Psychology (CCSP) | The Gevirtz School (GGSE) – UC Santa Barbara (ucsb.edu) and PhD Program | The Gevirtz School (GGSE) – UC Santa Barbara (ucsb.edu) or contact Dr. Shane Jimerson.