BU Wheelock Launches Doctor of Philosophy in Educational Studies (PhD) Program
Next fall, BU Wheelock will welcome a new cohort of doctoral students to 2 Silber Way to begin earning their Doctor of Philosophy in Educational Studies. The PhD program is designed for students who wish to contribute to the field's understanding of teaching and learning through research; the program will prepare them to be research-active faculty in R1 institutions with a focus on research in one of four areas of specialization: Educational Policy Studies, Language and Literacy Education, Math and Science Education, and Special Education.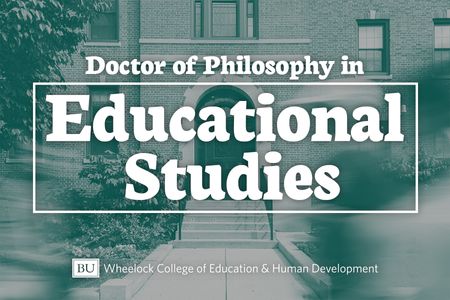 "We are excited about being able to recruit and prepare high-quality Ph.D. students in the new BU Wheelock College," Dean ad interim David Chard explains. "The challenges and opportunities in education and human development demand rigorous research conducted by individuals who have strong methodological training.  Students admitted to this program will find themselves studying practices and policies that impact the lives of children, youth and families across Boston and will, in turn, be prepared to help contribute to the advancement of our field through their research."
Students admitted to the program will be fully funded for five years and will work closely with BU Wheelock faculty as assistants in research and teaching, as they work to augment their knowledge and skills through their coursework, residency, and research. Each student will propose, complete, and defend three qualifying tasks, a dissertation proposal, and a dissertation in their specialization area.
Professor Catherine O'Connor, Associate Dean for Doctoral Studies, greeted the approval of the new degree program enthusiastically, saying "we anticipate that this PhD degree pathway will provide our students with greater access to academic careers in R1 universities, through content and activities that will prepare them well for positions that require teaching, research, and service to the field."
Following completion of the program, students will expand the theoretical and empirical knowledge base in their field to inform researchers, practitioners, and policymakers as well as contribute to their field as highly effective advisors in a variety of educational and civic contexts.
More information on the program can be found here with application information here.