BU Wheelock Alumni Conrad Baer's Bilingual Literacy Applications Bridge COVID-19 Educational Gap
For Conrad Baer ('19), reflection on his time completing his Ed.M. in Deaf Studies at BU Wheelock provides two major takeaways: the importance of leveraging technology and the need to scaffold ideas when teaching.
Baer, who is Project Manager of Gallaudet University's Motion Light Lab – one of four Visual Language and Visual Learning Labs (VL2) funded as National Science Research Centers at Gallaudet to understand how deaf children learn to read – has been thinking a lot about his time at BU Wheelock lately. The Motion Light Lab, which focuses on applying neuroscience research, specializes in digital technology and creative literature and has recently developed and launched several mobile storybook applications.
The lab has used the COVID-19 stay-at-home advisories as an impetus to push these applications forward. It is something Baer is not sure they would have otherwise had the bandwidth and motivation to do.
Technology and all its possibilities along with creating a navigable scaffold for learning have been the driving forces behind Baer and his team's work. Stay-at-home advisories across the country have meant that most deaf children and children of deaf adults (CODAs) are home, missing interactions with other deaf or hard of hearing students, and stuck in a gap between traditional learning and the resources available to them online. That's where the VL2 storybook applications come in. Available on phones and tablets, the application presents stories both visually in American Sign Language (ASL) and in written English before culminating in a series of live and engaging content related lessons.
For Baer, it's this bilingual approach that really sets their work apart. "The bilingual approach to education is really important," He explains. "Children are able to own their learning – decide which way they want to learn." They are able to build literacy skills both in ASL and English, all while self-determining how they want to go about it.
As they move through the written story, students are able to select a word and to see it signed in ASL, fingerspelled, or written in English. This is crucial for deaf students and CODAs whose native language is often ASL. "ASL and English are different languages," Baer reminds and so the bilingual approach is crucial in helping learners connect the knowledge they already have with what they are looking to obtain. Users also have access to a glossary with the same three features as well as live and recorded lessons based on the stories throughout the week.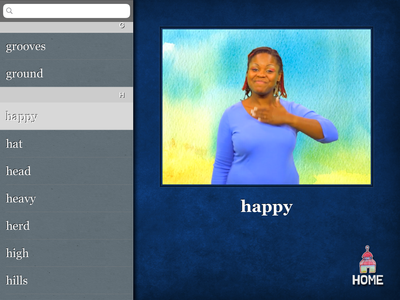 The storybook applications and corresponding lessons are generally geared to students who are learning to read and they see most of their users fall between the ages of 4 to 9, but Baer believes the application is also useful for a wide-ranging audience, from those who are learning ASL to those who are looking to improve their instruction of deaf students and CODAs.
There are currently 9 storybook applications with more on the way. Offered for free, they currently have upwards of 1,000 users. Baer knows that it is the bilingual and interactive approach that sets them apart. Between the visual interpreter, written English, and the option for both across the board, "everyone has the same access," throughout the storybook as well as the lessons.
Baer, a third-generation deaf individual, completed his undergraduate work at Gallaudet before coming to BU Wheelock for his graduate degree. "Growing up in a deaf family," He explains, "I always had access to both ASL and English." For Baer, it's simply about ensuring that others do as well.
You can access the Motion Light Lab's ASL Literacy Activities here.