2018-19 Annual Report
Contents
Dean's Welcome
Dear Friends and Supporters of BU Wheelock College of Education & Human Development,
What a difference a year makes! This Annual Report is an update on the 2018-19 Academic Year, a year of transitions where we spent a great deal of time getting to know one another and organizing ourselves for change. We created four new departments, provided opportunities for faculty and staff to gather to learn about each other, and developed a leadership team to guide the college forward. Despite the tremendous change we all experienced, big decisions still lie ahead. Rarely do venerable institutions have the opportunity to recreate themselves and look to the future with clarity of purpose. The BU Wheelock faculty and staff used last year to lay the foundation for creating a new identity, which is the focus of our work this semester.
As we prepared for the future, we were also busy with the things we do best: teaching, research, and service to our community. Here are some of the highlights you will learn about as you read on.
Many alumni and supporters have demonstrated their commitment to BU Wheelock by giving generously to support student scholarships and faculty research and teaching;
We have hired several new faculty members and our world-class faculty continue to receive funding to conduct research that is changing lives;
We strive to make BU Wheelock an inclusive, diverse, and equitable college and to continue to educate ourselves on model practices to achieve this goal;
Our academic programs and student supports have been reorganized to better serve our growing undergraduate and graduate student bodies;
We have proposed a college-wide PhD program and new professional EdD programs that will better meet the needs of individuals pursuing advanced study;
We are creating strategic partnerships across the city of Boston to improve our professional preparation and enhance the impact of our research on Boston's communities;
We have hosted numerous events across the year designed to engage Boston's human service professionals and BU Wheelock alumni in order to create a professional learning community here in our city.
In the coming months, as we begin to create an identity for the new BU Wheelock College of Education & Human Development, we look forward to communicating with you about our progress.
In the meantime, I hope that this Annual Report illustrates to you that our faculty, staff, and students continue to grow, learn, and do good work here on campus and throughout our community.
Sincerely,
David J. Chard, PhD
Dean ad interim and Professor of Special Education
Boston University Wheelock College of Education & Human Development
Faculty Affairs
Amie Grills, PhD, Associate Dean for Faculty Affairs & Research
New Faculty
Emily Glenn-Smith, Lecturer, Deaf Studies
Ms. Emily Glenn-Smith earned a master's degree in sign language education from Gallaudet University and is nationally certified by the American Sign Language Teacher's Association with nearly two decades of experience as an ASL educator. She was the State University of New York at Buffalo's ASL Program Director for 15 years and has taught courses at Harvard and BU. In addition to teaching, Ms. Glenn-Smith has developed various curricula to suit the needs of specialized programs. Her ambition is that students will learn to appreciate and respect ASL as an organic, distinctive and wholly naturally occurring language, and recognize Deaf people as a community with their own set of cultural traditions and values.
Davena Jackson, Clinical Assistant Professor, English Education
Dr. Davena Jackson joins BU Wheelock from Michigan State University, where she completed her PhD in Curriculum, Instruction, and Teacher Education. Her dissertation is titled, "Black Symmetry: Carving Out a Black Space in an Eleventh Grade English Class." Dr. Jackson's research interests include urban education, English and language education, teacher education, and literacy. Previously, Dr. Jackson spent twenty-four years teaching Language Arts, including fourteen years as an English department chair.
Joshua Mora, Instructor, Deaf Studies
Born into a hearing family in California, American Sign Language is Joshua's native language. After high school he attended Rochester Institute of Technology, earning a Bachelor of Science degree in Psychology. Prior to coming to BU, Joshua worked on several research projects at the University of Rochester. His research interests are primarily focused on Language Deprivation in a Global Context – in short, Global Deaf Health. He has worked with Deaf communities in the Dominican Republic and Costa Rica. He dreams of a world where access to sign language is the norm for all Deaf children. Joshua's passion is to inspire others to embrace American Sign Language and appreciate the beauty of Deaf Culture.
Maria Olivares, Research Assistant Professor, The Earl Center for Learning & Innovation and Language & Literacy Department
Dr. Maria Olivares' work explicitly acknowledges and challenges the role of race and racism as obstacles for achieving equity in STEM through research, practice, professional development, mentoring, and outreach activities for youth of color. She works with youth, teachers, and researchers to design learning environments that support expansive understandings of students and STEM. Her research includes examining forms of attunement toward intercultural ways of knowing and being. Her work sits at the intersection of critical relationality, social justice, equity, intellectual authority distribution, making cultures and practices, and the role of computation and new learning technologies in STEM identity development.
Kaylene Stevens, Lecturer, Social Studies Education
Dr. Kaylene Stevens returns to BU Wheelock after completing her EdD in Curriculum & Teaching at BU Wheelock three years ago. Her dissertation is titled "Gender Equity in the Social Studies Classroom: An Analysis of Teachers' Understandings, Curriculum, and Classroom Practices." Dr. Stevens' research interests and publications focus on the role of race, gender, and teachers' experiences and beliefs in shaping equitable practices within Social Studies classrooms. Dr. Stevens spent fourteen years as a high school History teacher and four years as chair of her History department.
Ariel Tichnor-Wagner, Lecturer, Educational Leadership & Policy Studies
Prior to joining BU Wheelock, Dr. Ariel Tichnor-Wagner was a Senior Fellow at the Association for Supervision and Curriculum Development, where she developed and implemented evidence-based frameworks, tools, and professional learning experiences for teachers, school leaders, and district administrators. Her research focuses on education policy and politics, with an emphasis on policy and program implementation, continuous improvement research, school improvement, and global education. Having begun her career as an elementary school teacher of immigrant students in a low-income urban school district, Dr. Tichnor-Wagner is deeply committed to identifying and supporting implementation of effective policies and practices that improve the academic and social-emotional outcomes of culturally and linguistically diverse students.
Eli Tucker-Raymond, Research Associate Professor, The Earl Center for Learning & Innovation and Language & Literacy Department
Dr. Tucker-Raymond's research explores intersections of literacy, STEM, and equity and the ways in which those intersections can be designed for expansive, meaningful learning spaces. He is interested in the ways in which our relationships to one another, symbols, ideas, and institutions can be transformed for racial equity. Eli is co-founder and director, with Dr. Maria Olivares, of the Center for Re-Making STEM. He was a post-doc and research scientist at TERC for 11 years. Previous to that he was a middle school teacher in Chicago Public Schools. Most recently, he is author with Brian E. Gravel of the book STEM Literacies in Makerspaces: Implications for Learning, Teaching, and Research.
Promoted Faculty
Leslie Dietiker, Associate Professor, Mathematics Education
Dr. Leslie Dietiker was promoted to Associate Professor with tenure. Dr. Dietiker received her BA in Mathematics from California Polytechnic State University, San Luis Obispo and spent many years as a high school teacher before pursuing her PhD in Mathematics Education at Michigan State University. She completed her PhD in 2012 and joined BU Wheelock as a tenure-track assistant professor at that time.
Dr. Dietiker's research has focused on developing a conceptual framework and methodology for examining mathematics curriculum (Mathematics Story Framework) and examining secondary school teachers' interactions with mathematics curriculum. She has published 16 peer-reviewed journal articles, 3 book chapters, 15 refereed conference proceedings, 7 mathematics textbooks for middle and high schools, and has over 60 conference presentations.
Dr. Dietiker has received several grants in the past several years, and is presently serving as PI on an NSF-Career award and Co-PI on an NSF Robert Noyce Teaching Scholarship Program award. She is a STaR (service, teaching, and research) Fellow of the Association of Mathematics Teacher Education, and serves on the editorial board of the American Educational Research Journal as well as on the advisory board of CPM Educational Program. She teaches courses in Mathematics Education and receives outstanding evaluations from the students in those courses, as well as those who receive advising/mentoring from her. Finally, she has recently been elected chair of BU Wheelock's faculty assembly.
Amie E. Grills, Professor, Counseling Psychology  & Applied Human Development
Dr. Amie Grills was promoted to Full Professor with tenure. Dr. Grills earned her AB in Psychology from Smith College and her PhD in Clinical Psychology from Virginia Tech. She is a licensed Clinical Psychologist who has expertise in the delivery of evidence-based assessments and interventions. Dr. Grills joined the BU Wheelock faculty in 2013 and played an essential role in the development and APA Accreditation of BU Wheelock's PhD program in Counseling Psychology & Applied Human Development. In 2017, she was recognized for her outstanding teaching and advising with the awarding of BU's Scholar/Teacher of the Year.
Dr. Grills' research focuses on anxiety and trauma, with a particular emphasis on developing and evaluating cognitive-behavioral assessments and interventions for youth experiencing these difficulties. She has received over $4 million in funding for her research, published more than 60 peer reviewed manuscripts, and authored two books. She is currently the PI on a 5-year NICHD grant focused on reducing anxiety and improving reading among students with reading difficulties. She is an Associate Editor for two top-tier journals, serves on the editorial board for two additional journals, and provides extensive service to national and international professional organizations in her field.
Dr. Grills has been recognized by numerous national organizations for her research and contributions to the field with the two most recent examples being her selection as a Fellow of the American Psychological Association and her appointment to the Board of Directors for the Association for Behavioral and Cognitive Therapies.
Development & Alumni Relations
Maureen Mollahan, Assistant Dean for Development & Alumni Relations
BU Wheelock Development 2018-19 Accomplishments
For BU Wheelock's first year, we set an ambitious fundraising goal of $1 million. Then we hit the road. Dean Chard and the Development & Alumni Relations team, led by Maureen Mollahan, traveled across the country hosting coffees and dinners, meeting with more than 400 alumni. We are thrilled to announce that through the generosity of more than 1,700 alumni of the historic Wheelock College and BU School of Education, as well as parents, friends, foundations, and corporations, the college received $5,557,181. Alumni support is a testament to their commitment to providing access to students and support for faculty and programs. Here are a few noteworthy gifts:
The Amy Rugel Scholarship Fund: A $250,000 scholarship fund established by a committed Boston Public School educator and alumna of both colleges; scholarships will support BU Wheelock graduate students.
Dr. Ann S. Ferren Research Fund in Education: This $40,000 gift, established by historic SED alumna Dr. Ann S. Ferren, will support a student pursuing a doctoral degree in education as they near the completion of their dissertation with the goal of producing a joint scholarly article or a conference presentation under the guidance of a faculty mentor.
The Roberts Family Endowed Scholarship Fund: A $1.3 million scholarship established by Mark Roberts (retired member of BU Questrom's faculty and alumnus of both schools) and his wife Jane Roberts, a retired teacher and historic Wheelock College alumna. Graduates of Boston Public Schools majoring in education will receive preference.
The Nancy H. Roberts Professorship of Educational Innovation: A $2.5 million gift from historic SED alum Nancy Roberts and her husband Edward, establishes a named professorship with a focus on research and development of innovative educational approaches.
Fiscal Year 2018-19 Gifts by Source: 1,712
Fiscal Year 2018-19 Revenue by Source: $5,557,181
Doctoral Studies
Cathy O'Connor, PhD, Associate Dean for Doctoral Studies
Changes to Our Doctoral Programs
As an AAU and R1 College of Education, with rising research activity, we are increasingly focused on two goals in our doctoral education:
(a) to prepare junior scholars to become research-active faculty in R1 colleges of education and human development; and
(b) to prepare leaders for the broader field of education and human development practice and policy.
These two goals are not necessarily served by the same types of doctoral programs, particularly in the current higher education landscape. Historically, many colleges of education granted only the EdD. Recipients of the degree varied widely in their career aspirations. Some EdDs took on research-active professorial roles usually associated with the PhD. Others took on administrative, policy, or practice-based leadership roles in a variety of institutional settings (e.g., institutions of higher education, school systems, NGOs, federal and state offices, and foundations).
Over the past 30 years, this picture has gotten more complex and a bifurcation has emerged: three-year EdD programs (some on-line) for administrators (e.g., school principals and superintendents) have become more common, and at the same time, more and more R1 schools of education have begun to grant PhDs. As a result of this shift, the Carnegie Commission on Higher Education has overseen a national project to reconceptualize the EdD into a larger category of "doctorates of the practice," a category which includes JDs, MDs, and Doctors of Divinity, among others. Their most recent categorization of universities as R1, R2 or R3 includes an expanded conceptualization of "professional practice" doctorates. In turn, these changes have led to real consequences for the career success of doctoral students. Increasingly, students with EdD degrees are at a disadvantage when applying for tenure-track positions in R1 universities.
Accordingly, to serve our larger strategic goals, we are currently pursuing, with the Provost's support, an expansion of our PhD track. And to increase our impact and more sharply focus our preparation of leaders in education, we propose structural changes to our EdD track, following some of the principles of the Carnegie Project on the Education Doctorate.
Our record and reputation in doctoral education is critical to our success in further recruiting and retaining outstanding research faculty—faculty who can advance knowledge in our field and foster educational and social change. The proposed changes will also serve our larger goals by enhancing employment outcomes for our doctoral students.
The proposed PhD program in Educational Studies will attract a small cohort of students seeking a career in academic and/or research settings. It will provide them with opportunities to participate in research, grant development, and scholarly writing opportunities that will make them marketable for peer-aspirant AAU universities.
The more focused EdD programs will attract students looking to advance their careers in education more broadly, beyond the academy. These "professional practice" doctorates will meet the needs of students who plan to serve the field through leadership in schools and districts, in non-profits, and in state and federal agencies.
We look forward to implementing a doctoral program structure that supports our emerging identity as a college of education and human development committed to the advancement of research, practice, and policy.
Equity, Diversity & Inclusion
Raul Fernandez, EdD, Associate Dean for Equity, Diversity & Inclusion
Boston University owns a unique legacy of equity, diversity, and inclusion. Founded in 1839, it is one of the few institutions of its era that opened its doors from its very inception to people of all races and genders. That's why so many suffragists and human rights leaders received their degrees at BU, from nation's first female PhD, Helen Magill White, through the Rev. Dr. Martin Luther King, Jr., and to some of today's most exciting, progressive local and national leaders.
BU School of Education supported this legacy by preparing educators and administrators who have endeavored to make schools and colleges more inclusive for all. For a century, SED put ideal into action, building partnerships that connected the University to the children and families of Greater Boston, pipeline programs that gave more aspiring education professionals access to a BU education, and academic programs which ensured future educators entered their profession understanding how essential their work could be to creating a more just society.
Less than a mile away, Wheelock College built its own remarkable legacy of inclusion. Founded by the pioneering early childhood educator Lucy Wheelock, the College made foundational contributions to public education locally and nationally by helping ensure that all children had access to an education facilitated by professionals specifically trained to succeed in their roles as classroom leaders. As it developed as an institution, Wheelock expanded its academic scope to include the preparation of counselors, social workers, child life specialists, and other roles that reflect the comprehensive support children and families need to thrive.
The merger of these great institutions into the BU Wheelock College of Education & Human Development signifies a new approach to honoring those legacies.
Recently, Boston University has taken significant steps to enhance its commitment to equity, diversity, and inclusion, hiring its first chief diversity officer and building a robust infrastructure at the school and college level. BU Wheelock appointed its own chief diversity officer, Dr. Raul Fernandez, in January 2019.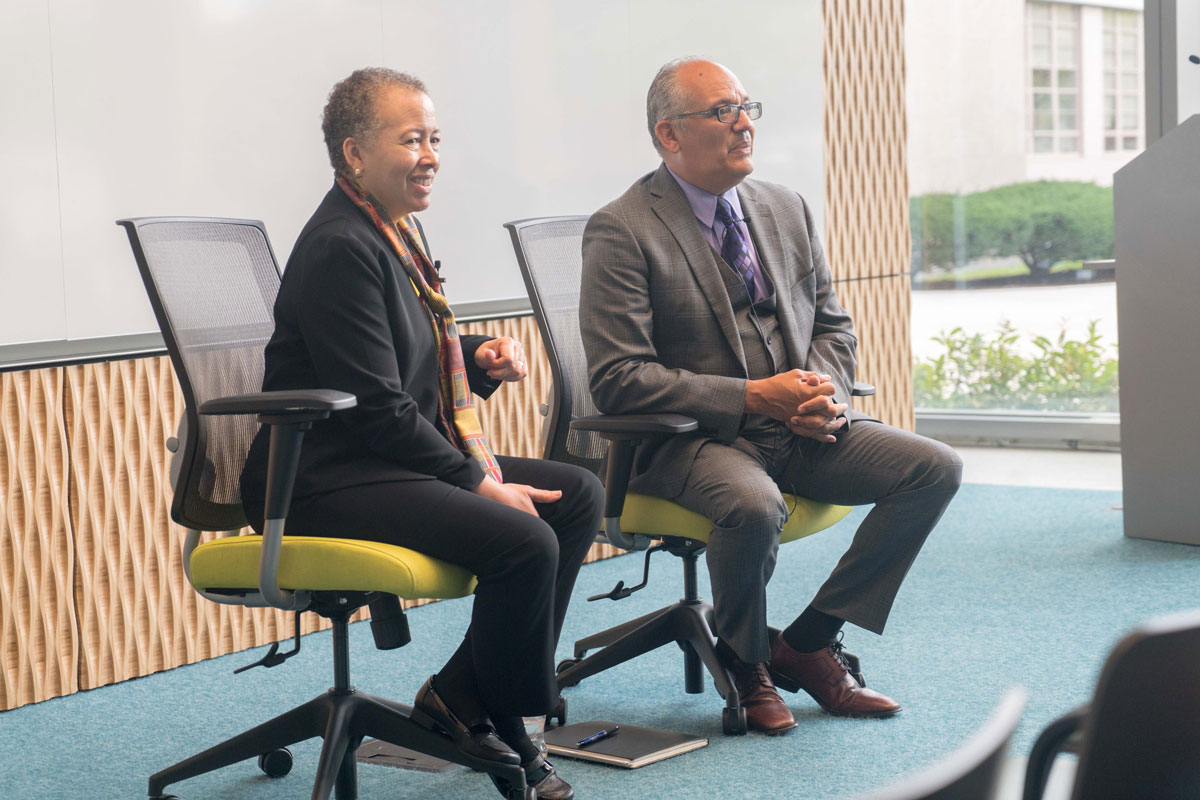 As BU Wheelock's inaugural Associate Dean for Diversity & Inclusion, Dr. Fernandez is focused on efforts to diversify our faculty, increase our cultural competence, and enact policy changes that make our College more equitable and inclusive. His work is complemented by our Equity, Diversity & Inclusion Committee (EDIC), which comprises faculty, staff, and students, and is led by Clinical Instructor Willie Rodriguez.
Dr. Fernandez and the EDIC are working alongside our dean to set high standards for our newly-formed community, to provide opportunities for training and development, and to put accountability measures in place. Working from a contribution mindset, we believe everyone has a role to play in our success, including members of the broader academic and political communities that shape the context of our work. Whether that input comes from campus talks with nationally-renowned thought leaders, like Dr. Beverly Daniel Tatum, who joined us in October, or direct engagement with the practitioners and families we hope to serve, we must remain open to every opportunity to improve, every day.
We're excited to build on the great legacy of those who came before us, and to build a new future where we rise together.
Student Affairs
Ellen Faszewski, PhD, Associate Dean for Student Affairs,
Katharine Nelson, Assistant Dean for Enrollment & Student Affairs
At BU Wheelock, we hope that our students' experience will be marked by growth, challenge, self-discovery, and change. The Student Services team helps students from all academic programs to meet challenges and achieve goals while making their time in our community fulfilling and rewarding.
After the merger, the Student Services office was expanded to address the needs of the students who transitioned from the historic Wheelock College and to improve the level of services and support to all students at the new BU Wheelock. The office now serves both undergraduate and graduate students.
2018-19 Highlights
Two newly-created Academic Success Specialist Positions: Serving undergraduate and graduate student populations, the Specialists provide individualized guidance, workshops on academic and professional skills, and connections to key resources across the University. The Specialists worked closely with students who came from the former Wheelock College and their advisors to make the transition as smooth as possible.
Launch of the ATLAS program, an online alert and referral system: ATLAS provides faculty members an opportunity to assess the performance of students in their class, provide feedback, and to engage Student Services in connecting students to appropriate resources. In academic year 2018-19 we received 165 ATLAS referrals representing 126 undergraduates and 39 graduate students
Creation of the Student Success Program: Designed to assist students on academic probation as they seek to return to good academic standing, this new program offers students support with creating academic plans, monitoring academic performance, and accessing appropriate campus resources
Graduation of the first 10 students from the fully-online Master of Education in Higher Education Administration: BU Wheelock's other fully-online Master's program (Curriculum & Teaching) has already graduated students. Both programs continue to increase their enrollments.
The chart below shows that both the undergraduate and graduate student populations significantly increased in Fall 2018 compared to Fall 2017 as a result of the Wheelock College merger.
Research
Beth Warren, PhD, Associate Dean for Research
The Office of Research provided outstanding support to faculty and doctoral students who applied for federal and private foundation funding. As a college, we continued to build on our recent success in securing funding for our research, presenting work at conferences, publishing in academic, practitioner, and policy journals, and cultivating new and existing partnerships with schools, districts, and communities.
Research Funding Summary & Comparison
New Awards
Elizabeth Bettini, Assistant Professor
JCPS Disproportionality and School Assessment Project
$23,575, funded by Jefferson County Public Schools via subcontract with the University of Louisville
Evaluation of Trauma and Learning Policy Initiative's (TLPI's) Inquiry Based Process
$17,915, funded by Boston Public Schools
Hardin Coleman, Professor
Kern Family Foundation Network for Character & Educational Leadership
$472,540, funded by the Kern Family Foundation
Stephanie Curenton, Associate Professor
Refinement of the Assessing Classroom Sociocultural Equity Scale (ACSES) for Early Childhood Classrooms (P-3rd grade)
$30,000, funded by the Foundation for Child Development
Refinement of the Assessing Classroom Sociocultural Equity Scale for Individual Children (ACSES-Snapshot) for Montessori Classrooms
$26,044, funded by the Brady Education Foundation
Nermeen Dashoush, Clinical Assistant Professor
MathScapes: Activating Public Spaces for Early Math Learning
Co-PI: Catherine O'Connor (Professor, BU Wheelock)
$119,463, funded by the National Science Foundation via subcontract with The Young People's Project, Inc.
Ziv Feldman, Clinical Associate Professor
The Enacting Curriculum Through Engaging Discourse Math Project
Co-PIs: Aaron Brakoniecki (Lecturer, BU Wheelock), Suzanne Chapin (Professor, BU Wheelock), Steven Rosenberg (Professor, BU College of Arts & Sciences), and Alejandra Salinas (Clinical Associate Professor, BU Wheelock)
$1,200,000, funded by the National Science Foundation
Lynsey Gibbons, Assistant Professor
Understanding How Elementary Teachers Take up Discussion Practices to Promote Disciplinary Learning and Equity
Co-PIs: Andrea Bien (Clinical Associate Professor, BU Wheelock), Eve Manz (Assistant Professor, BU Wheelock), Catherine O'Connor (Professor, BU Wheelock), Beth Warren (Associate Professor, BU Wheelock)
$2,500,000, funded by the James S. McDonnell Foundation
Jennifer Green, Associate Professor
Identifying Individual and Contextual Factors that Contribute to Disparities in Mental Health Services Access
$80,000, funded by the Deborah Munroe Noonan Memorial Fund
Improving Preservice Teacher Preparation to Address Student Mental Health
$50,000, funded by the Spencer Foundation
Michelle Porche, Clinical Associate Professor
Evaluation of School-Based Trauma-Informed Sports Intervention in Central Massachusetts
$20,000, funded by the Sudbury Foundation via subcontract with Doc Wayne Youth Services, Inc.
KIDS FACE FEARS (KIDS Face-to-face And Computer-Enhanced Formats Effectiveness study for Anxiety and Related Symptoms)
$223,643, funded by the Patient-Centered Outcomes Research Institute via subcontract with Boston Medical Center Corporation
Marcus Winters, Associate Professor
The Effect of Requiring Structured English Immersion Training for General Education Teachers
Co-PIs: Nathan Jones (Associate Professor, BU Wheelock) and Yasuko Kanno (Associate Professor, BU Wheelock)
$157,510, funded by the William T. Grant Foundation
Research Community
This past year, we expanded our support for doctoral student travel, training, and research. With leadership from the Research Committee, we awarded $24,435 for graduate student travel to conferences and supported doctoral student attendance at the University of Pittsburgh's Multi-level Modeling Workshop. In a competitive internal process, we awarded a Graduate Research & Scholarship Award (GRASA) of $2,500 to Lisa Nguyen Batista, a doctoral candidate in Mathematics Education (Department of Teaching & Learning). The GRASA recognizes the importance and quality of the recipient's research and potential for publication. In another competitive internal process, we awarded $2,000 to doctoral candidate Patrick Rosenburg (Department of Language & Literacy) from the Dr. Ann S. Ferren Research Fund in Education, to support the writing and submission of a journal article on a new comprehension assessment for Deaf children who learn through American Sign Language. Upon completion of the article, Patrick Rosenburg will present the completed article at BU Wheelock as part of The Annual Ann S. Ferren Doctoral Seminar.
This year we also provided funding for college-wide talks initiated by faculty, with the goal of deepening intellectual community at the College. In addition to our college's established seminar series, we hosted two major talks and one panel, all focusing on issues of equity, diversity, and inclusion. We hosted Dr. Bianca Williams (The Graduate Center, CUNY) who spoke about her newly published book, Pursuing Happiness as a Political Project: Black Women, Travel, and the Promise of Diaspora, and Dr. Arshad Ali (Graduate School of Education and Human Development, George Washington University) who spoke on "Ethical Dilemmas of Doing Research in High Surveillance Environments." We also hosted a panel of BU Wheelock faculty and local educators to launch a critical conversation on "Complexities and Possibilities in Supporting Teacher Learning: Learning, Teaching, and Educational Justice."
Strategic Initiatives
Mary Churchill, PhD, Associate Dean for Strategic Initiatives & Community Engagement
Mariana Stoyancheva, Assistant Dean for Strategic & Executive Affairs
Supporting BU Wheelock Vision Development
The main strategic focus in 2018-19 was the development of four BU Wheelock vision proposals, drawing on the college's mission as a foundation. The proposals were drafted by small task force groups of faculty and disseminated to faculty at large for review and revisions throughout spring 2019. Once revisions were incorporated the four proposals were presented to Provost Morrison for her review and approval, and presented to the Boston University Academic Affairs Subcommittee on the BU-Wheelock merger.
Two of the vision proposals, the proposal on Centers and Institutes and the proposal on Master's and Certificate Programs, were approved by the Provost and we are moving toward the development of the detailed planning for their implementation in 2019-20. The proposal on Centers and Institutes establishes a framework for centers, institutes, labs, and clinics in BU Wheelock as well as a process for approving new entities and expectations for sustainable support of these entities. The proposal on Master's and Certificate Programs establishes a process for creating, implementing, and evaluating new and existing Master's and certificate programs in BU Wheelock.
The remaining two proposals: the Doctoral Program Proposal and the Undergraduate Program Proposal are undergoing revisions based on the feedback from Provost Morrison. The Doctoral Program proposal outlines a plan to expand the PhD program across BU Wheelock and create professional doctorates in key areas in lieu of existing EdD programs. The Undergraduate Program proposal includes a significant redesign of BU Wheelock's undergraduate programs. It introduces one major in human development with multiple professional pathways for students to select from that may lead them into graduate programs at BU Wheelock. The expectation is that once we receive the final approval we will be able to move quickly to implement those two proposals as well.
Strategic Initiatives Working Groups
Based on the results from a survey to all faculty and staff we conducted in spring 2018 and the outcomes from a mini-retreat on strategic initiatives in April 2018, nine foundational priorities emerged for our work as a new college during the first year of transition:
Partnerships: Develop a plan to organize and prioritize current partnerships with a focus on improving organization, communication, and strategy.
Academic Programs: Develop key performance indicators for academic programs to use in conducting a review of all BU Wheelock degree and certificate programs that will help us decide how to best allocate resources in the development of new programs.
Advocacy: Develop a strategy to position BU Wheelock as advocates for children, teachers, and the education profession, more generally.
Social Justice and Equity: Develop a plan for making social justice and equity explicit in our work, from our mission to our curriculum and partnerships.
Diversity and Inclusion: Develop a data-driven plan to set explicit diversity and inclusion goals and to measure our progress in meeting these goals with regards to diversity of faculty, staff, students, programs, curriculum, partnerships, community work, and international work.
Research and Practice Synergy: Develop a strategy and structure to formalize and communicate the strength of our research and practice synergy.
Doctoral Programs: Develop a plan to position ourselves as a College of Education and Human Development with distinctive doctoral programs for the next generation of faculty, practitioners, and others.
Engaged Scholarship: Develop a plan to promote opportunities for engaged scholarship and for advancing high quality and rigorous research which would include strengthening research course offerings, providing support for faculty and students around grant writing, and improving conditions for faculty to be productive in research.
Practitioners: Develop a plan for strengthening support for practitioners in the field, particularly through mentoring alumni who are beginning in the field.
These strategic priorities served as the basis for nine discrete projects each led by a working group comprised of both former BU School of Education & Wheelock College faculty and staff. The nine working groups met regularly throughout the year and developed various reports, communication plans, data sets, and other project deliverables in line with each project's scope and objective. The final report summarizing the work of the nine strategic initiatives working groups and each project deliverables and outcomes will be disseminated in fall 2019.
Strategic Initiatives Seed Fund
Several faculty and staff members responded to our call in April 2018 to join an ad hoc Strategic Initiatives Group. The group served as an advisory arm for the roll out of the nine strategic initiatives working groups. In addition, the group served as the Review Committee for the applications we received from faculty and staff in response to the call for proposals for seed funding initiatives. The members of the Strategic Initiatives Group included Mary Churchill, Mariana Stoyancheva, Amie Grills, Ellen Faszewski, Stephanie Curenton-Jolly, Karen Murphy, Naomi Caselli, Kenann McKenzie, Jonathan Lazzara, Amy McClennen, Julia Cocca, and Stephanie Clendenin.
Approximately $50,000 was available for seed funding in 2018-19 for initiatives that supported the following strategic priority areas: diversity and equity; research and evaluation; and expanding community engagement and impact. Applications from teams comprised of members from former SED and former Wheelock College that sought to build a shared culture for our new college were given priority and the maximum budget requests were limited to $5,000 per proposal for up to 12 months of work.
The Review Committee reviewed and approved six proposals for a total of $30,000 in funding. Here is a brief summary of each of the six proposals:
BU Wheelock College Access & Student Success (CASS): Meet, Greet, and Learn Symposium: This symposium will invite members of the BU community, CASS program alumni, Wheelock alumni, and external stakeholders to learn about the current work of BU Wheelock College Access & Student Success (CASS), which combines research and practice to improve student outcomes and continues the work of Wheelock College and SED to support underrepresented students for success in college and post-degree. (Laurie Pohl, Michael Dennehy, Paul Hastings)
The Education of Emergent Bilingual Learners with Disabilities: Building on Wheelock's 2017-2018 "ELLs with Learning Differences" Dialogue Series and BU SED's Special Education and Bilingual Education co-sponsored event on the assessment of culturally and linguistically diverse learners, the proposed project brings together BU Wheelock faculty from Language Education, Special Education, and Elementary Education to engage dialogue with one another and various invited speakers, with the ultimate goal of developing a new Emergent Bilingual Learners with Disabilities (EBLD) cross-program concentration. (Jenny Jacobs, Chris Leider, Yasuko Kanno, Mary Hughes, Stephanie Cox Suárez, Felicity Crawford, Eleonora Villegas-Reimers, Zachary Rossetti)
BU Wheelock Elementary Education United: Identifying Opportunities: Faculty of both historic institutions will meet and focus on the identification of critical leverage points that may further facilitate the new BU Wheelock reaching its potential as a national leader in elementary education. (Jennifer Bryson, Eleonora Villegas-Reimers, Thomas McKenna)
Design Based Implementation Research Workshop Series to Support Partners in Research: A series of workshops for BU Wheelock faculty/staff and their institutional partners (e.g., Boston Public School teachers and leaders, community partners) who are currently engaged in or interested in engaging in joint research activity to collaboratively learn about Design Based Implementation Research approaches including, 1) identify or refine research questions, 2) plan data collection and analysis, and 3) engage in other related activities to support Research Practice Partnerships. (Andrea Bien, Tina Durand, Ziv Feldman, Lynsey Gibbons)
Diversity and Solidarity in the Academy: Critical Understanding of Strengths, Opportunities, Risks, and Challenges: This signature convening will bring together historically underrepresented graduate students, postdoctoral fellows, faculty, staff, and administrators across New England in order to create a critical learning space addressing the professional and personal skills and tools needed to navigate cultures of power in the academy. (Michelle Porche, Dana Dunwoody, Detris Adelabu, Grace Kim, Gregory Benoit)
E- and In-Person Mentoring and Continuing Education Opportunities for SED, Wheelock, and BU Wheelock Alumni: By May 2020, Strategic Initiative Working Group #9 will create online and in-person mentoring and continuing education opportunities for historic SED, historic Wheelock, and BU Wheelock alumni based on survey responses by current faculty, students, and alumni, and in consultation with colleagues at BU's Center for Teaching and Learning, at BU's Office of Professional Development, and at comparable institutions around the country. The funding will support travel and an honorarium for speakers with expertise in designing e-mentoring as well as in-person mentoring programs for alumni of education, counseling, child life, and youth development programs. (Megina Baker, Linda Banks-Santilli, Jennifer Bryson, Nancy Harayama, Petra Hesse, Rebekah Louis, Robert Martinelle, David McAllister, Claire White, Marla Zucker)
Academic Affairs
Linda Banks-Santilli, EdD, Co-Associate Dean for Academic Affairs
Dr. Donna Lehr, PhD, Co-Associate Dean for Academic Affairs
Academic Affairs Responsibilities
During the 2018-2019 academic year, Dr. Linda Banks-Santilli worked closely with Dr. Donna Lehr to execute the responsibilities of the Associate Dean for Academic Affairs (ADAA) while learning about and assuming responsibility for a variety of tasks associated with academic affairs at BU Wheelock. These include overseeing the curriculum approval process and guiding faculty in completing appropriate proposals for new courses, changes to existing courses, and development of new academic degree programs. The ADAA is responsible for working with faculty related to the BU HUB, BU's general education program that emphasizes interdisciplinary learning across all 17 BU schools and colleges. Faculty propose new courses or refine existing ones to meet HUB capacities that have the potential to draw undergraduates from across the university to BU Wheelock.
During the 2018-2019 academic year, BU Wheelock developed a partnership with the Landmark School in Beverly, MA, a school which is led by a BU alumnus Bob Broudo and which has built an outstanding reputation for educating children with language-based learning disabilities. In the fall of 2019, BU Wheelock will deliver its EdM in Special Education (Moderate Disabilities) on-site at Landmark.
Last year was also a year of transition as students from the former Wheelock College joined students from the former School of Education (SED) at BU. Each student's degree program needed to be reviewed by the ADAA in order to create maps that honored past coursework and identified future requirements needed to complete degrees. Dr. Lehr led this mapping process.
The associate deans worked together, in collaboration, to address student issues and to redistribute a larger faculty that had expertise in a wider range of academic programs beyond education and including applied human development, child life, and youth justice and advocacy. The newly merged entity is in the process of re-envisioning its identity, establishing a third culture, and preparing for a successful future.
Developing the Office of Professional Preparation (OPP)
One of the first tasks Academic Affairs was charged with in the newly- merged college was providing administrative infrastructure to support field-based learning. Both students and faculty benefit from centralized systems that outline processes and procedures for field education. Students feel supported as they embark on their practicum and internship experiences in education, child life, youth justice and advocacy, deaf studies, counseling, and higher education when expectations for their success are clearly identified. With increased administrative support, faculty are more efficient and productive. They can devote their time to teaching, scholarship, and research.
We created the Office of Professional Preparation (OPP) at BU Wheelock to streamline and centralize services related to field-based education and learning. During the summer of 2018, OPP staff met with every program director at BU Wheelock to learn about how field-based learning was organized. We created an inventory of the academic program portfolio to understand what administrative supports each program needed and conducted a search for a new licensure officer for the education programs. The licensure officer's role was redefined and broadened to make the position more appealing under our new office's collaborative structure.
During the 2018-2019 academic year, OPP was intentional about introducing themselves and their coordinated services to students. They co-hosted social events with BU Wheelock Student Services and BU Career Services where they distributed "survival kits" prior to exam week that included sleep masks, tea bags, stress balls, chocolate, and potpourri. These were opportunities to meet students and introduce their services to them. OPP continues to make themselves available for regular graduate orientations and in-class visits to assist students and faculty who want to learn more about educator licensure requirements. OPP also offers Massachusetts Tests for Educator Licensure (MTEL) support courses on Saturdays to assist students with specific test preparation and tutoring.
At the end of each semester, OPP's licensure officer endorses students for licensure in our early childhood, elementary, special education, school leadership, reading specialist, principal programs, modern foreign language, arts, and music programs. OPP also supports the college's counseling programs that use Time2Track, an electronic management system for counseling, and coordinates with Child Life's internship placement coordinator.
In addition to developing the centralized policies and procedures that guide all field-based experiences at BU Wheelock, OPP is leading an effort to ensure that its education programs comply with the Department of Elementary and Secondary Education (DESE) newly announced requirements for improving the pre-practicum experience and for raising expectations regarding candidate's subject-matter knowledge.
OPP is working with program directors to analyze academic programs and to determine how cross-cutting subject matter knowledge in newly identified areas is being addressed. These areas include English-language instruction, special education, digital literacy and computer science, and child development. In May of 2020, BU Wheelock will sign an assurance statement for DESE indicating that all programs will reflect these new standards in the fall of 2020.
Faculty and program directors are creating required "Gateway Assessments" that will be administered at two different junctures to students in education programs prior to the full practicum. Students that are unsuccessful in those assessments will receive an action plan and be unable to proceed directly to practicum. Data will be reported regularly to the state.
College Access & Student Success
Michael Dennehy, Executive Director, College Access & Student Success
Our college has a long history of collaborating with Boston University Enrollment and Student Administration (ENSA) on initiatives to support traditionally underserved students. This history facilitated the creation of College Access & Student Success Programs (CASS) in 2017, when Dr. Laurie Pohl left her role as BU's Vice President for Enrollment and Student Affairs to join the Wheelock faculty. CASS's work comprises direct service to students (overseen by Mr. Michael Dennehy) and applied research (led by Dr. Pohl), both of which aim to improve educational outcomes for students traditionally underserved by US higher education, including pre-college, undergraduate, and graduate students. CASS fulfills this mission through the development and application of evidence-based approaches, ensuring that college access and success activities are effective, efficient, and student-centered.
Outcomes for Individual CASS Programs:
American Association of Colleges for Teacher Education (AACTE): BU Wheelock's expanded participation in the AACTE Holmes Programs now includes four graduate students (one doctoral and three master's) and two postdoctoral fellows. Dana Dunwoody, our inaugural AACTE Holmes Scholar, continued to serve as President of the Holmes Scholar National Council and successfully defended her dissertation in May 2109. Dr. Dunwoody is Wheelock's first Holmes Scholar to complete a PhD.
Boston Public Schools (BPS) Community Service Scholars: BU meets the full calculated financial eligibility without loans of any admitted BPS graduate. Scholarship recipients perform 25 hours of community service per semester, with one semester of service dedicated specifically to BPS, and are assigned a full-time faculty or staff member to serve as a mentor. In 2018-19 the program served 192 undergraduates (who matriculated as first years or transfers) who performed 6,829 hours of community service.
Boston University Initiative for Literacy Development (BUILD): 115 BU work-study literacy tutors served an estimated 858 children at 13 elementary school sites in Boston in 2018-19. BUILD Book Clubs took place at the Tobin, Mason, Trotter, and Hurley schools, with support from Senior Lecturer Evelyn Ford-Connors.
Chicago Scholars: High school students from under-resourced communities in the Chicago area who are admitted and who have met financial aid requirements have their need met at BU. Enrolled students are assigned a faculty/staff mentor, overseen by CASS; in 2018-19, this included 6 scholars.
Hayden Foundation Scholars: Students in the top ten percent of their class at New York City high schools supported by the Hayden Foundation receive information about BU in their sophomore year and participate in the Junior Overnight Program. Once matriculated, Hayden Scholars are assigned a faculty or staff mentor. In 2018-19, the program included 6 scholars.
Menino Scholars: A full-tuition merit scholarship for graduates of the Boston Public Schools. Michael Dennehy serves on the selection committee and as the scholars' advisor throughout their four years of undergraduate study. In 2018-19, 100 BU undergraduates were Menino Scholars. Passion for Action Scholars: Seven Passion for Action Scholars moved to BU from the former Wheelock College. PFA Scholars are invited to all CASS undergraduate programming.
Posse: Boston University partners with Posse Atlanta and Posse Bay Area, bringing 10 students from each metropolitan area to campus per year and providing full-tuition scholarships to all Posse Scholars. Upon enrolling at BU, students are assigned a faculty/staff mentor, overseen by CASS. In 2018-2019, the program included 60 Posse Scholars and 6 mentors.
Upward Bound: Upward Bound served 86 students in 2018-19, providing them with after-school academic support, test preparation, and college application and financial-aid support. Each year the program reports its goals to the United States Department of Education; in its most recent report, the program met 5 of its 6 performance measures, including secondary school completion with a rigorous curriculum and postsecondary enrollment.
Upward Bound Math Science (UBMS): BU Wheelock Upward Bound Math Science served 55 students in 2018-19, providing  STEM enrichment during school vacation weeks, afterschool academic support, test preparation, and college application and financial-aid support.
Yes Prep-IMPACT: YES Prep, a public charter school system in Houston serving primarily first generation students from underrepresented backgrounds, nominates high-achieving students for consideration as IMPACT scholars, who receive financial aid meeting their full financial need and are assigned a faculty/staff mentor, overseen by CASS. In 2018-19, the program included 11 scholars.
Junior Science and Humanities Symposium: Co-directed by Michael Dennehy and Clinical Associate Professor Don DeRosa and sponsored by the National Science Teaching Association, the Symposium, held on March 28 featured 47 students from 23 Massachusetts and Rhode Island high schools. Three students advanced to the symposium's national meeting in Albuquerque, held in April.
Trotter Pen Pals: The National Society of Collegiate Scholars (NSCS) collaborates with BU Wheelock on a pen-pal program with 5th grade students at the Trotter K-8 school. The program is managed by the CASS graduate assistant and teachers at the Trotter. Pen pals correspond monthly with students; Trotter students visit BU's campus visit in March and BU students visit the Trotter in May. In 2018-19 the program involved 25 BU and 52 Trotter students.
Campus Visits to Promote College Awareness: Through the work of a graduate assistant, the CASS hosted or ran workshops at the following campus visits:
24 students from Bates Elementary School on October 26, 2018 (pictured).
45 students from the Trotter K-8 and the Young Achievers School in Boston (organized by Citizen Schools) on November 9, 2018.
52 students from the Trotter School on March 22, 2019.
50 Lawrence High School students attending BU Innovate BUILDlab programming on April 17, 2019.