First Gen Student Spotlight – Summer 2018
Geneve Lau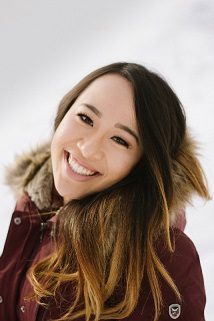 Hometown: Boise, Idaho
School/College: College of Communications (COM)
Major: Public Relations
Class Year: 2021
Clubs / Organizations: I am the recruitment director intern for the HerCampus BU chapter. I also write for the Connecting with Cultural Groups PR Committee, and I write regular articles for HerCampus. I will be writing for the BU Buzz next semester. I am a member of She's The First here at BU. I will be giving tours of the University next semester as a COM and Admissions Ambassador.  I'll also be serving as a peer mentor for freshman students in COM in Fall of 2018!
The best book I've read recently that wasn't assigned for class is:
Girlboss by Sophia Amoruso. H A N D S D O W N !
Favorite restaurant in Boston:
Dig Inn. My bowl is always empty and my soul is always satisfied after a good Dig Inn fix.
Best place to study on campus:
The 5th floor of the Yawkey Student Center… it was actually supposed to be my little secret spot I found move-in weekend, usually I get lucky and it's not super packed. I go to the very corner where there are the two chairs and the tables and you get the full view of Kenmore Square. I LOVE Kenmore Square.
Being a first generation college student means that you can bring a unique perspective to BU. Tell us about your experience and what being first gen means to you:
Before coming to college I didn't really have a clear idea of what the first gen identity meant. Since coming to BU, I've embraced that being a first gen and getting into BU is a HUGE accomplishment that I should be really proud of. I also recognize that my parents are so immensely supportive to give me this opportunity to study at a university like BU and further my education.
When I graduate, I hope to:
Radiantly impact the world and humanity. Create a ripple of change. Never work solely for a paycheck but for a passion as well.
My favorite BU class has been:
My WR150 class, the topic was Education and Work. LOVE Professor Myers.
What do you like best about BU?
I LOVE how everyone at BU is so supportive of everyone else's interests. There are so many ways for students to get involved and when you meet someone for the first time, besides asking for a person's college and major, you can ask them about their campus involvement and that usually ends up being such an eclectic, interesting conversation! I love how that makes our students so unique, and passionate about what they do.
One piece of advice I want to share with other first-gen students:
NEVER ever give up. Anything is possible, and you should always remember that you will end up exactly where you should be. Always say yes to new opportunities. Never let your fears keep you from trying.
As a first generation student, your experiences and successes are things to share with our community and can be an inspiration to current and incoming first-gen students. Tell us what accomplishments you're really proud of:
I am proud that I have found a way to use my voice as a student. In high school, I was able to design a high school that is currently running today, it is a project-based school, tuition free and private. I hope that I can inspire other students to try everything, and not be afraid to speak out and create change, because I believe that students have immense power to do so.