2015 Symposium Awards
Outstanding Student Researchers
Based on nominations from their mentors, four students were presented with awards for outstanding summer research—a difficult task, considering the high caliber of work displayed.
Lena Huang—SAR Human Physiology
Mentor: Simone Gill, SAR Occupational Therapy
"Lena is an intelligent, hard working, and consistent young woman. She has tremendous motivation and initiative in the realms of research and professionalism, and her greatest strengths are her desire to learn and her curiosity about research."
Raleigh Linville—ENG Biomedical Engineering
Mentor: Joe Tien, ENG—Biomedical Engineering
"Raleigh has been extremely successful at [his research on] how to generate artificial capillaries. My enthusiasm for Raleigh's prospects stems not just from his productivity; it also stems from his approach to research."
Erin Miller—SAR Human Physiology
Mentor: Michael Grodin, SPH—Health Law, Bioethics & Human Rights
"Erin is a pleasure to work with… [she is] always anxious to do that little bit extra. She has been instrumental in the entire process of researching, archiving, formatting, editing, and organizing this important never before published material."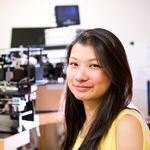 Christie Tang—CAS Psychology
Mentor: Michele Rucci, CAS—Psychological & Brain Sciences
"Christie has all the requirements for a successful career in science. She is very dedicated, takes responsibilities very seriously, and is very reliable. Plus, she is a great lab member; I am excited that she is planning to spend more time with us."
Outstanding Mentor Awards
Beginning in 2014, we invited students to nominate their mentor for an Outstanding Mentor Award. This year, we selected four highly commended mentors to receive this award.
Hyeouk Chris Hahm—School of Social Work Associate Professor of Social Research
Nominated by: Jongwook Cha, SAR—Human Physiology
"Working with Professor Hahm made me feel that my efforts were part of a larger, greater whole despite only being a research assistant. I attribute my success and productivity to her constant attempts to plug me in to her team and system."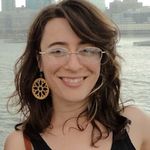 Melissa Kibbe—College of Arts & Sciences Assistant Professor of Psychological & Brain Sciences
Nominated by: Rinatte Gruen, CAS—Psychology and Danyele Homer, CAS—Psychology
"Dr. Kibbe is devoted to each of her students and is always happy to meet to discuss ideas. I look up to her in so many ways, and have learned so much working in her lab." -Rinatte
"Dr. Kibbe's love for her work is contagious… She is the kind of professor who makes me feel so grateful to go to BU and have the opportunity to learn from her." -Danyele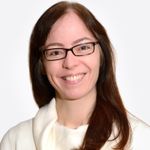 Karin Schon—School of Medicine Assistant Professor of Anatomy & Neurobiology
Nominated by: Jose Romo Corrales, CAS—Neuroscience and Alexander Delgado, CAS—Psychology
"Dr. Schon is the kind of mentor who promoted personal growth as well as intellectual growth – and for that I am forever thankful." -Jose
"Dr. Schon is extremely passionate about her work in neuroimaging, and because of her, I have come to love the field." -Alexander
Jennifer Talbot—College of Arts & Sciences Assistant Professor of Biology
Nominated by: Shayan Avanessian, CAS—Biochemistry & Molecular Biology and Lidimarie Trujillo, University of Puerto Rico—Biology
"Dr. Talbot's patience was incredible and her advising capabilities really allowed me to develop into a true researcher." -Shayan
"Dr. Talbot gave me a completely new view on what research is, and what it means to me not only as a researcher but also when applied in the greater context of science." -Lidimarie
Symposium Booklet Cover Award
The Symposium Abstract Booklet Cover Design Award was presented to Narmien Haddad, a summer UROP award winner, who conducted research with Sean Elliott, CAS Chemistry.