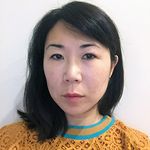 Associate Professor of Art, Painting; Affiliated Faculty, BU Center for Antiracist Research
Contact me
Potential for UROP Funding
Students will develop research to problem-solve issues related to (but not limited to) paper coatings, surface finishes, image development and melanin ink composition in Prof. Kim's project Melanin Images via Genetically Modified E. coli. Students will also aid in the printing process to better understand the problems in practice, and to gain insight into the concepts behind printing with such a biologically, symbolically and politically significant pigment. Melanin is the prevalent pigment behind human hair, eye, and skin color.

As part of her Artist-in-Residency at the Broad Institute of MIT and Harvard, Prof. Kim began screen printing a strain of recombinant E. coli that was modified to produce eumelanin. The screen printing process selectively deposits the E. coli culture onto paper in the form of a photographic image, which is then placed in an incubator for 36-48 hours. The image is articulated as melanin production occurs. This project will result in a series of large photographic prints (~2.5 x 3 ft). The project is currently located in the Celenza Lab at BU's Biology Department.
The project is currently looking for two students for the Fall UROP session who are currently in their junior or senior year (though strong sophomore candidates will also be considered):
-One SVA major with a strong interest in image-making and an aptitude for working in highly material and technical processes (for example: printmaking, mold-making and casting, analog photography). Printmaking/screen-printing experience a plus.
-One Biology/and or Chemistry major who is interested in bio-pigments and potential uses in art and printing. Experience working in a lab, and strong biology background (for chemistry majors) and strong chemistry background (for biology majors) a plus.
Both candidates must be self-driven, able to work cooperatively AND independently, and have strong communication skills. They must be organized and highly methodical, yet capable of adapting to changes in the project. This project, because of the size of the prints, can be physically demanding at times. Potential applicants should be comfortable with handling large objects and rolling up their sleeves, so to speak. Because research projects often require the use of equipment and facilities from other departments, students must be resourceful in getting access for their own research. Candidates must have an interest in the relationship between race, image construction, and visual perception in a way that is open-minded, informed, and exploratory. This project has its own goals, but it is also an experiment in artists and scientists working together. Ideal candidates will be excited to work in this context.
Other strong candidates will also be considered. If interested, please contact me directly (include resume), preferably by Aug. 1. The deadline for the Fall UROP application is early September, and it generally takes 2-3 weeks for students to complete the application process. I will select the two students to put forth for the application process after a round of interviews in early August.
Back to On-Campus Opportunities