Note to previous users of Globus Online: Because of an update to Globus server software, any SCC endpoints created prior to June 25, 2016 should be deleted and re-created. For information about creating server endpoints, please see below.
Globus is a platform for managing file transfers. It provides a convenient way to transfer files between your desktop/laptop and the SCC, and it also allows you to access data stored on a variety of national research clusters. Globus provides extensive online support, and we provide a summary below of the details needed to create an SCC endpoint. If you are new to Globus, there are four steps to getting connected:
Once you're set up, you can use the Globus website to submit transfer requests, which don't require your attention to complete. When the transfer is done, you'll get an email report.
Get a Globus account
Go to the the Globus website and click on the "Log In" button in the top right corner. You'll see a page that gives you a choice of using your Boston University credentials or creating a new Globus ID:
Use existing organizational login
If you choose to use your Boston University credentials, find "Boston University" in the pull-down menu, then press "Continue". (See below if you will not be using your BU credentials.) This will open up a BU Login page, where you should enter your BU Login and Kerberos password. Next, you will see a page that gives you the option of linking to an existing Globus account:
For this example, we will assume that you do not have an existing account. Press "No thanks, continue", then complete the following form: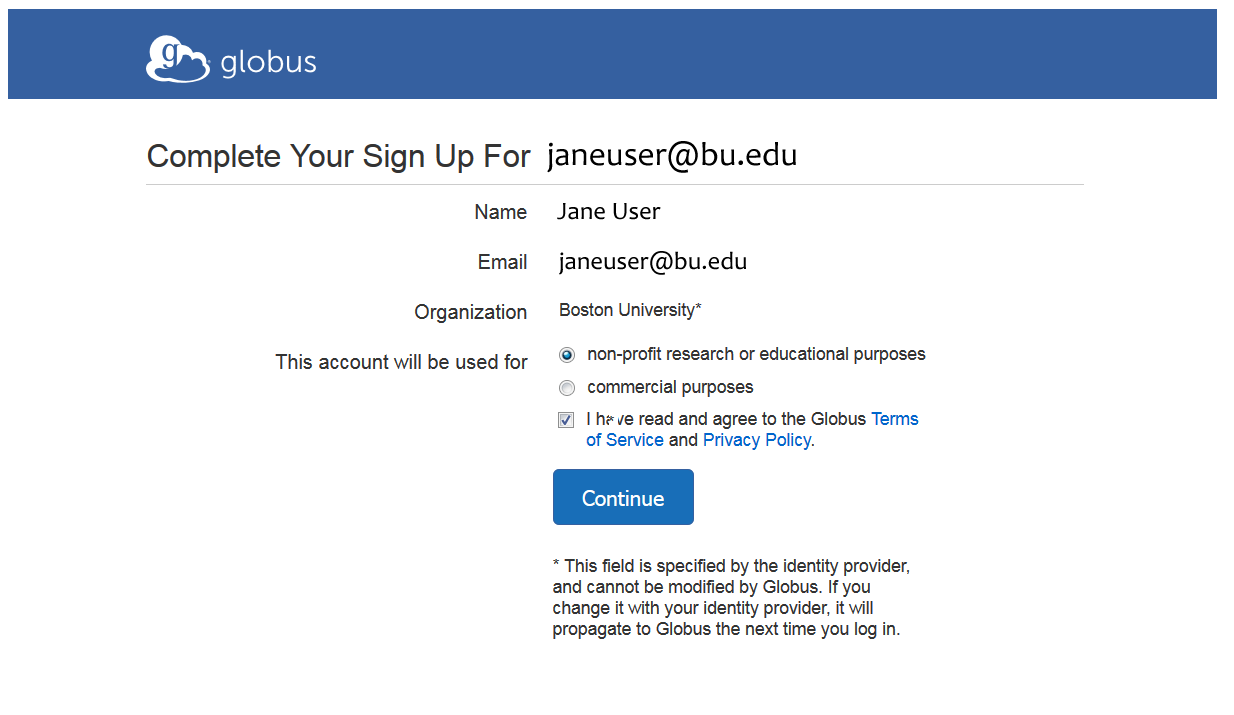 Finally, you will be shown a consent form:
Press "Allow" and you're done.
Sign up with Globus ID
If you are not using your organizational login as above, you can apply for a Globus ID by clicking the 'sign up' link. Once you've completed the application, you'll be emailed a confirmation email with a verification code that should be pasted into the following form:
Even after you've entered the verification code, it might take a minute or two for the online interface to register that your account is active. Once activated, you can transfer files between endpoints. There are several public endpoints, but unless you have a specific one in mind, it will be more meaningful for you to add your desktop/laptop as an endpoint as well as your own SCC endpoint (more below).
Get Globus Connect Personal
To make your desktop/laptop an endpoint, you need to install the Globus Connect Personal client. This is an application that runs in the background on your computer, where it listens for requests from the Globus servers to initiate a transfer. This program needs to be running in order to transfer files to/from your desktop/laptop.
Use this form to create a personal endpoint.
(1): First you must name your desktop/laptop endpoint.
(2): Then the "Generate Setup Key" button will be clickable. Click on this button.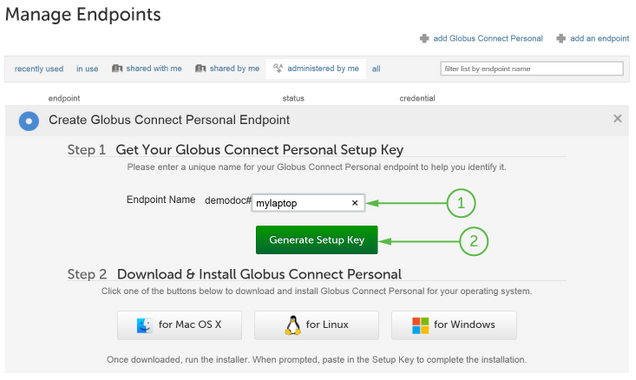 (3): Copy the resulting key that is generated.
(4): Then click on the operating system that matches the one on your desktop/laptop to download the Globus Connect Personal application. Once downloaded, install the application. During the install process, the application will ask for the setup key. Paste the value you copied (in step (3) above). Note, the following image is labeled step 8, because these images were taken from Globus's own guide.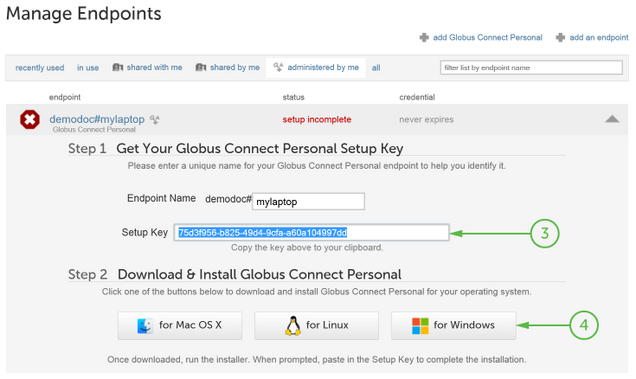 Feel free to accept the default location (directory) as part of the subsequent configuration, or choose to modify the directories that are accessible through Globus.
Make an SCC endpoint
To access your files on the SCC, you need to make a corresponding endpoint. The Manage Endpoints section of the online settings menu allows you to add an endpoint:
Click "+ add Globus Connect Server endpoint". In the form that appears, there are four fields you need to edit.
(1): You must give your endpoint a Display Name, which is set to scc-demo in the example.
(2): Then you need to set the authentication method. You'll see that for Identity Provider, we've selected "MyProxy OAuth" and in the URL field, we've used the address cilogon.org. You should do the same. This website acts as an intermediary between Globus and BU and, later on, it will redirect you to a standard BU logon screen.
(3): You need to set the Server Hostname. This should be set to scc-globus.bu.edu.
(4): You should leave the Server Port blank. (It will default to 2811, the value used by the SCC.) You should set the Subject DN field to:
/C=US/O=Globus Consortium/OU=Globus Connect Service/CN=ab21113c-3f96-11e6-80c4-22000b1701d1
You can optionally control which directories to interact with in the field Default Directory. You will only be able to access directories you own. The default will be your home directory, and since that's a pretty convenient starting point, this field is typically left blank.
Make the endpoint by clicking "Create Endpoint".
Activate the Endpoint
Your new endpoint will be listed in your Manage Endpoints section:

Under the credential column, click "activate". Your endpoint should be set up and ready to use. As a simple test, you should try to transfer file(s) (Transfer Files link found near the top of the page) between your PC and the SCC. When transferring files, the endpoints are referred to by username#endpoint_name.
SCC Endpoint Details
Here is a quick summary of the details needed to setup an SCC endpoint:
| | |
| --- | --- |
| Identity Provider: | MyProxy OAuth |
| Identity Provider URL: | cilogon.org |
| Server Domain: | scc-globus.bu.edu |
| Subject DN: | /C=US/O=Globus Consortium/OU=Globus Connect Service/CN=ab21113c-3f96-11e6-80c4-22000b1701d1 |