From the Editor:
The focus of this HCM newsletter is Delimiting Positions.
Managers and Payroll Coordinators can delimit a position through the Manager Self Service and Payroll Coordinator tabs on the BUworks portal.  In order to keep org units clean, departments should delimit positions when they are no longer needed and this includes temporary and non-comp positions.  If you have any questions about the financial impact of delimiting a position you should always contact your department's Budget Analyst.
If you have less than three positions to delimit please follow the quick reference guide below.  If you have more than three positions to delimit, please email hrsys@bu.edu with the position name, position ID#, org that the position residesin and related org ID#.  Remember that if the position is being currently held by an employee, it cannot be delimited.
As always, it is important to be familiar with payroll calendar deadlines for OM & PA actions so that forms are submitted in a timely manner. Also, please email me at srao22@bu.edu if you have any questions or comments regarding the current newsletter or suggestions for future HCM newsletters.
Thank you,
Shuchita Rao
(HCM Trainer)
Procedure to Delimit Position: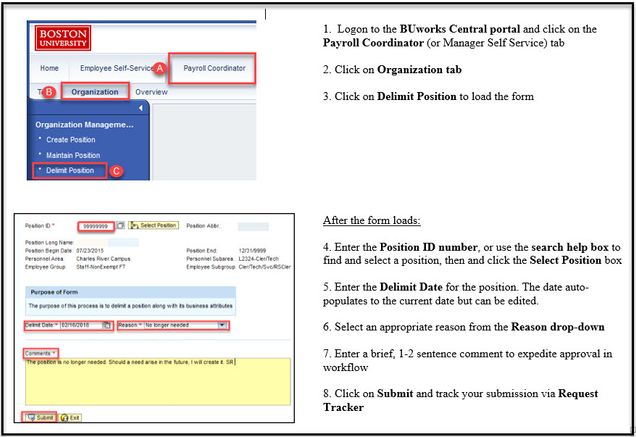 March HCM Training Calendar
Click here for Instructor Led Training schedule in March 2018

These sessions present to new employees - or employees assigned a new business role - the important BUworks forms in the Human Capital Management(HCM) module. The sessions are a great way to review material, too. Even if you previously attended an intro session, you are likely to learn new things about HCM or to be reminded of concepts that you had forgotten.
Here are course descriptions for upcoming trainings:
HCM Overview: This training gives you an understanding of Boston University's Enterprise structure, OM & PA forms, Time and Hiring functions.
Display Organizational Chart: Nakisa Org Chart tool/PPOSE transaction allows a user to see Organization Staffing and Display within Boston University. Learn how to search by Org name, position id or position name, employee name, how to navigate and print the Organizational chart.
Hiring: This training show how compensated as well as non-compensated staff/faculty as well as international scholars can be hired into SAP. The need for pre-requisite of open/vacant position to exist before hiring can begin is discussed in the training. The Create/Maintain Position OM actions will be demonstrated in a test environment.
OM & PA forms: This training takes a detailed look at the purpose of OM (Org Management) actions such as Create/Maintain/Delete Positions and PA (Personnel Actions) related to Employee Position Update/Employee Movement/Salary Changes and Additional/Secondary Payment. Pre-requisite OM actions to certain PA actions and what documents to attach to the forms are also discussed in this training.
Tips & Tricks
Before delimiting a position, check your Org. Structure to obtain and confirm the specific Position Id that you need to delimit.

No Longer Interested in the Newsletter?
You can unsubscribe from the Newsletter email list by visiting this page.