Waste
Where are we?
As of Fiscal Year 2019, Boston University's diversion rate is 42%.
# of tons thrown away*: 5,844
# of tons recycled: 2,608
In all, we diverted 4,147 tons from the landfill through donating, diverting food waste, and recycling.
*One US ton = 2,000 pounds
Where are we heading?
Boston University's 2017 Climate Action Plan (CAP), which will make the University carbon neutral by 2040, established a Zero Waste goal. In response to the CAP Task Force's Supply Chain & Waste Stream Working Group Report, BU Sustainability organized a Zero Waste Implementation Task Force. Starting in Fall 2019, a group of Boston University stakeholders collaborated to develop a comprehensive Zero Waste Implementation Plan.
Zero Waste is the conservation of all resources by means of responsible production, consumption, reuse and recovery of products, packaging, and materials without burning and with no discharges to land, water, or air that threaten the environment or human health (ZWIA). It is achieved when 90% of waste is diverted from the landfill or incineration. It is a whole systems approach to rethink and redesign resource life cycles to mirror those that are found in nature.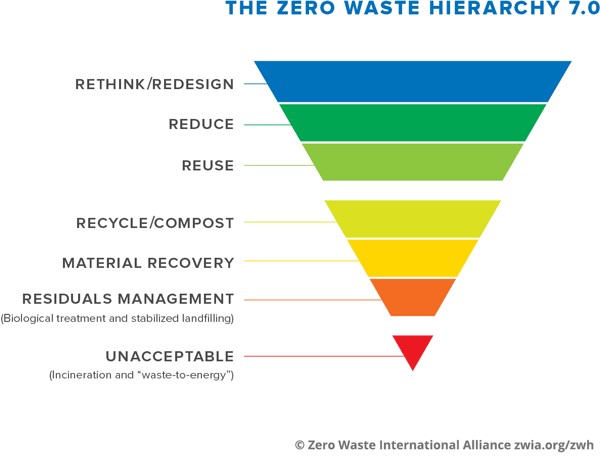 Refusing, Reducing & Reusing
The following are waste and recycling programs that contribute to BU's responsible materials management…
BU Sustainability Reusables
Win a stainless steel mug or water bottle, bamboo utensils, or notebook at any of our events throughout the year: Sustainability Festival, Earth Week, Sustainability App Challenges, and more. Use your reusable BU Sustainability water bottle at one of the filtered, easy-to-use, bottle filling stations in buildings across campus.
Surplus Furniture Program
Thanks to a collaboration between Olympia Moving & Storage, Institutional Recycling Network (IRN), Sourcing & Procurement, and BU Sustainability,  University departments can browse available surplus or remanufactured furniture or donate gently used furniture for reuse within BU. Launched in August 2018, this program controls storage costs and provides Boston University departments with a convenient and cost effective option for outfitting spaces, all while reusing furniture before purchasing new.
Goodwill Not Landfill
Since 2010, Boston University students have donated new and used items to Goodwill during move-out each year. Donation bins are located in major dorms across campus to divert students' unwanted items from the landfill so that Boston community members can choose thrifting before purchasing new. Goodwill Not Landfill has successfully diverted 730 tons of clothing, household items, and more from the landfill since 2010, with 72 tons diverted in 2019.
Paper Reduction
Boston University has implemented efforts to reduce paper use, including reducing student printing quotas and eliminating cover sheets from printing stations in 2017, and setting up paperless payroll for all Boston University employees.
Sustainability Ambassadors
During undergraduate orientation, ambassadors help students sort their waste at the George Sherman Union waste stations to educate on proper disposal tactics and divert unnecessary waste from the landfill.
Student Programs
BU Sustainability supports a variety of student groups with their initiatives around campus, for example: Questrom Mug Spot that provides reusable mugs at the Questrom Starbucks, paper straws in retail locations, food waste diversion at the Medical Campus, Zero Waste event consultation, and increased dorm recycling.