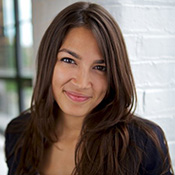 Alexandria Ocasio-Cortez (CAS '11)
Lead Educational Strategist at GAGEis, Inc. and Founder of Brook Avenue Press
@aiocasio
Alexandria founded Brook Avenue Press, a social enterprise dedicated to providing relevant educational products to children and parents in urban areas. Recently, she partnered with the Sunshine Bronx Business Incubator to design entrepreneurial curricula for those interested in launching their own enterprise. They use methods informed by the collective real-world experiences of Sunshine's large community of successful start-up entrepreneurs. Her primary interests lie in entrepreneurship and developing innovative, healthy, enterprising communities for generations to come.