Helping Students Succeed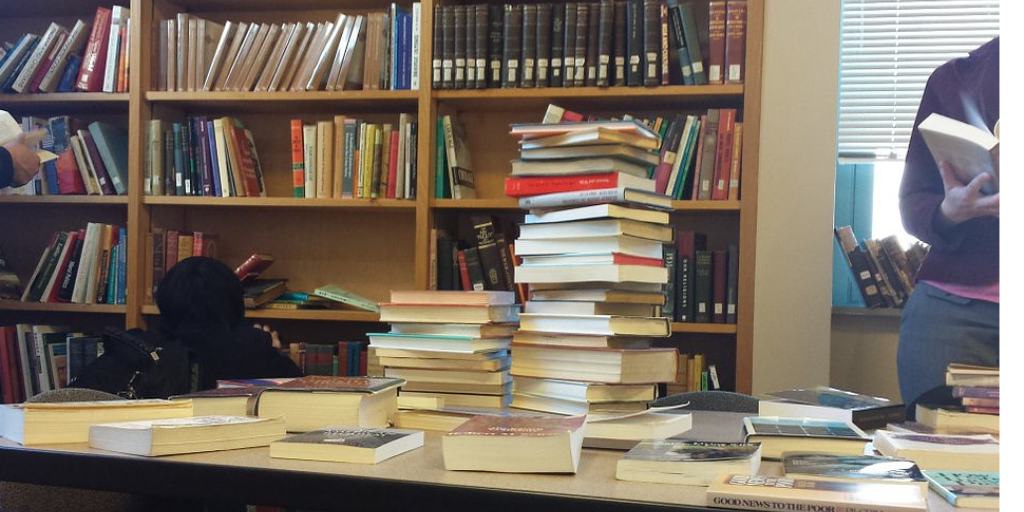 In-Class Instruction
What is In-Class Instruction?
Librarians can come to your classroom and teach important research, information literacy, and library skills to your students! We can also host your class in our instruction room (209) if you would like to bring them to the library.
What can you teach in my class?
Information Literacy Skills
Research Methods
Evaluating Sources
Reading and Note-taking
Citing Sources
Avoiding Plagiarism
Database searching
Atla Database scripture searches
Field-specific databases
Researching Biblical Exegesis
Finding and Using Social Media and Real World Data
How to Use Archival Resources
New England Conference church records
Personal manuscript collections
Rare books, hymnals, or Bibles
Methodist Books of Discipline
Microfilms (especially Missiology collections)
Citation managers
Zotero
Mendeley
RefWorks
What do you need from the professor?
Ideally, the in-class instruction session would be requested several weeks in advance, and the librarian would meet with the professor briefly to outline goals for the session. The initial request should include:
Length of the session. (Minimum of 20 minutes, to as much as the full class session if desired.)
Whether you would like us to visit your classroom, or bring your class to ours (209).
Syllabus.
Assignment instructions (if applicable).
Topic or skill you would like presented (see above).
Number of students enrolled in the class (for seating and handouts).
What if my students need one-on-one consultations?
We love this! Feel free to direct them to schedule formal 30-minute reference consultations with our librarians.
If you would like those reference consultations to be a course requirement, let us know in advance. We can provide a sign-up sheet for the students to schedule their reference consultations, and we will provide you with the names of all students who met with us.
Past In-Class Instruction
TF901 Doctoral Colloquium. 2019. Librarians Stacey Duran and Kara Jackman presented Research Methods, Interlibrary Loan access, and Archival Research.
TC868 Worship in the Anglican and Wesleyan Traditions. 2019. Librarian Kara Jackman presented how to handle and care for rare books.
DM903 DMin Research Methods Seminar. 2018. Librarian Kara Jackman presented  Research Methods.
TT835/935 Nicholas of Cusa. 2016. Librarian Amy Limpitlaw presented relevant databases.
TH810/925 The Bible in the Reformation. 2016. Librarian Kara Jackman presented rare historical Bibles.
Workshops
The School of Theology Library's instruction program seeks to support scholarship, curriculum, and research at the Boston University School of Theology. We host several workshop series (totaling over thirty workshops overall each academic year), with total attendance approaching 250 students each year. These workshops range from the basics- our Wednesday Workshop Series, for example, is focused on firming up basic information literacy skills- to progressively more complex topics, like data visualization and digital humanities in our Advanced Theological Research series.
Our assessment of workshops shows that the vast majority of participants leave feeling that they learned something valuable about library resources and services, and would recommend those workshops to their colleagues.
Library Essentials Workshops
Our Library Essentials Workshop series is designed to provide participants with a firm foundation in information literacy as they begin their academic journey at the School of Theology. These workshops focus on locating and accessing resources for their research, properly citing sources and avoiding instances of plagiarism. Attendance to at least one workshop is mandatory for all students taking the First-Year Formations course.
Advanced Theological Research Series
A new workshop series launched during the Fall 2019 semester. This series seeks to build on the success of the Wednesday Workshop Series, which focuses on more foundational information literacy topics, by exploring advanced, technical concepts like data mining and visualization, citation managers, and advanced search techniques to unleash the full potential of participants at the School of Theology.
Reference Assistance
Do you need help finding the perfect resources for your research? Having trouble finding access to something? Or so overwhelmed you don't know where to start? The School of Theology Library offers numerous ways to Get Reference Help from one of our librarians! Remember that answering your questions is what we love to do! Information on reference services can be found on our Get Reference Help page for students.
Personal Librarian Program
The Personal Librarian Program at the Boston University School of Theology was launched to introduce incoming first-year students at the School of Theology to the wealth of collection and services their library has to offer. New students at STH will be matched to their own Personal Librarian, who is a friendly resource within the library who is available to help you navigate the (sometimes anxiety-filled) years of graduate school with papers, projects, and presentations due. More information about the program can be found on the Personal Librarian Program page for students.
Online Orientation
The School of Theology Library has launched a required orientation module for all incoming students to be completed before their first day of classes, focusing on boosting information literacy skills as they begin their journey at the School of Theology. Topics include: accessing materials, crafting thesis statements, and citations and avoiding plagiarism. Optional, additional modules focus on mastering graduate-level research, a deeper dive into citations, and tips for reading scholarly materials.