School of Theology Library: COVID-19 Updates
Information current as of December 10, 2020, 11:20am.
Library Access
The Theology Library's hours for the 2020-2021 Academic Year:
Monday-Thursday, 8:00am-8:00pm;
Friday, 8:00am-4:00pm;
Saturday, 10:00am-4:00pm
Closed Sundays and Holidays
The library is open for studying and browsing! We are currently restricting library access only to current Boston University students, faculty, and staff. Capacity will be limited to 60 people. Our patron tracker keeps track of seat availability in the library (and sections of the library) in real-time.
If using our library spaces, you will be asked to present your COVID-19 pass that indicates you are cleared to visit campus today to the desk attendant. The pass indicates that individuals are clear to come to campus if they are asymptomatic, in compliance with the BU COVID-19 testing schedule, and have recently tested negative for COVID-19.

Face masks are required of all visitors and staff at the Theology Library.
Visiting researchers, local area clergy, and others with borrowing privileges at the Theology Library are urged to email us at sthref@bu.edu to inquire about accessing library materials.
We ask if you are not feeling well to stay home and not visit the Theology Library until you feel better.
Accessing Library Resources
Course Reserves/E-Reserves
The Theology Library staff are working hard to ensure that all required materials for courses at the School of Theology Library are available electronically in some form for the 2020-2021 Academic Year. Course Reserve lists will be available via the Theology Library's homepage (www.bu.edu/sthlibrary). We recommend you check these lists out, and see what items you do not need to purchase. Please take note of access notes (for example, noting that items are one-user only). Physical course reserves have been suspended for the 2020-2021 Academic Year.
Contactless Pickup at the Theology Library
We are discouraging library users from browsing the stacks at this time. We will safely pull items from our circulating collections (Open Stacks, Oversize, and Lewis Graphic Novels collections) and check them out to you ahead of time; they will be available for contactless pickup at the front of the School of Theology Library. All you have to do is flash your BU ID, pickup your bag of materials at the front of the library, and go! This service is available for all Boston University students, faculty, and staff.
To place requests, search the library's catalog for your needed resource. Make sure you are logged into the library's catalog (sign in on the top right on the page).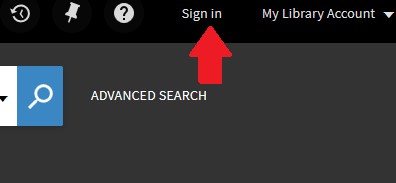 Once you find the resource you need, hit the "Request" option.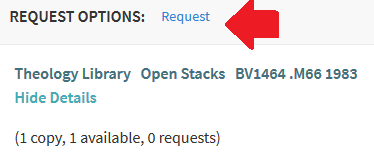 That's it! You will receive an email when the item is ready to be picked up at the front of the Theology Library. We will hold items for seven days before they are checked back in and re-shelved. When handling all library materials, staff will take proper precautions (e.g. washing hands and wearing gloves) to ensure all materials are safe for you when you're ready.
Scanning-on-Demand/Document Delivery
Don't need the whole resource? We are allowing scanning requests for all Theology Library materials (including open stacks, oversize, and reference) via Document Delivery Scanning. Patrons may request portions of a book, which will be delivered via PDF using ILLiad (link access via the "Interlibrary Loan Borrowing" page). Please allow up to 2 business days for processing. This service is only available to School of Theology students, faculty, and staff. BU Faculty and doctoral students can reach out to Theology Library staff directly at sthref@bu.edu with scanning requests.

To place requests, log into ILLiad by clicking here. The following screencast shows how to place and access scan requests.
For Faculty: Scans for Course Reserves
STH Faculty and Teaching Fellows should use our course scans form for urgent course-related scans of items currently available in the Theology Library. To access the course scans form, please click here.
Mailing Materials
We will mail needed Theology Library materials to you via the US Postal Service. Requests to mail items should be made through ILLiad (link access via the "Interlibrary Loan Borrowing" page). Requesting materials owned by Boston University is similar to placing requests from other libraries, with the exception that we own the resource! The following video shows how to place a request from another library; please use the same method when requesting to mail materials! Please note: we will limit mailing requests to School of Theology students, faculty, and staff only, and there is a limit of two materials per week. Interlibrary loan materials will not be mailed.
Please ensure that your listed address in correct in ILLiad (Tools (on the left hand side > Change User Information).
You will be responsible for mailing any BU materials back to campus prior to their due dates (graduate student loan periods are 133 days, and are subject to recall). When an item is recalled, a notice is sent changing the loan period to two weeks from that date. Since the material must be received within two weeks, please return the book promptly and pay attention to shipping speeds. When requesting this service, you agree to abide by these conditions.
Items should be mailed back to:
Boston University School of Theology
Circulation Desk
745 Commonwealth Ave, 2nd Floor
Boston, MA 02215
Inquire with your preferred shipper about "Media Mail" for the least expensive shipping rates.
Recall Periods
A recall is a process by which the borrowing period for a checked out book is shortened by the library because another patron wants to use the item. All items checked out from the School of Theology Library are subject to recall. If a recall is placed, the due date is changed to two weeks from that date. These items must be returned before the due date. Items can be returned to any BU Library, or mailed to the following address:
Boston University School of Theology
Circulation Desk
745 Commonwealth Ave, 2nd Floor
Boston, MA 02215
E-Book Purchasing Requests
Let us know if there is a book that you would like us to purchase in e-book format.  While not every book is available electronically, many are and we are happy to purchase e-books, even if we already have the physical book on the shelf. To request the purchase of e-books, please email us at sthref@bu.edu. If an e-book isn't available, we will let you know.
Databases
Our Library Databases page highlights electronic databases and resources of particular interest to the STH community.
Quarantine of Used/Returned Library Materials
For the safety of library users and staff, all returned library materials, or library materials used in-library, will be held in quarantine for 72 hours before being re-shelved. We will not break this quarantine for any reason. We will monitor ongoing research and make adjustments to the length of quarantine, if necessary.
We are discouraging library users from browsing the stacks and pulling their own materials from the shelf; instead, library staff, following proper hand hygiene protocols, will pull items for you, and make them available through the workflows listed above. If you do pull items from the stacks, please wear plastic gloves (available by request at the Circulation Desk), and when finished, please place them on the re-shelving cart; do not re-shelve them yourself. All materials handled by library users will be subject to 72-hour quarantine.
Getting Help
Reference Assistance
Virtual reference available Monday-Thursday, 10am – 4 pm, via Theology Library reference email (sthref@bu.edu) or Zoom. See our Reference Assistance page for additional information, including instructions for setting up a Zoom Reference appointment. We will not provide in-person reference assistance, to avoid face-to-face contact.
Library Essentials Workshops
You can view our Fall 2020 Library Essentials Workshop Series.

As attendance at one of these workshops is required for First-Year Formations, if you view please make sure you sign in on our attendance sheet!
A schedule for our Spring 2021 workshops will be forthcoming.
Course Guides
Library staff members have created specially-curated course guides for currently held STH classes during the 2020-2021 Academic Year, highlighting e-books and articles that may be of interest to students working on assignments. Guides are available on our course guides page and on the class course reserve list.
Archives and Research Collections
The Archivist and Preservation Librarian will be in the library on Wednesdays and Fridays during the Fall 2020 semester. Appointments are required if you wish to read books in the research collections, or conduct research in the archival collections. Appointments will be available on Tuesdays and Wednesdays for Boston University students, faculty, and staff only. Non-BU researchers may request scans of archival or research collection material; please use the Ask an Archivist form to request an appointment or place a research inquiry. .
Accessing Research Collections' Books
For access to the research collection books, use the Ask an Archivist form to make an appointment. Please include in the email or phone message the title of the book, author, accession number of the book from the library catalog, and the pages or chapters you would like scanned. If you do not know the section of the book you want to read, or need to see the whole volume, please arrange a time for a visit on Tuesdays and Fridays when Kara Jackman, the Archivist and Preservation Librarian, is on campus.  BU students, faculty, and staff are eligible for appointments.
Accessing Archival Collections
For access to the Archival Collections, use the Ask an Archivist form. Please include your name, email, inquiry, and records collection that you would like to research. If you are BU student, faculty, or staff member, you will be able to make an appointment on Tuesday or Friday. If you are a non-BU researcher, you can make a request for scanned archival materials, provided they are not restricted by deed of gift, and/or are in the public domain.