School of Theology Library: COVID-19 Updates
Information current as of October 1, 2022.
Library Access
Visitor Access Policy
Due to concerns about the Covid-19 pandemic, the Theology Library follows BU health protocols and continues to update its policies concerning access to the library.
As of October 1, 2022, the library:
Strongly encourages, but no longer requires, face masks within the public areas of the library.
Accessing Library Resources
Course Reserves/E-Reserves
Course Reserve lists are available electronically. Now that in-person learning has resumed, some resources may be available for 2 hour reserve at our Circulation Desk. We recommend you check these lists out, and see what items you do not need to purchase.
Contactless Pickup at the Theology Library
Library Staff will safely pull items from our circulating collections (Stacks, Oversize, and Lewis Graphic Novels collections) and check them out to you ahead of time; they will be available for contactless pickup at the front of the School of Theology Library. All you have to do is flash your BU ID, pickup your bag of materials at the front of the library, and go! This service is available for all Boston University students, faculty, and staff.
To place requests, search the library's catalog for your needed resource. Make sure you are logged into the library's catalog (sign in on the top right on the page).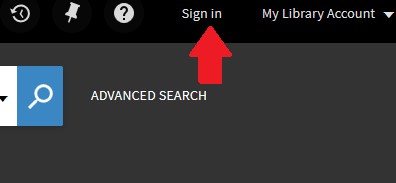 Once you find the resource you need, hit the "Request" option.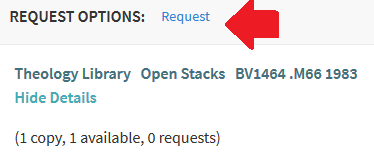 That's it! You will receive an email when the item is ready to be picked up at the front of the Theology Library. We will hold items for seven days before they are checked back in and re-shelved. When handling all library materials, staff will take proper precautions (e.g. washing hands and wearing gloves) to ensure all materials are safe for you when you're ready.
Scanning-on-Demand/Document Delivery
Don't need the whole resource? We are allowing scanning requests for all Theology Library materials (including open stacks, oversize, and reference) via Document Delivery Scanning. Patrons may request portions of a book, which will be delivered via PDF using ILLiad (link access via the "Interlibrary Loan Borrowing" page). Please allow up to 2 business days for processing. This service is only available to School of Theology students, faculty, and staff. BU Faculty and doctoral students can reach out to Theology Library staff directly at sthref@bu.edu with scanning requests.

To place requests, log into ILLiad by clicking here. The following screencast shows how to place and access scan requests.
E-Book Purchasing Requests
Let us know if there is a book that you would like us to purchase in e-book format.  While not every book is available electronically, many are and we are happy to purchase e-books, even if we already have the physical book on the shelf. To request the purchase of e-books, please use the Suggest a Book for Purchase form. If an e-book isn't available, we will let you know.