Ulterior motive: The Cartoons of James Crane
Ulterior motive: Cartoons by James Crane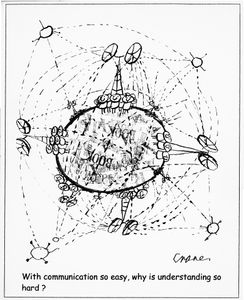 Through simple statements, and intricate black-and-white line drawings, Jim Crane comments on theology, ecology, politics and the human condition. His cartoons, created in the 1950s and 1960s seem even more relevant today. Crane's cartoons were published in theological magazines including, motive (a magazine of the Methodist Student Movement), Ave Maria (a Catholic family magazine), and United Church Herald.
The cartoons are displayed in the Community Center Exhibition Space of the BU School of Theology, and in the library located on the second floor. Free and open to the public, July 23, 2014- September 29, 2014, Monday through Friday, 8:30 a.m. to 4:30 p.m.
Contact kjackman@bu.edu or (617) 353-1323 for more information.
Boston University School of Theology
745 Commonwealth Avenue, Boston, MA 02215.