"Today I Live", Composed and Compiled by Dr. Carlton R. Young (STH '53)
Today I Live
"This volume of twenty-five music items will be useful to the living, the dying, and the grieving and will help family members and friends to accept and honor death, in the light of faith, as an inevitable part of the cycle of life. Funeral or resurrection choirs will welcome this largely new repertoire suitable for choir alone or with the congregation. Compiled by the venerable Carlton (Sam) Young, this edition features a number of his tunes in addition to selections ranging from chant to spirituals. Texts by significant contemporary writers are also included; Delores Dufner, OSB, has written the foreword. An important and useful pastoral resource."
The original description of Today I Live as well as purchasing information can be found here, and was originally published by GIA Publications Inc.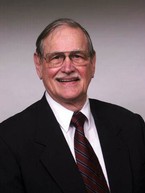 The author of Today I Live is Dr. Carlton "Sam" Young who has been honored with two awards from Boston University's School of Theology: STH Distinguished Alumni Award and STH Lifetime Achievement Award. "Dr. Young, teacher, editor, composer, and conductor, has the unique distinction of serving as editor of two revisions of hymnals for Methodists: The Methodist Hymnal, 1966; and The United Methodist Hymnal, 1989. 
Dr. Young's published choral and organ works are in major music catalogues. ASCAP has recognized Dr. Young's work as composer and editor with thirty-six awards presented by the Standard Awards Panel. He is editor, (emeritus) with Hope Publishing Co., was curator of the Bridwell Library 2007 exhibit, Sacred Harmony: The Musical Wesley's. He gave the 2007 Northcutt Lectures in Church Music at Baylor University."
The original article about Dr. Young can be found here, and was published by GIA Publications Inc.