Reverend Nikita McCalister (STH'05) Elected ABCUSA President
The following is an excerpt from the Baptist News Global article "American Baptists reaffirm and celebrate  women in ministry" by Mark Wingfield, featuring alum Reverend Nikita McCalister (STH'05) , published on July 2, 2023. 
---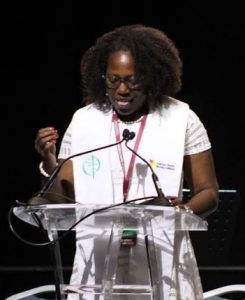 The ABC also elected Nikita G. McCalister as president for a two-year cycle beginning Jan, 1, 2024. She currently serves as transitional ministries consultant for the American Baptist Churches of Michigan and transition pastor at Westhaven Baptist Church in Port Huron, Mich.
"I am standing here, draped in my American Baptist women in ministry stole, because we have always been on the cutting edge," she said. "For a hundred and fifty years we have been ordaining women in ministry. We are indeed a denomination that understands the biblical basis for equal partnership in God's kingdom. Because we understand that God poured out his spirit on all flesh — all flesh — we are all made in God's image."
---