A Letter from Associate Dean Hickman-Maynard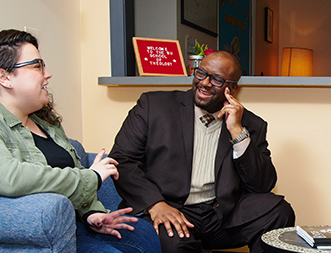 To comprehend the importance of student and community life at Boston University School of Theology (STH), you have to understand the work we do – we are not just another graduate school. You don't come here to learn some new information, gain a few marketable skills, or obtain a needed credential on your way up the "ladder of success". While STH graduates leave with greater knowledge, increased leadership capacity, and a respected degree, those achievements are not our primary goal. The study of theology is, primarily, soul-craft. Your time at STH is an investment in the development of the quality of your character, the clarity of your ethical commitments, the strength and flexibility of your relational capacities, your passion for justice, and the depth and breadth of your love.
Soul-craft requires a commitment to explore critically one's own individual and communal identities as well as the courage to engage in a diverse community through mutually transformative exchanges across the myriad boundary lines of difference that distinguish us from one another. STH is proud of its liberal mainline Christian heritage, and a significant tenant of that progressive tradition is our radical welcome of people of different social identities, social locations, family histories, theological perspectives, faith traditions, and life experiences. We believe theological education occurs best when we are invited to see the world through the eyes of others different from us who are fully reflective of the beauty of God's creation. While the sacred space that we inhabit at the intersection of difference is a productive, loving, and wisdom-generating place, it can also be uncomfortable, unsettling, and destabilizing. Therefore, students must also be able to find a sense of "home" within the school – experiences and communal spaces wherein students receive care, affirmation, and needed support.
The Office of Students and Community Life coordinates the array of opportunities through which students engage in the work of soul-craft outside the classroom. Wednesdays are the "hub" for community life at STH, boasting an ecumenical service of Christian worship in BU's famed Marsh Chapel, followed by lunch in our Community Center where students connect with one another and hear about many activities happening at the school in the coming weeks. Our Spiritual Life Office facilitates a stunningly diverse schedule of spiritual practices, activities, events, and groups through which students connect with the Holy and with one another. Student Coordinators of Student Life and International Student Life work together to support the development of meaningful relationships throughout the community and serve as liaisons between the student body and the administration. The Associate Dean for Students and Community Life also helps to advise and support the work of the phenomenal student leaders who direct the School of Theology Students Association, student organizations, student interest groups, and the new Communities of Learning which foster deeper formation within specific theological heritages.
Please spend some time here at bu.edu/sth learning about the ways we engage in the work of soul-craft through Student and Community Life. While there is no substitute for experiencing our life together in person, we hope the information provided here will inspire you to join the STH community for an experience that may very well shape the rest of your life.
Grace and Peace,
Teddy Hickman-Maynard
Associate Dean for Students and Community Life