Cape Cod clinician and culinary arts teacher finds calling in crisis management.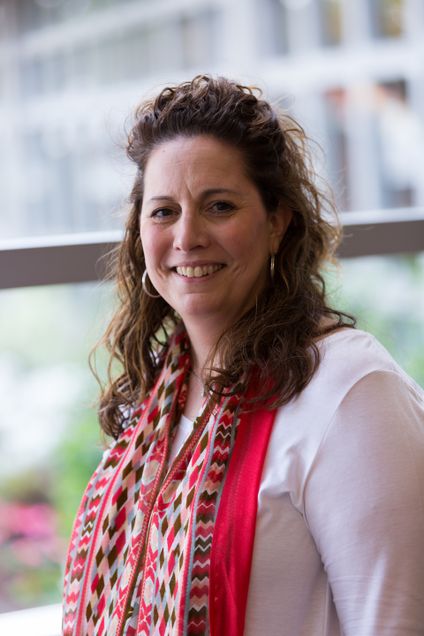 Lisa Holmes ('17), an Off-Campus Program student at our Cape Cod Campus, just can't seem to keep still—besides getting her MSW, she's a clinician, a culinary arts teacher, and a freelance culinary writer.
A former career as a travel journalist first compelled her to attend culinary school. Ultimately, Holmes found her way through food and into social work.
"I got carried away with the stories of Ann Cooper and the school lunch program, and ended up on the more academic end of food writing," Holmes admits.
After running her own children's cooking school for several years, Holmes realized that her experience with children's nutrition would be better suited in the public school environment, where students don't always have access to knowledge about the food they consume. During her time at Mashpee High School, she was introduced to social work. Initially hired as a teacher, Holmes quickly discovered that her role had grown to include tackling social and emotional issues as well. "We started a wellness program at Mashpee, and that's what really got me interested in wellness among teens," Holmes said.
A Mashpee native, Holmes was drawn to the convenience and the structure of the Off-Campus Program. She says getting to know her professors and students so well through the cohort model has built powerful relationships.
During her second year field placement at the Domestic Violence Shelter in Falmouth, Massachusetts, she was called in to the Vinfen Community Crisis Stabilization Unit in Hyannis, a small facility that serves as a crisis management unit for those who are coming in from hospitals, group homes, and emergency centers and need to recuperate. Holmes came into the program with the intention to take her Mashpee wellness program further, but now plans on completely directing her attention to crisis work.
For her hard work and excellent leadership skills, she was awarded the BUSSW Dean's Award for Leadership in Social Work in 2017.