Spotlight: Yaminette Diaz-Linhart (SSW'10, SPH'11)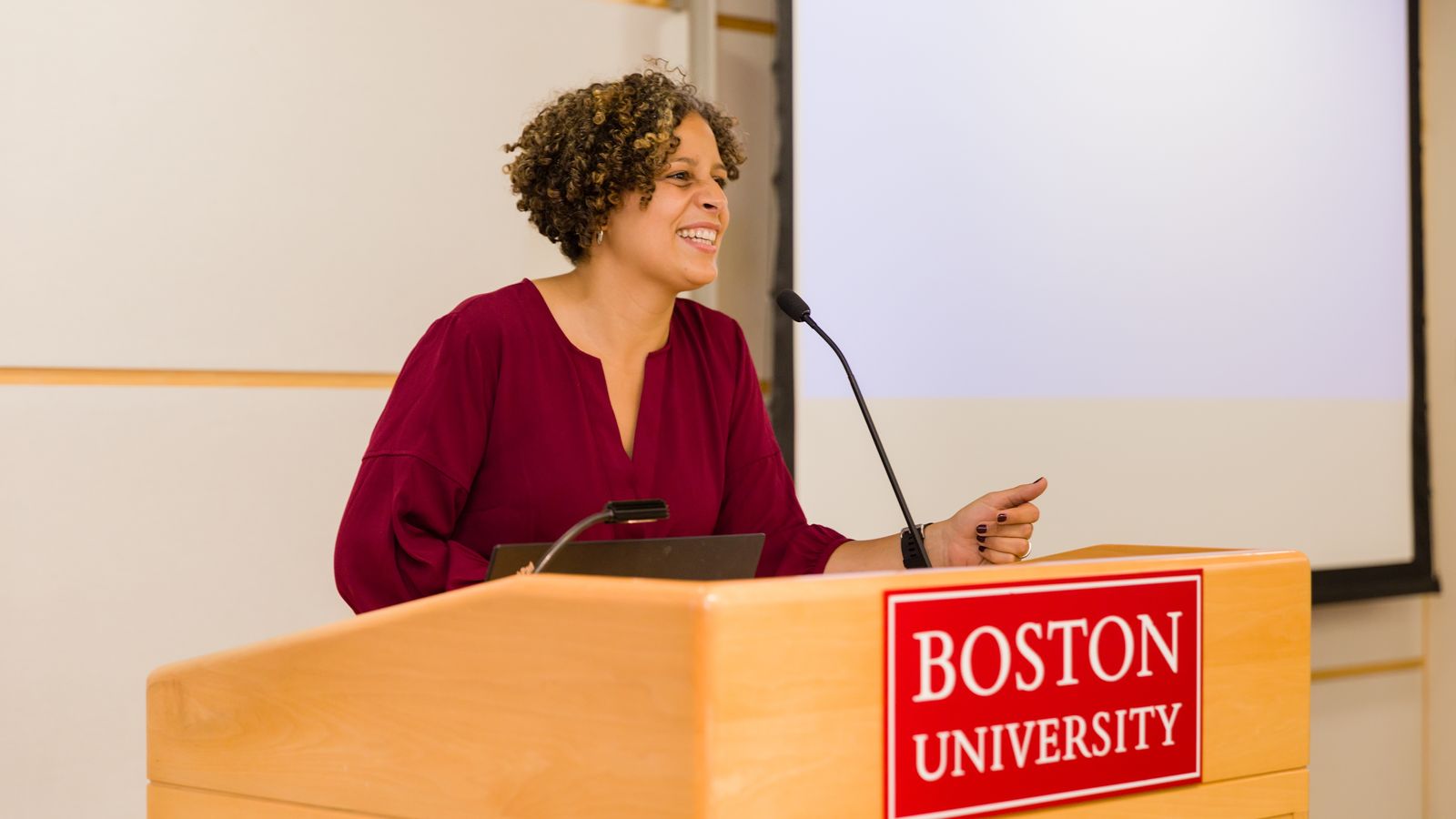 "If we allow ourselves to be transformed by our social work practice, then we will truly engage in transformative and healing work for our clients and our communities."
Yaminette Diaz-Linhart (SSW '10, SPH '11), recipient of the 2018 BUSSW Alumni Association's Outstanding Contributions to the Field of Social Work, reflects on her path from MSW/MPH dual degree student to program director for BMC's Center for Family Navigation in Pediatrics and her current role as a health policy research scholar in the doctoral program at Brandeis University.
Born in Puerto Rico, Diaz-Linhart grew up in Connecticut and moved to western Massachusetts to attend Mount Holyoke College. One week after graduation, she got married and moved to Boston. Two years and one child later, she began BUSSW's MSW/MPH dual degree program.
Q: What was your most memorable experience at BUSSW?
A: My group therapy class – we practiced group facilitation by applying a range of theories. I had my first child then, an almost two-year-old who I was trying to wean from nursing. My group helped me follow through with a weaning plan, which was at that point, a very difficult part of parenting. It was a very transformative experience. I learned how to run a group and experienced how to be a participant with my colleagues. It was a safe, rigorous and applied-learning environment that characterized my time at BUSSW.
Q: Is there a certain experience that has guided your path since graduating from BUSSW?
A: During my first-year field placement I worked with a homeless family; a mother with a severe trauma history and her toddler. They were being mistreated at the homeless shelter where they lived. One of the goals in our work together was to document incidents at the shelter and collaborate on a formal letter of complaint to the shelter's funder, the Department of Transitional Assistance (DTA). Within a week of receiving the complaint, the mother and her child were moved into a permanent apartment. It was a huge success for the family and for me as a budding social worker. It taught me that even organizations serving vulnerable families are flawed and often need more support to truly help clients.
Q: How did BUSSW prepare you for success in the social work field?
A: BUSSW prepared me to tackle complex problems as a public health social worker. While working as a program director for the Center for Family Navigation in Pediatrics at Boston Medical Center (BMC), I developed and directed multiple federally-funded research projects on behavioral health prevention and interventions with community health workers and patient navigators. One of the most rewarding parts of my work was managing, supervising and developing the staff, several of whom have since gone on to pursue education in social work.
I also value the relationships I built with faculty and staff through work and mentorship opportunities, as well as connections throughout the BUSSW network – they have expanded my reach in the field. One of the reasons I was inspired to pursue a doctoral education was because of those important relationships I developed at BUSSW and BUSPH that pushed the boundaries of how I understood my work.  
Q: What does your life and career look like today?
A: After working at BMC for 10 years – I started part-time when I was still finishing my MPH degree – I am now a health policy research scholar in the doctoral program at the Heller School for Social Policy and Management at Brandeis University. Backed by support from the Robert Wood Johnson Foundation through the Culture of Health Initiative, I receive training, funding and travel opportunities to build research and networks that build a culture of health, including the opportunity to live in Washington, DC to attend a leadership institute tackling cross-sectoral policy work. 
At a practice level, I finished working on my own pilot study focused on healthcare worker well-being in a Medicaid Accountable Care Organization. On the macro end of the spectrum, I currently serve as a commissioner representing NASW-MA on the Massachusetts Community Behavioral Health Promotion and Prevention Commission. 
My family life is also very full: I'm married to an attorney and we are parents to a 12-year-old aspiring herpetologist, a seven-year-old dancer, and a bunch of different pets. We live in Cambridge and are actively involved in community and neighborhood initiatives.
Q: Do you have any advice for aspiring social workers?
 A: One of the biggest lessons for me as a public health social worker has been to let my personal and professional experiences shape my practice. For example, my experiences being a new parent and a social work student led me to start clinical work with other mothers and families, which in turn shaped my public health practice toward research and policy-level work for behavioral health promotion and prevention for women and families. This work led to me pursue a doctoral degree to research work environments that support well-being, especially for the healthcare industry, and more broadly, the service sector. 
The opportunity to integrate all parts of my life into my work has motivated me to keep learning and growing. I encourage every student to bring themselves fully to their work and see social work as transformative — not just for their clients, but also for themselves. If we allow ourselves to be transformed by our social work practice, then we are able to truly engage in transformative and healing work for our communities.
---
Follow Yaminette on Twitter at @yaminettediaz.