MSW Class Partners With Town of Winthrop to Address Hoarding
MetroBridge sparks collaboration at Charles River Campus
BUSSW MSW students in lecturer Heidi Sulman's "Mental Health and Social Policy" course recently applied their studies to real-world needs in the town of Winthrop, Massachusetts, as part of Boston University's MetroBridge program.
MetroBridge, a program established by BU Initiative on Cities, enlists BU faculty and their classes to address issues facing under-resourced communities across Massachusetts. In BUSSW's first project with the MetroBridge program, Sulman and her students worked with the town of Winthrop to help officials address a growing concern about residents living in hoarding conditions. Their goal was to develop policy recommendations and tools for the town to use in an ongoing effort to address mental health conditions such as hoarding.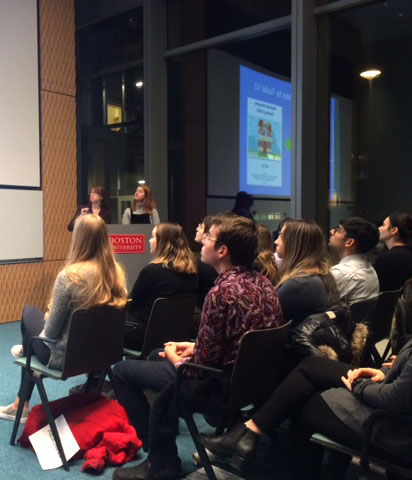 The project was introduced to students by Meredith Hurley, Winthrop's public health and clinical services director, who  recognized a multitude of hoarding issues in the community. Led by instructor Heidi Sulman and partners from the town, students were split into three groups to pursue three interconnected initiatives: (1) identify best practices in addressing hoarding; (2) update and expand Winthrop's Hoarding Toolkit; and (3) build a hoarding-focused community mental health coalition. Each group produced tangible resources, such as a guide highlighting ways the town's clergy could discuss mental health in sermons and a sample agenda for the first coalition meeting. 
In December 2019, BU Initiative on Cities held a MetroBridge showcase to highlight the work of the nine classes that participated in projects this past semester. BUSSW students Kathryn Sparks and Brenna Cleeland presented their class's work and expressed a joint interest, on behalf of MetroBridge and the Town of Winthrop, in continuing their work in fall of 2020 with the next class of BUSSW students.