Deborah Sheehan reflects on a career in social advocacy and returning to BUSSW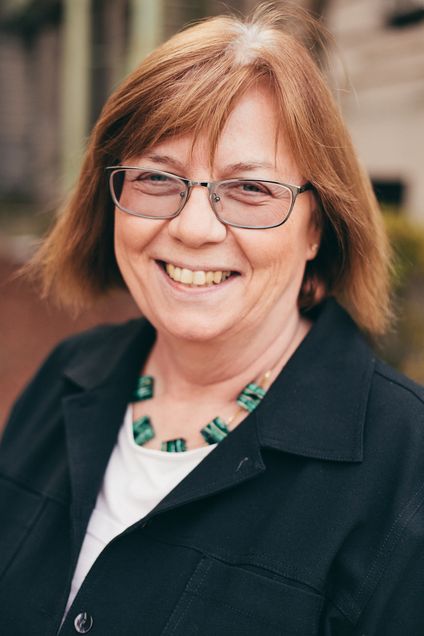 After earning her MSW in 1978, Deborah Sheehan found her way back to BUSSW as Director of Professional Education Programs, and the school's resident expert on all things social work.
It's no surprise that Sheehan found herself in the field of social work. She comes from a long line of "social workers", or helpers, as she remembers them. Her parents, a Boston police officer and an inner city public school cafeteria manager, were helpers, who would often go above and beyond to make sure their neighborhood, Roslindale was fed, sheltered, and protected.
Sheehan earned her bachelor's degree in psychology from Boston College, before she made her way to BUSSW to earn her MSW in the 70s. "It was a very political time in history, and our Dean at the time, Hubie Jones, was very inspirational and well thought of in the community, which made it even more exciting to be at BU," she says. Sheehan came from a world of residential treatment, where she had worked with kids at New England Home for Little Wanderers as a work-study during her time at Boston College. While at BUSSW, she was placed at Massachusetts Correctional Institution (MCI)-Norfolk, where she worked with male inmates. "It wasn't a field I was at all interested in, and my family hated it because my father was a police officer. But, my clients always came to see me. They never missed an appointment. They said it was a fun thing for them to do!" says Sheehan. While at MCI, she learned to run groups, and learned a lot about how racist the incarceration rates were in Massachusetts.
Upon graduation, Sheehan went back to New England Home and worked in residential treatment before becoming the Assistant Director of New England Home's Night Children Center. Following her time there, she went on to run an agency at Dear Family Services in Medford, which involved foster care and group care for adolescents. She made her foray into the field of higher education through Simmons College, where she served as Director of Admissions for the master's and doctoral programs for 10 years. She returned to Boston College to pursue her PhD, but was unable to submit her dissertation due to health reasons. Although she's sad about not being able to complete her degree, she says, "As an example of someone in social work, I've been able to do so much with just my MSW degree. I ran part of a program, hired employees, worked clinically, did program development, and then went on to be a higher education administrator, so it's pretty cool!"
Sheehan's first professional role at BU was with the Off-Campus Program, where she ran the Cape Cod and Fall River programs. She continued in that capacity for nine years, before landing her current role as Director of Professional Education Programs (PEP). She says, "As my career has developed, so have the people I'm working with. I started off with kids, and now I'm bringing in courses for people who already have their MSW, and are looking to continue their life's work and advance their skills."
Professional Education Programs (PEP) are a necessary part of the field of social work. Sheehan's vision for PEP is to bring the "most interesting information to the most people in the most accessible ways possible." With the addition of online seminars, new offerings and certificate programs, and different ranges of presentations, discussions, and speakers, PEP is being noticed for its growing diversity and innovation under Sheehan's leadership.
Besides her work with Admissions and PEP, Sheehan also serves on the BUSSW Equity and Inclusions Committee. She was appointed by the Governor to the Massachusetts Commission on LGBTQ Youth, a role that lasted two years. Both serve as issues that she is very passionate about. Her advice for future social workers and those involved in social advocacy? "Follow your passion, but also be open to what the school has to offer. I would've never worked in a prison, for instance, but I think that's where I got my greatest clinical training. Try and be open to what comes your way, because you might learn a lot from it."