'We Need to Learn the Lessons of the Past to be Able to Apply Them for the Future'
.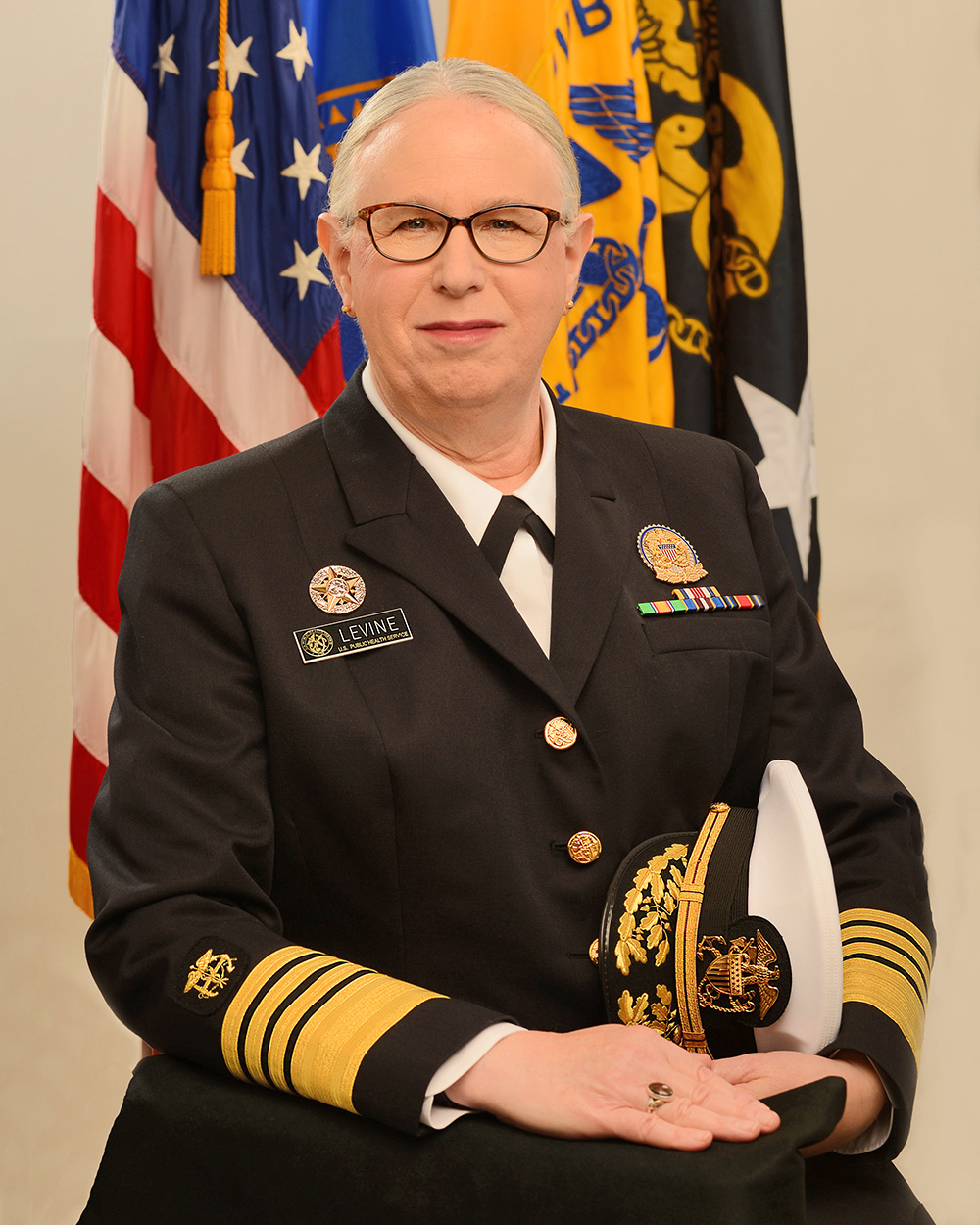 convocation
'We Need to Learn the Lessons of the Past to be Able to Apply Them for the Future'
Ahead of her SPH Convocation Address, Admiral Rachel Levine discusses some of the challenges facing the nation and the field of public health.
On February 12, 2020, just days after the unchecked spread of what was termed "novel coronavirus SARS-CoV-2" prompted a national public health emergency, Dr. Rachel Levine delivered the keynote address at an SPH symposium that was one of the School's last in-person events for more than two years.
And now, just days after the lifting of the national emergency status for COVID-19, Admiral Levine returns to the School to deliver the 2023 School of Public Health Convocation Address.
"Coming back to Boston is kind of coming home for me so I'm really looking forward to being at Boston University," says Levine, who currently serves as assistant secretary for health in the US Department of Health and Human Services. Levine also holds the rank of admiral in the United States Public Health Service Commissioned Corps, the branch of the nation's eight uniformed services that is committed to the service of health. USPHS officers advance the nation's public health by serving in agencies across the government as physicians, nurses, dentists, veterinarians, scientists, engineers and other professionals.
Levine has deep ties to both the Bay State and BU: her parents met while both were students at the School of Law; Levine was born and raised in Wakefield, her father's hometown, attended the Belmont Hill School, and is a graduate of Harvard College.
She earned her medical degree from the Tulane University School of Medicine before completing her residency in pediatrics and a postdoctoral fellowship in adolescent medicine at the Mount Sinai Medical Center in New York City. As a physician and later as a professor at Penn State College of Medicine, she specialized in the management of eating disorders and focused on the intersection between mental and physical health for children, adolescents, and young adults.
While a faculty member at Penn State, Levine's expertise in public health and medicine led to her 2017 appointment as the secretary of health for the Commonwealth of Pennsylvania. In this role, she was responsible for the state's response to the COVID-19 pandemic, including the implementation of public health mitigation measures such as mask mandates and business restrictions.
After her appointment to HHS in 2021, Admiral Levine has focused on addressing the social determinants of health, promoting evidence-based practices, and advancing public health research and innovation. During an interview from her office in Washington, DC, Levine discussed some of the challenges facing both the nation and the public health field itself as we navigate a post-pandemic world.
Q
&

A
with Admiral Rachel Levine, United States Assistant Secretary for Health
Since being nominated assistant secretary for health, what have been some of the critical things you've noticed in your fight to help keep us all safe?
I think there are important lessons of the COVID-19 pandemic. One of them is that we are really, truly all interconnected. The decisions that each one of us makes personally for our families, it impacts our communities, our states, our nation, and the world.
I think another one is the importance of health equity. COVID-19 has shown us the depth and breadth of the health disparities that exist in our nation. I think that we have to work towards a healthier future that includes eliminating health disparities and promoting health equity. We haven't made true progress unless we all make progress. That is absolutely one of the top priorities for Secretary Becerra and HHS, as well as myself and my Office of the Assistant Secretary for Health. Really all of our top priorities have a foundational element of health equity. If I can use a 'Pennsylvania' word, it's the keystone of everything that we do.
Another would be the critical importance of public health. Public health right now is the center of the universe. Previously you could call Boston the center of the universe, right? Because it's the hub, right?[…]Public health is just so important and it really has to work together. Local, state and federal public health officials need to be coordinated, and cooperate together and collaborate. And then we need to do that with international groups such as the WHO and others.
As we pivot to a much more forward-looking view in terms of figuring out how to handle future pandemics, our dean, Sandro Galea, wrote "It will not matter how cutting-edge our treatments are, how nimble our process of vaccine development, how sophisticated our disease surveillance….We need to do what we did not do after SARS [severe acute respiratory syndrome] and invest in creating the conditions for health, guided by science and informed by our values."
What has influenced your thinking in terms of moving forward and looking ahead toward the next time?
I think that it is critical that we invest more in public health, and that public health has sustainable funding at the local level, at the state level, and at the federal level. And that public health works better together so we are more coordinated than we currently are. That involves workforce initiatives to make sure that the public health professionals are out there, so we need a pipeline of public health professionals [coming into the field].
We need to work on wellness for our current public health professionals, because of the risk and the issues of burnout and turnover. We need to work on the interoperability of data in terms of public health. I think that those would be some of the lessons that we need to do.
I think that there are three ways to deal with a pandemic, three tools in our toolbox. We can work to contain it, we can work to mitigate it, and then we can work on medical countermeasures.
To contain a pandemic, or an emerging illness that could lead to an epidemic or pandemic, then you have to have testing. You need testing capacity, and those tests need to be distributed to state and local health departments and other healthcare members. You need contact tracing, and then you need appropriate isolation and quarantine if you're going to contain it.
When you think of preventing, I think that from a public health perspective, you would try to work to contain an illness. That's going to be a real challenge in the future. The public did not tolerate mitigation efforts very well. I think that actually right now mitigation would be almost an even bigger challenge than it was before.
We need to invest in the medical countermeasures, which would be vaccines. For example, the vaccine plan in terms of developing new vaccines that the administration's investing in with the [National Institutes of Health]. And then we need the infrastructure to be able to work on treatments. Also, from a medical point of view, we really need to have a more integrated medical care system. That's important as well, as those state, local and federal health professionals are very well situated to work with the healthcare system of our nation at all of its different levels.
But in terms of the health equity component, it really gets to the social determinants of health. It gets to economic opportunity and those upstream factors that we always talk about in public health. Economic opportunity is a health issue, transportation is a health issue, education is a health issue, housing is a health issue. And of course, the environment, nutrition and more. Those are all health issues. I think that's how also we try to prevent or prepare for future pandemics.
I'll take it even further. We have a new Office of Climate Change and Health Equity. One of the impacts on health that climate change and other environmental challenges are exacerbating, for example, is vector-borne diseases. Because of rising heat, the spread of ticks and different types of mosquitoes are increasing. That's not just the United States, that's throughout the world.
As we have environmental challenges in developing countries, of course we have that intersection of nature and urban development that also can spread illnesses. Look at Marburg and Ebola and things like that. All of those environmental issues and environmental justice issues get involved, as well as the "One Health" concept.
You mentioned burnout and turnover, which seem to be key components of being able to field a ready population of health professionals.
Absolutely. The Surgeon General has talked about healthcare burnout, and public health worker burnout through the pandemic. Again, public health has been the center of the universe. The advantage is that hopefully we'll get more workforce development, funding, IT support, etc. The downside has been that microscope on public health professionals at the local, state and federal levels. And the criticism that public health officials have taken at all those levels. And frankly, some of the really over the top criticism that they have faced as well.
When I was the secretary of health of Pennsylvania and the president of ASTHO, the Association of State and Territory Health Officials, I was last president in January of 2021 before I took this office in March [2021]. There were only a handful of state health officials still in office, and that is true of county and city health officials as well. There's been a burnout factor and we need to deal with that wellness issue and retention—as well as recruitment in that pipeline through schools like the Boston University School of Public Health to replenish our ranks.
What are some of the goals of new Office of Climate Change and Health Equity?
That was established in September of 2021, and we have been working now for, coming on one and three-quarter years working on this. Despite not actually having specific funding from Congress, with the support of the Secretary we are hard at work. We're doing a lot of things in terms of education of the healthcare community about issues of climate change and health equity. In terms of working on technical support to cities and counties, but as well as to healthcare organizations. One of the unique things we've done is a White House HHS challenge for anyone working in the health sector to sign a pledge to work on decreasing carbon emissions by 50 percent by 2030 and net-zero by 2050, as well as working on resilience to the impacts of climate change. […]We are getting healthcare organizations writ large, health systems and more, to commit to this issue because 8.5 percent of carbon emissions in the United States are through the healthcare sector.
How have you balanced looking at new areas such as climate change and health equity, while considering some of the important legacy projects of HHS?
There are projects that continue through HHS. Ending the HIV epidemic is absolutely critical. Tobacco cessation and so many different issues also continue. We need to learn the lessons of the past to be able to apply them for the future. If we're going to work to prepare for the potential next pandemic, then we need to learn the lessons of the past that we've been discussing, in order to then apply those lessons and the improvements to the future. But we don't forget what other issues we've been working on. There are many offices at HHS, our Offices of Women's Health, Minority Health, Disease Prevention Health Promotion. We're still working on nutrition, preventing heart disease, cancer, and so many different issues, but then we have an eye to the future as well.
The SPH Convocation will be held Saturday, May 20, at 9:30 am, at the BU Track & Tennis Center. Those unable to attend in person can watch a live broadcast (with CART transcription), starting at 9:30 am ET on May 20 via livestream. CART (Speech to Text) is also available via personal phone/tablet during the ceremony at the following link: go.bu.edu/ttc