BU Basketball Star Walter Whyte Earns MPH While Having Career Season
.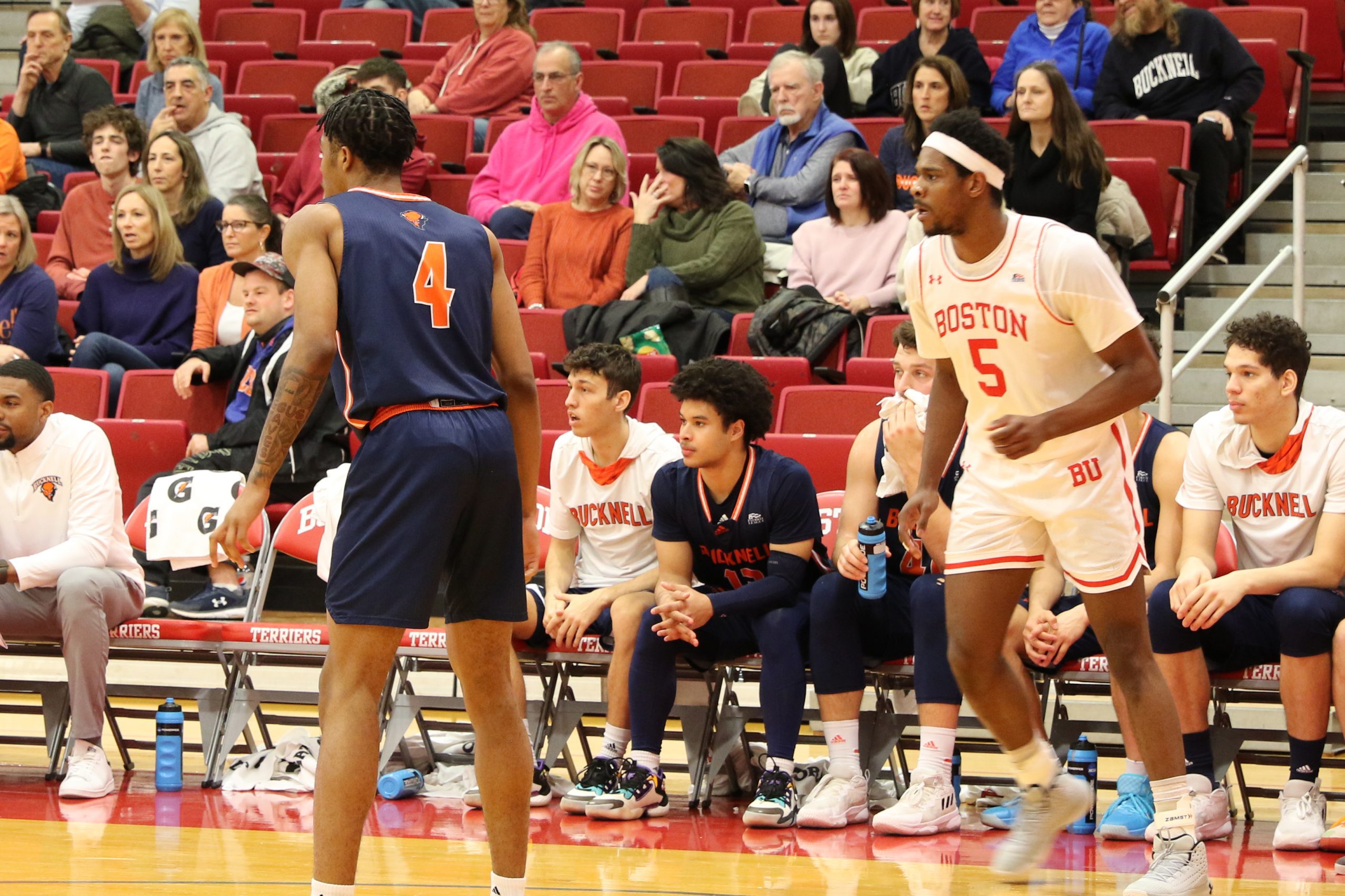 Alumni
'It's Just an Amazing Attachment to Have on Your Foundational Education'
BU Basketball standout Walter Whyte learned to love public health and earned his MPH while having a career-best season.
Standing 6'6" and with a smile as wide as his wingspan, Walter Whyte would be hard to miss in any School of Public Health classroom.
He earned his MPH in January 2023, studying environmental health with a sub-concentration in human rights and social justice, completed while leading the BU Terriers basketball team in scoring this season.
In choosing SPH as an academic home for graduate work, Whyte says, "I was trying to find something that I really was passionate about that also had to do with helping people. And I love helping people. My mom's a social worker, so I've kind of been around it my whole life. But I've always wanted to be around the medical field and helping people on that macro scale. And that's what public health was able to do for me."
The scope of public health was an immediate draw, says Whyte, who appreciated being exposed to a variety of disciplines during his MPH study, including CAPDIE (Community Assessment, Program Design, Implementation, and Evaluation), community health, environmental health, and epidemiology.
"There's so many different realms that you can go through in public health, and I think it's just an amazing attachment to have on your foundational education," Whyte says. "And then from there, you can really impact so many people on such a huge level. It's just one of the most important things in up-and-coming degrees because of how the world is changing. And COVID kind of helped push the narrative for public health and the need for it."
He was a star high school student-athlete in Connecticut, eventually becoming one of the top recruits in New England before committing to BU. After a promising 2017 freshman season, he was sidelined by a persistent ankle injury in 2018 and spent the year as a redshirt. He bounced back the next year for the 2019-2020 season to help his teammates capture the Patriot League championship, but COVID dashed their hopes of competing in the 2020 NCAA Tournament. There was no March Madness for anyone that year, but an abbreviated 2020-2021 season meant many players were eligible to compete for another year.
After earning his bachelors in sociology from the BU College of Arts and Sciences in December 2020, Whyte still had two years of NCAA eligibility remaining. He chose to study public health because of an internship with Joseph Allen of the Harvard Chan School of Public Health, a respected exposure assessment researcher who earned his MPH and DSc at BUSPH and was a friend of Whyte's coaches.
Once in the SPH environmental health program, Whyte discovered that he loved learning about water quality and the region's unique history in the development of safe municipal water supplies. Massachusetts was an early leader in the study of drinking water purification and sewage treatment with the founding of the Lawrence Experiment Station in 1886. The facility on the banks of the Merrimack River in Lawrence, Mass. was originally tasked with creating efficient sewage treatment, as most cities along the river dumped sewage directly into the water—which was also the main drinking water source for Lawrence and surrounding towns.
Water quality is still an ongoing issue across the world, even in many communities in the United States as citizens of Flint, Michgan know all too well. "Having clean, accessible water should be a human right," Whyte says. "We actually went to Lawrence and we tested for lead and microbes. It was super interesting, and it's such a big issue, to make sure there's healthy water for everybody."
Like many public health students whose academic careers were defined by COVID, Whyte was swept up by the renewed interest in epidemiology and its critical role in charting the course of the pandemic.
"COVID was such a big issue and it kind of shaped how the working world is now, how daily life is now. So I really enjoyed that," Whyte says. "There's just so many other issues that we can come across that we talked about on the daily."
One of his last classes at SPH in fall of 2022 was a GIS mapping class that sparked another area of interest.
"It was a new realm of computer science that I had never seen before and I enjoyed it," Whyte says. "And it was just the challenge of learning something new and being able to apply it to a public health idea to make maps and it was awesome."
From that GIS class, Whyte enrolled in a graduate certificate program in urban policy and planning at BU's Metropolitan College, which he expects to complete after the season ends.
And from there?
"I've always dreamed of playing professional basketball. So that's kind of been hopefully the next step," Whyte says. Several of his former teammates are currently playing professionally in Europe or in the G League, the minor-league organization that develops players for the NBA. "But then after playing professional basketball, I'd love to just get into the public health world and be able to study and hopefully get into healthcare."