'This Is the Work That Gets You Out of Bed in the Morning'
.
activist lab
'This Is the Work That Gets You Out of Bed in the Morning'
MPH students Hannah Henrikson and Daisy Ramirez discuss their work as Activist Fellows with Health Resources in Action and how the experience has affected their time at SPH.
Each year the Activist Lab at the School of Public Health sponsors the Activist Fellowship Program, which provides students with the opportunity to engage in advocacy-related activities across the Greater Boston area.
This year, Activist Fellows worked with Health Resources in Action (HRiA), a nonprofit consulting and medical research funding organization based in Boston, Mass. With a range of clients across the country, including the Centers for Disease Control and Prevention, the US Department of Health and Human Services, and state and local health departments, HRiA works to address the most critical public health issues using innovative and evidence-based approaches to improve population health.
Throughout their time at HRiA, the Activist Fellows have served as content specialists, helping to strengthen the organization's grant making initiatives and support their ongoing efforts to collaborate with and expand their network of community partners.
Second-year MPH students Hannah Henrikson and Daisy Ramirez shared more about their experience working with HRiA over the last year and semester, respectively, why they wanted to take part in the Activist Fellowship Program, and how the experience has impacted their time at SPH.
Q
&

A
With Hannah Henrikson and Daisy Ramirez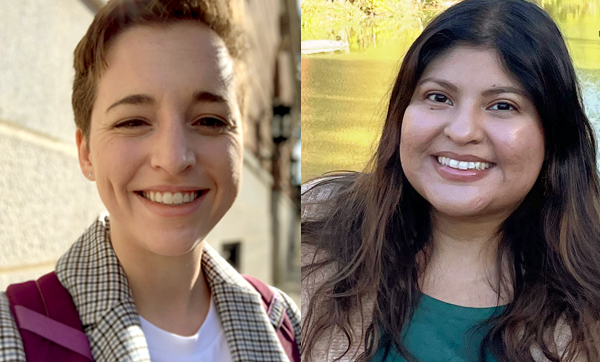 What projects have you been involved with during your time at HRiA?
Hannah Henrikson: I have primarily worked on two projects throughout my time at HRiA: the Innovative Stable Housing Initiative (ISHI) and the Community Health and Healthy Aging Funds. Both of these projects are very housing-oriented and are focused on getting people into safe and sustainable housing.
Especially in light of the COVID-19 pandemic, affordable housing and access to safe spaces is now a more urgent issue than ever. Our work is really focused on providing the funding and support to empower grassroots organizations and communities to push for reform in these areas and work to get people into secure environments so that they can take care of themselves, their families, and truly thrive.
Daisy Ramirez: I have also worked on ISHI while at HRiA, as well as one of their health reform projects focused on closing gaps in insurance coverage in Massachusetts and improving insurance for individuals across the Commonwealth. I am also working on a blog that will be featured on the HRiA website about formerly incarcerated individuals and their reentry into society, highlighting different ways to support these individuals in living a healthy, full life after incarceration.
What has been a highlight of this fellowship experience for you thus far?
Henrikson: A big highlight of this experience for me has been getting to meet and work with some of the grassroots organizations that HRiA is working with across Boston. There have been several opportunities to hear from these groups who are on the ground doing this really important work, and being able to learn from them and hear their perspective about what is and isn't working has been wonderful.
Ramirez: In all of our work at HRiA, we are working with communities who have historically been left behind or neglected, and who are so often communities of color. It has been a really empowering learning experience for me so far because we are not only tackling critical public health issues, we are also uplifting and supporting the voices within these communities to lead the change that they want to see.
I've also had the opportunity to sit in on a few meetings with some of the organizations that HRiA is working with, and seeing how the different organizations are eager to learn from one another and to work together to tackle these big public health issues has been really heartwarming and powerful.
Why did you want to become an Activist Fellow?
Henrikson: I chose to come to SPH because of the School's social justice focus. It was important to me that I get involved in this work in a really actionable way rather than just through the theories and hypotheticals that I was learning in the classroom.
When I learned more about the Activist Lab and the different opportunities they offer, I knew that this fellowship would be a great way to do this real-world work with the added benefit of guidance and expertise from faculty like Dean Andrade.
Ramirez: Community has always been really important to me, and I love that SPH and the Activist Lab focus on supporting their surrounding community members because it is so easy for institutions to neglect their neighbors.
Before I came to SPH, I knew I was going to get involved in the Activist Lab. I even wrote about it in my personal statement! When it came time to apply to the fellowship program, it really was a no-brainer for me because it was the perfect opportunity to learn more about providing this community support in real-time.
How has your time as an Activist Fellow impacted your experience at SPH?
Henrikson: For me, this has truly been a highlight of my time at SPH. I've been able to apply what I've learned through my coursework and apply what I'm passionate about to my work at HRiA in a way that I haven't with a lot of other opportunities I've had since coming to SPH.
This fellowship has been a really refreshing opportunity to actually do the work that we care about and that we know is making a difference in the community. This is the type of work that gets you out of bed in the morning.
Ramirez: This has been an incredibly rewarding experience for me. It has been a great opportunity to try things out and build up my skillsets, receive real-time feedback on my work, and continue to learn and grow in my public health practice in really meaningful ways.
It's also clear that the folks at HRiA value us as both individuals and public health professionals. Our supervisor has helped us shape what we want to get out of our experience and has been supportive in helping us take the content from our courses and apply it to our daily work. It's really confirmed that what we are learning here at SPH is what we will need to effectively do this work in the real world.
Applications for the next round of Activist Fellows will open on April 22. Learn more and apply here.