'The Desire for Power Should Never Be Put Ahead of the Lives of Citizens'
.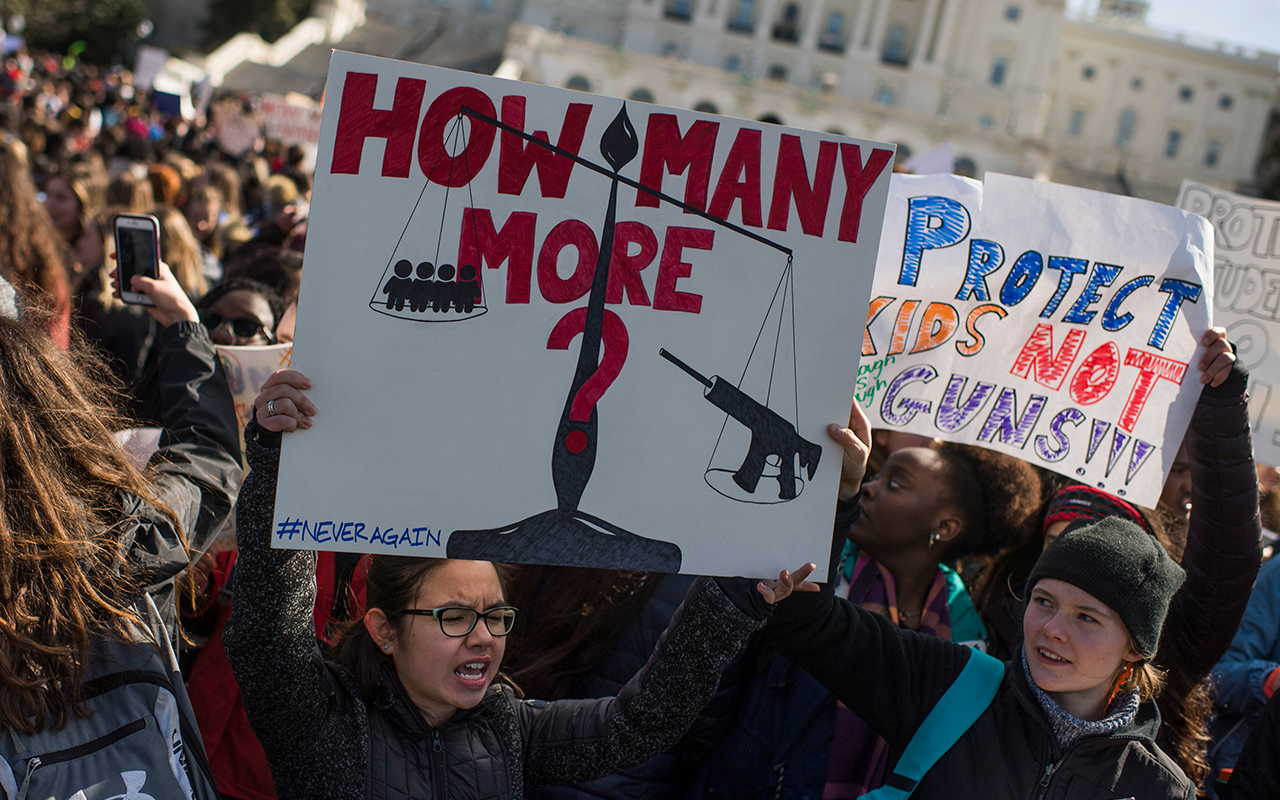 gun violence
'The Desire for Power Should Never Be Put Ahead of the Lives of Citizens'
In the wake of the latest mass shooting at a US school, SPH community members discuss the critical policies and strategies that are urgently needed to prevent more senseless deaths.
The latest mass shooting at a US school—this time at Robb Elementary School in Uvalde, Tex.— took the innocent lives of 19 students and 2 teachers on March 24. It occurred just days after 16 people were injured in a mass shooting in downtown Milwaukee, Wisc., and 10 people were killed in a mass shooting at a grocery store in Buffalo, N.Y. Gun violence is a uniquely American problem.
These victims join more than 110 people who are killed, and more than 200 who are injured each day in the US due to firearms.
We asked members of the SPH community to identify specific policies and interventions that should be implemented to break the cycle of gun violence and solve this uniquely American public health issue.
Guns are inherently dangerous and restricting the amount of firearms in public is one of the most effective ways to minimize gun violence, as well as providing a better sense of safety for the public. Texas has continuously eased what little gun restrictions they had in place, and if the "more guns, less crime" theory were true it would be one of the safest states in the country but it's not.
What is most troubling is the Supreme Court is poised to strike down a law present in states like Massachusetts which aim to balance the needs for self-defense and public safety–referred to as "good cause" restrictions–by finding a Second Amendment right to carry firearms in public. This narrow view of an individual right and deliberate disregard for the impact on the public is going to put lives in danger. Constitutional rights have always been limited if and when they threaten the health and safety of others. But the Court is increasingly willing to ignore the health and wellbeing of the many to prioritize the right to firearms. What happened in Uvalde is not inevitable. Gun violence is a public health problem and can be minimized if the courts would allow states to continue legal efforts to tackle this increasing epidemic. While there is no one law that will eliminate gun violence, restricting guns in public, raising the age to purchase firearms, restricting access to assault-style weapons, safe storage, and limiting access to large-capacity magazines would certainly help. Whether any of these will survive the zealous gun-rights organizations and this judiciary remain to be seen. But I'm not optimistic.
The United States is an outlier in having little firearm regulation, high firearm access and ownership, and high firearm deaths relative to other high-income countries. There is a strong association between state firearm ownership and adult and child firearm deaths.
I hope citizens realize that they can make a difference by calling on policymakers to change policies. Advocacy after the Parkland shooting prompted several states to increase the minimum age of handgun sales in 2018. We studied this policy and found it was associated with reduced youth suicide deaths. More youth are alive, more families are intact because of those state policy changes in 2018.
I'm glad to see people mobilizing to support more policy changes, which can make more of a difference. Policy priorities include banning assault rifles, requiring permits to purchase firearms, and increasing the age of purchase nationwide or in other states. The United States has a very high rate of firearm ownership relative to other countries, and gun buyback programs can also contribute to reducing firearm deaths.
As much as we need common-sense gun regulations, it would be a shame if we exclusively tried to address this problem by limiting access to guns. There's much more we need to do in tandem. Many gun deaths could be prevented by investing in communities that have experienced the worst impacts of segregation, disinvestment, and material deprivation. I'd like to see a large federal investment in community-based programs that fund activities like conflict mediation, services for trauma survivors, and enhancing physical spaces. These programs are often best delivered by people who've got credibility and standing in those communities. Community organizations have been doing this work for a long time, but they're chronically underappreciated and underfunded. The Build Back Better proposal included lots of funding for this work ($5 billion) but with that on the shelf, I'm worried we'll miss a meaningful opportunity to reshape how we approach public safety. We also need our elected leaders to make tangible progress on police accountability and other changes to the criminal legal system—violence and injustice in those systems does ongoing damage to community safety and health.
Gun regulations are important, but just a start in preventing violence and mass shootings. Community-based prevention strategies through smaller local organizations are incredibly important as they help to promote safety and well-being without encouraging policing. It is also important to address the subsequent impacts of violence exposure, particularly when it comes to children, through approaches such as psychological first aid and other interventions delivered through schools to encourage healthy coping mechanisms and help mitigate the mental impacts of violence.
Our gun-centric country is beyond dysfunctional, perhaps most disturbingly in a Supreme Court that seems intent on authorizing every white male to be armed with military weapons as a constitutional right. Did we defeat the pandemic, or just fail to persuade a population that suffered a million deaths that prevention was a survival strategy? Any gun survival strategy must learn from other public health actions, and coordinate with activists focused on other health issues.
Guns and gun violence in the U.S. is a complicated, multifaceted, polarizing issue with deeply entrenched beliefs based on our difficult, often hidden history. Built on stolen bodies, stolen land and stolen labor at gunpoint, our nation has always valued power, money and white supremacy over life, liberty, and liberation. Our gun culture is designed to maintain the status quo and protect supremacy. Gun policy won't change until our culture of hate, fear and otherizing changes. Cultural change largely happens by engaging each other with our heads and hearts. We have to connect with people with conflicting views, actively listen so well that that person feels heard. In my experience, when someone feels heard, they're more willing to listen with an open mind. Open meetings of conflicting minds is the only way we change culture. It's hard work and it's vitally important that we do so one person at a time.
Our research has showed that violent misdemeanor laws and universal background checks, either through point-of-purchase checks or a permit to purchase requirement, are effective in reducing gun related homicides. The evidence also suggests that states should also grant discretion to law enforcement authorities in deciding whether to grant a concealed carry permit. In terms of reducing mass shooting, it is common sense to have legislations banning on sale of assault weapons and large capacity magazines.
Democracy and public health are intrinsically connected. People could lose faith in our electoral system after decades have passed without real and effective legislative actions to stop on gun violence. Lawmakers are fundamentally accountable if they fail to protect the safety and wellbeing of the people. The desire for power should never be put ahead of the lives of our citizens, whether they are church-goers, elderly, customers at supermarkets, or school students.
As we know all too well, the physical and psychological injuries sustained in school shootings have enormous short-term and long-term mental health impacts on witnesses and survivors. Children, adolescents, teachers and staff are in dire need of school-based mental health supports, such as counseling and training of skills for psychological recovery after a traumatic event.
Additionally, resources are needed to implement primary prevention approaches such as anti-bullying programs/policies, safe cell phone and social media use, stress management, coping and resilience-building.
Additional supports within the wider community can help families develop skills on how to talk with their school-age children about violence, and for all community members to recognize and support youth who are struggling with anger, depression, social isolation and anxiety.
I think all of us are experiencing a wide range of emotional reactions, from horror and fear, to anger and frustration, to helplessness and resignation. It is clear that until a massive reform in nationwide gun safety laws occurs, we will continue the need to support the ever-growing population of witnesses, survivors, school staff, families and community members.