Taking a Personalized Approach to Reducing Student Alcohol and Substance Use
.
student news
Taking a Personalized Approach to Reducing Student Alcohol and Substance Use
As a substance use intervention program coordinator at BU Student Health Services, Mikaela Hemenway works with students to address underlying causes of their alcohol or substance use and create personalized goals to help them reduce use.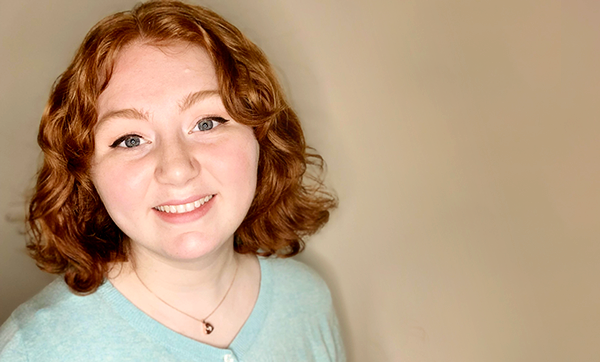 After completing her undergraduate degree in psychology and behavioral healthcare research, Mikaela Hemenway began working as a research coordinator at the intersection of mental health and substance use.
While working primarily on a project where she assisted in the development of mindfulness and harm reduction strategies to help people reduce their smoking and alcohol use, Hemenway found herself doing work that sometimes failed to consider the underlying causes and context of substance use—essential elements for understanding what she was studying and how to intervene. She knew she wanted to learn and do more.
"There just seemed to be a disconnect, and I knew I was interested in statistics and data, but I also realized that I needed to understand the underlying causes of substance use to really help people make meaningful changes for their health," says Hemenway. "I learned about public health, and I haven't looked back."
Now, Hemenway is a first-year MPH student at the School of Public Health, pursuing her degree in epidemiology and biostatistics with a mental health and substance use context certificate.
Outside of the classroom, she works at Boston University Student Health Services as a substance use intervention program coordinator in the Department of Wellness & Prevention. In this role, Hemenway works directly with students who have had incidents surrounding alcohol or substance use to help them learn more about their own patterns of use, create personalized goals to help reduce or manage use, and connect with available resources across the University.
"The overarching theme of my work is to promote student health and wellness, so a lot of my conversations with students are not about alcohol or substances directly. They are more focused on everything that has led them to this point," says Hemenway. "I really try to help them understand these underlying elements, so I talk with them about things like their stress levels and anxiety, their sleep schedule, and if they are experiencing depression or social pressures. My goal is not to make them stop drinking or using substances altogether, but rather to help them learn how to engage with substances in a way that is safe and personal to them."
Many of the students that Hemenway works with are undergraduates at BU, and are not experienced in drinking alcohol or substance use, she says, highlighting that this lack of experience can feel isolating for students when, in fact, it is very common.
"When students come to college, they get really excited about their newfound freedom, and they may find new friend groups or experiment with new things, but no one actually teaches them how to navigate this huge life transition," she says. "My job is really to help them through this time by normalizing their experiences and guiding them in better understanding what factors may contribute to their use of alcohol or other substances, as well as what their own tolerance and limits are."
Taking this more personalized approach to alcohol and substance use education, Hemenway says, has really helped students reframe their thinking around these issues in a way that is reflective of their own experiences, which has been both eye-opening and empowering for them.
Throughout her time at SPH so far, Hemenway highlights that what she has enjoyed most has been meeting and being in class with people with such diverse backgrounds and perspectives.
"People are coming from all over the world and have studied or worked in so many different areas before coming to SPH, which has really led me to appreciate that every perspective has a value, and that value looks different based on where you come from," she says. "This is an invaluable lesson that is critical for public health work, and I will carry it with me through the work that I am doing now and wherever my future career takes me."