Student Uses Instagram to Demystify Academia
.
student news
Student Uses Instagram to Demystify Academia
Kertu Tenso, a doctoral student studying health services research, uses her platform to empower others, especially women, to take up space in both academic and STEM settings.
In today's social media landscape, it can be difficult to stand out in the crowd. But School of Public Health student Kertu Tenso has carved out a unique niche for herself on Instagram, where she shares about her life and experience as a doctoral student in the United States.
With over 17,000 followers, Tenso, who is pursuing her PhD in health services research, has created a platform and resource that she felt was lacking when she began her program at SPH four years ago. Through aesthetically-pleasing videos, in-depth infographics, and a healthy dose of self-aware humor, Tenso uses her account to demystify academia and empower others, especially women, to take up space in both academic and STEM settings.
"I am an international student, I am a first-generation student, and I am a woman working in a male-dominated field. A lot of what I share on my page is about the struggles I am facing as someone in academia who was not supposed to make it this far," says Tenso. "I really try to encourage other people like me to see that they do belong in these spaces and understand that they are not alone in their struggles."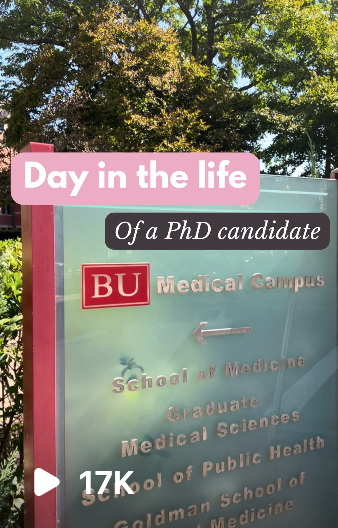 From day-in-the-life-style videos to information about the latest scientific programming tools and applications, Tenso's content centers around three main themes. First, she aims to destigmatize mental health and normalize taking time off and setting boundaries.
"Going through graduate school is stressful and can be incredibly isolating, especially for international students who are far away from their friends and family and are dealing with a mix of additional stressors, like immigration and visa status, language barriers, and cultural differences," she says. "I want to bring awareness to these issues and help show my audience that taking care of yourself is just as important as applying to that fellowship or writing that manuscript, and that you can do both."
Another aspect of Tenso's content focuses on offering advice on the graduate school admissions process and other administrative elements that prospective students may be concerned about, such as what to look for in a program to ensure it fits their needs and interests, how to fund a graduate school education in another country, and what she finds important when seeking advisors and other mentors. She also shares a number of resources, free tools, and tips to help her audience expand their knowledge and skills around certain aspects of research and academia, including programming and coding, academic writing, and keeping up with deadlines and staying organized.
While maintaining her presence online can be consuming at times, Tenso says that the global community she has built through her platform over the years has made it all worth it. This community extends to her real life, as well, where she has been able to connect and make meaningful relationships with other creators in the academic arena.
"These people have really become like my family, especially since I am an ocean away from my real family back home in Estonia. They have truly been there for me through the good and the bad," she says, highlighting that the relationship is mutually beneficial. "People have also reached out to me and said that coming to my page has helped them feel less lonely throughout their program or has encouraged them to pursue a degree altogether. Messages like these are really encouraging because it gives me reassurance that what I am doing matters and really can make a difference."
Tenso expects to graduate in the next couple of years and hopes to continue to share her experience and career journey with her online audience regardless of where she goes after SPH.
"I am really proud of my platform and the community we have built together, so I don't want to give that up anytime soon," she says. "It is such a fulfilling part of what I have done during my time in graduate school, and it really feels like my small way of doing good and giving back to the world."
Keep up with Kertu Tenso on Instagram: @kertutenso