Shenaaz El-Halabi: 'Everything we do should be for a purpose: to serve mankind.'
.
Alumni
'Everything we do should be for a purpose: to serve mankind.'
Alum Shenaaz El-Halabi (SPH'00) discusses her time at SPH and her three-decade career as a global health professional.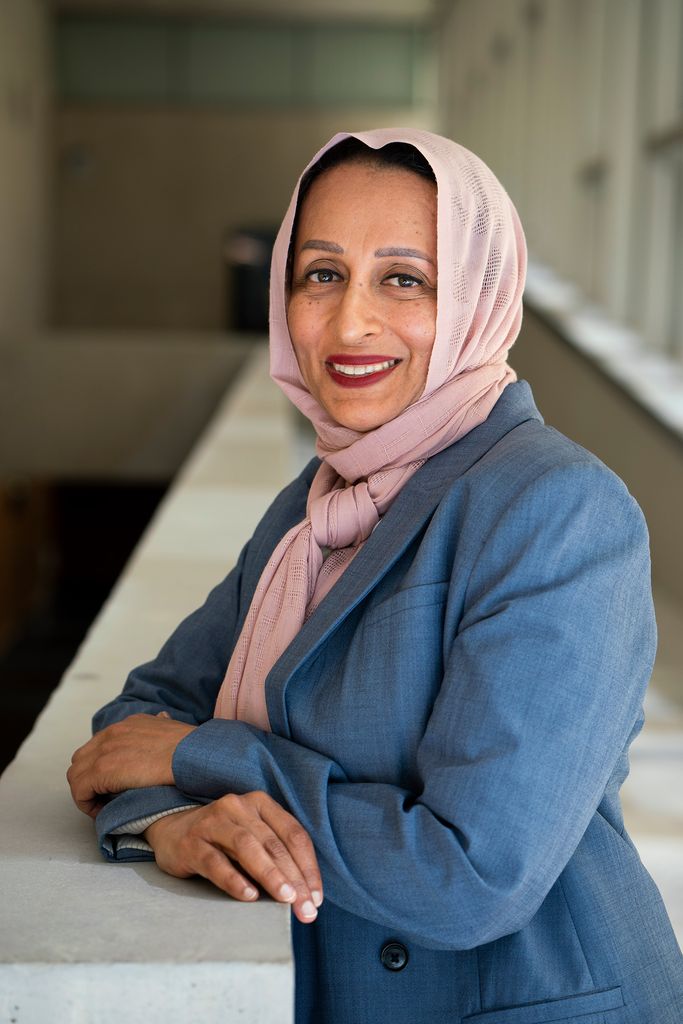 In her 30 years as a public health professional, Shenaaz El-Halabi has lived and worked by a guiding principle known as "botho." Botho is a difficult concept to translate, a word that communicates both a set of values and a way of interacting with others and society, but El-Halabi painstakingly describes how botho encompasses all aspects of how we treat one another. For the Batswana—the people of Botswana—botho is about "this humility, this connection with society, this love to make a difference in someone's life."
"We always talk about being a compassionate, just, and caring nation," El-Halabi says.
Since graduating from the School of Public Health in 2000 with an MPH in epidemiology and biostatistics, El-Halabi has worked to empower others, with botho in mind, through effective public health programs, strong partnerships, and a commitment to advancing human dignity through health.
El-Halabi has worn many hats as a public health professional. She rose through the ranks of Botswana's Ministry of Health and became its permanent secretary before being tapped by Director-General Tedros Adhanom Ghebreyesus to join his team as director in the Office of the Director-General at the World Health Organization (WHO). Now, twenty years since she completed her degree at SPH, El-Halabi reflects on her career and what the program has meant for her.
A 'more well-rounded individual'
When El-Halabi applied to SPH, she was working in the integrative disease surveillance and response unit at the Botswana Ministry of Health. She was attracted to the School's combined epidemiology and biostatistics certificate and knew she could apply those skills to her work when she returned. SPH also had many alumni from Africa, which gave her confidence that she could fit in and that the school would value diverse perspectives. "I could see myself fitting in at BU and also being able to take those learnings back home."
El-Halabi credits the MPH program for making her a "more well-rounded individual" with skills in epidemiology, research, and data analysis. After graduating, she returned to the Ministry of Health in Botswana. "[My supervisors] noticed that I had something in me, that I was able to critique the various documents and research proposals that were being submitted and identify ways that I thought we could do the research better, and what we needed to do after getting the numbers behind these studies."
El-Halabi was appointed the ministry's chief research officer, where one of the first tasks was to strengthen existing structures, such as institutional review boards (IRBs), to review complex clinical trials. She introduced new tools for reviewing, monitoring, and renewing research proposals, and expanded Botswana's capacity to review trials by partnering with local clinicians and experts in academia to serve in the review process. These and other initiatives enabled Botswana to participate in the Botswana Combination Prevention Project (BCPP) in collaboration with Harvard School of Public Health and the U.S. Centers for Disease Control and Prevention (CDC). The BCPP was a pivotal research study that evaluated combination HIV prevention strategies that included universal provision of antiretroviral therapy (ART) to all HIV-positive participants to reduce population-level, cumulative HIV incidence.
In her roles as director of public health and as permanent secretary, El-Halabi led the nation's response to crises like cholera outbreaks, the H1N1 pandemic, and the Ebola epidemic, where she says the SPH training in both infectious disease management and communications and outreach came in handy. "I am where I am because a lot of what I learned at BU I was always able to reference."
HIV and HPV prevention and treatment
El-Halabi was involved with many transformative public health initiatives during her tenure in the Ministry of Health. In 2015, El-Halabi was honored with the U.S. President's Emergency Plan for AIDS Relief (PEPFAR) Hero award for her work on HIV. She advocated for the "Treat All" strategy and raised enough funds to provide ART to all HIV-positive individuals in the country. Previously, Botswana was known as the first African country to provide free HIV ART to any citizen that met national eligibility criteria based on CD4 cell count (an indicator of disease progression). El-Halabi advocated to make HIV treatment accessible irrespective of CD4 count, and the breakthrough program has been able to reduce infectivity and transmission while also reducing comorbidities like TB through routine screenings and care.
Another success story was Botswana's HPV vaccination campaign. At the time, cervical cancer was the number one cause of mortality among females in Botswana due to the high prevalence of HIV. Botswana had a comprehensive immunization schedule for children under 5 (including several vaccines that were introduced during El-Halabi's tenure), but the HPV vaccine needed to reach older girls aged 8-10+ before they became sexually active.
"I am a mother," she says. "I believe in the girl child and making sure that we protect our young girls and women. I was very concerned about the high rate of cervical cancer in my country, and am so proud that we rolled out the HPV vaccination during my time in the Ministry of Health."
El-Halabi and her team designed a national rollout that began with a small-scale pilot study through the existing school health program, before scaling up to the national level the following year. The program succeeded in vaccinating over 90 percent of girls for HPV. Once again, Botswana was a leader in the continent and one of the first to introduce the HPV vaccine at the national level. El-Halabi said.
El-Halabi oversaw the integration of health services at the point of care to reduce the burden of repeat visits on both patients and healthcare workers. Services like providing ART were bundled with screenings for TB or cervical cancer, as well as the distribution of necessary reproductive health commodities of the patient's choice. Integrating services addressed the shortage of skilled healthcare workers while encouraging a comprehensive health assessment and improved the quality-of-care experience for patients.
In building a holistic, well-functioning healthcare experience for patients, El-Halabi believed she could help further their interest in good health. It was important to her to make the structural changes that could enable positive health choices while also empowering people to take personal responsibility for their health. This was another way in which El-Halabi embraced the principles of botho. The University of Botswana notes that "botho is an example of a social contract of mutual respect, responsibility and accountability that members of society have toward each other and defines a process for earning respect by first giving it, and to gain empowerment by empowering others."
For El-Halabi, botho is about serving others in a way that they can receive it. Service requires humility, justice, compassion, and care. "When you ask someone 'Do you need help?' and you ask in a way that is warm and welcoming, you reciprocate in a way that they say 'Oh, yes I do.' But if you have this arrogance, you already create a border where people cannot reach you."
El-Halabi also took steps to strengthen effective partnership forums with organizations like PEPFAR, CDC, WHO, representatives from the private sector, civil society, NGOs, and individuals, to develop strategies and preventative programs. Through these forums, she leveraged the expertise of those outside of the Ministry of Health to mitigate some of the continual human resource constraints. "One of my firm beliefs when I was in the Ministry of Health was that we cannot succeed on our own, we cannot work in isolation."
Chief advisor to the Director-General of the WHO
This December will mark five years since El-Halabi began working under the Director-General at the WHO. As part of her responsibilities, El-Halabi ensures that all the activities of the Office of the Director-General are aligned with the GPW13, the administration's five-year strategic plan. She coordinates with the host countries for high-level state meetings and oversees the Director-General's day-to-day activities during high-level strategic events, governing body, and executive board meetings.
El-Halabi's transition from the public sector to a specialized UN agency was difficult at times. Although the WHO provides health policy oversight and normative guidance, the actual implementation—the "doing" of public health—happens in member states. As the director of various public health programs at the Ministry of Health, El-Halabi was used to being "hands on and running" and feeling "directly linked to the results [of her work] as well, and the outcomes." She reflects on the programs she spearheaded with the nostalgia of someone whose work has transformed her as much as the populations she has served.
"Your love to help people, to make a difference in people's lives will also change you such that you have that warmth. When you have that warmth that people see that you genuinely care. Because those are the folks that genuinely care, the ones who want to make a difference."
At the WHO, El-Halabi's work deals with many more partners and many more member states, providing high level strategic oversight and facilitating the work of the Director-General. Although she misses being directly involved in public health programs, El-Halabi's mission to serve people remains the same.
El-Halabi recalls another project where she mingled with street kids and washed cars with them. "I wanted to know a little bit more about them rather than just picking up the pen and writing and observing them, but also to be a part of them. Because that is how they were going to open up to me and tell me what they do, what their feelings are. And I was going to get exactly what I wanted, a lot more in-depth conversations with them."
Botho comes from recognizing our shared humanity: "Motho ke motho ka batho" or "I am because you are." By washing cars together, El-Halabi built trust with the street kids and learned how her team could better serve them and meet their needs. "It makes you much more appreciative of what you have and how much work is needed," El-Halabi says.
"Botho is a principle that we should all uphold. If you want to serve people, you have to have that botho in you that will allow you to be able to serve in the first place, and then serve better. But also, then people absorb it and take it in and feel it as well."
As the global public health community emerges from the darkest moments of the COVID-19 pandemic, El-Halabi recognizes that to prepare for the next pandemic, to reach the Sustainable Development Goals, and to improve health outcomes across the board, countries need stronger health systems.
To that end, El-Halabi and her team at the WHO are committed to providing technical expertise to member states and building financial partnerships to fund health system strengthening initiatives, develop digital health capacity, train personnel and expand the health workforce, and improve health information systems for data-driven decision making. Dean Sandro Galea chairs the 3-D Commission, a partnership between Boston University and the Rockefeller Foundation that collects data on social determinants of health and informs policymakers of its findings to design better interventions that will systematically improve population health. The commission shared its report at the 76th United Nations General Assembly.
"Post-COVID, a lot of member states recognized the importance of having a strong healthcare system, and so they are investing a lot more in healthcare," El-Halabi says. "That excites me a lot because I have always believed that health is essential for sustainable development. And so, the agenda is very much different. If we can focus on actually putting health at the center of everything we do, the economy will thrive, the development agenda will also thrive."
As she works towards universal health coverage and better health for all, El-Halabi embraces botho. "My job is always to see how I can help, how I can be of value, how I can give back to make a difference through the many hats that I have had, whether it is back home in Botswana or at the WHO."
---