Professors Contribute to WHO's Global COVID-19 Self-Testing Guidelines
.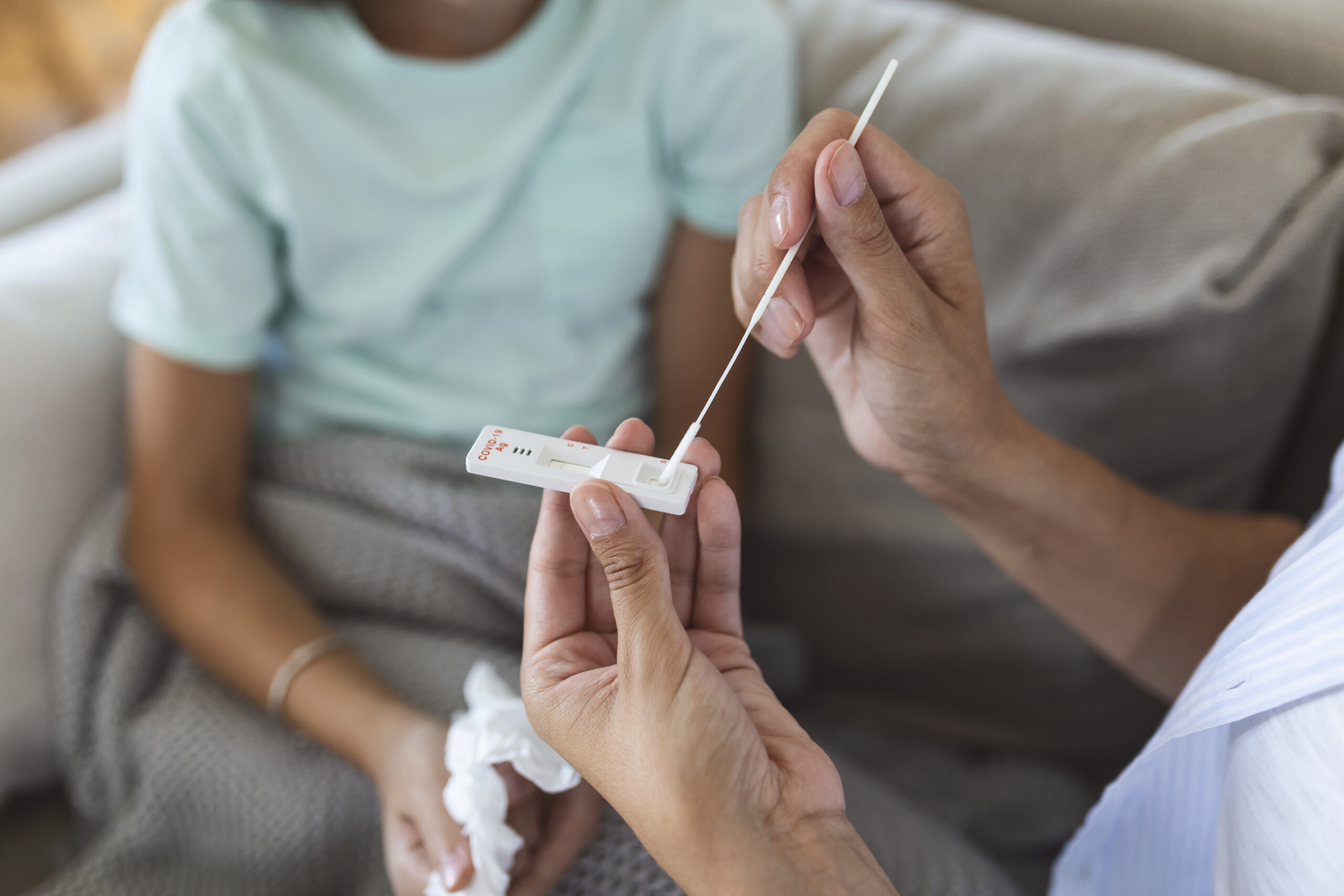 covid-19
Professors Contribute to WHO's Global COVID-19 Self-Testing Guidelines
Gesine Meyer-Rath was a member of the WHO's Guidelines Development Group, and Brooke Nichols reviewed the new recommendations that formally support widespread implementation of self-testing to identify and contain the spread of COVID-19.
When the Omicron surge tore across the United States during the holidays last year, at-home COVID-19 rapid testing became one of the most important and sought-after tools to identify infections quickly, inform local and national mitigation measures, and help prevent further spread.
But in low- and middle-income countries (LMICs)—where laboratory PCR testing remains limited—self-administered rapid tests have been scarce, underscoring one of the many inequities and disparities in access to care that the pandemic has brought to the global forefront.
Last month, the World Health Organization (WHO) took a critical step to close this gap in access when it released formal guidance recommending COVID self-testing across the globe. Gesine Meyer-Rath, research associate professor of global health, and Brooke Nichols, assistant professor of global health, played integral roles in the development of these guidelines.
Meyer-Rath served as a member of the WHO's Guidelines Development Group and Nichols reviewed and edited the guidelines. The new recommendations were informed by multiple studies and surveys on the global need and support for rapid testing. The guidance also includes implementation considerations for countries and communities as they determine how to adopt self-testing based on different contexts—such as the populations they prioritize for testing, the disease prevalence in their areas, and the impact on testing access, healthcare services, and reporting of results.
"Prior to when self-testing became available in Europe and the US, we had access to PCR testing if needed; access to self-testing has only further increased our ability to change how we choose to interact socially," says Nichols, who also co-led a WHO report and modeling consortium last year that examined the role of rapid diagnostic testing in LMICs. "In many low- and low-middle income countries, however, PCR access is and continues to be extremely limited, so most people don't have the ability to know whether or not they are infected. The only way to really scale-up testing meaningfully in these countries with limited PCR capacity would be to ensure self-testing was available, given that human resources are also limited."
Previous WHO reports recommended PCR and rapid testing administered by trained professionals, but they stopped short of promoting self-administered COVID testing. Until the organization embraced self-testing as official WHO policy in these latest guidelines, most international donor funding could not be applied to rapid tests.
"My hope is that the latest official guidelines will really bring testing for SARS-CoV-2 to people that have not yet had access," Nichols says. "Now that funding from The Global Fund, for example, can be used for self-testing, I expect to see a lot more access to testing through self-testing in many countries receiving this funding."
The researchers conducted studies and surveys with community members, healthcare workers, and other stakeholders in LMICs to assess regional and local feasibility and willingness to utilize testing, and although there was some variation by country, the majority of people surveyed reported that they desired to use, and understood, the benefits of rapid testing—and importantly, that they were willing to report positive results for official recording and follow-up care.
Increasing rapid testing capacity in LMICs, such as Malawi and Zimbabwe, will provide a more accurate assessment of community transmission, Meyer-Rath says. Even in South Africa, a country that maintains ample PCR testing capacity due to its large HIV testing and treatment programs, SARS CoV-2 PCR tests during the first wave were restricted to those hospitalized with severe COVID symptoms because access to test kits were so limited. Meyer-Rath is a member of the South African COVID-19 Modelling Consortium and has, among other tasks, advised the South African government on how to prioritize COVID-19 testing capacity.
"Limited testing capacity is one of the reasons why the number of COVID-19 cases and deaths in low- and middle-income countries look so low in international comparisons—there just wasn't enough capacity to test," she says. "Even during later waves, our ability to use testing to do proper tracing and isolation was very limited. Self-testing will at least allow people to know whether they are infected and take precautions themselves—something that research has shown people are eager to do, once they have access to testing."
With this tangible data confirming that communities would indeed use self-testing if available, "the issue is "purely one of access and availability," Nichols says.
"Critical issues ensure local policy uptake of the international guidelines, funding for testing, and understanding the ability and willingness to pay for self-testing," she says. "If we require individuals to pay $3 to access a self-test, that may not meaningfully increase access amongst those who need access most, so also determining the financing mechanism and how to distribute at no cost or affordable cost will be key challenges to consider."
But there will be political barriers to overcome, says Meyer-Rath, noting that some LMIC governments may still be reluctant to allow self-tests for fear of how moving testing from facilities to the home may affect their ability to maintain accurate COVID-19 surveillance and statistics.
"But we think that the benefits from individuals knowing that they are COVID-19 infected, and acting on it in a timely manner, far outweigh the potential inability to accurately track an epidemic—especially with less severe variants such as Omicron, where case numbers are a far less useful metric to track than COVID-19 hospital admissions [which will still be tested and reported using PCR tests]."