Dean Galea Appointed Chair of Boston Board of Health
.
health policy
Dean Galea Appointed Chair of Boston Board of Health
Dean Sandro Galea was sworn in to the position by interim city clerk Alex Geourntas on Friday, June, 3, at City Hall.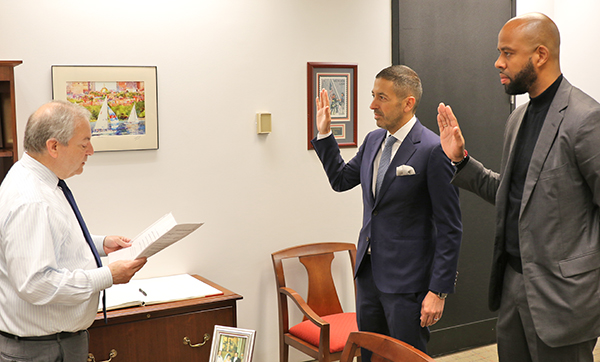 Dean Sandro Galea has been appointed by Boston Mayor Michelle Wu to serve as chairperson of the Boston Public Health Commission Board of Health.
Galea was sworn in to the position by interim city clerk Alex Geourntas on Friday, June 3, at City Hall. He will lead the seven-member board, taking the helm at a critical time as the city continues to navigate its COVID-19 response, as well as address substance use, mental health, homelessness, and other important health issues.
"I am deeply honored that Mayor Wu has appointed me to the Board of Health," Galea says. "I look forward to working with my colleagues on the board and the Boston Public Health Commission, and to serving the people of Boston during this challenging and pivotal time for public health."
Board of Health members provide oversight, guidance, and policy development to the Boston Public Health Commission (BPHC) to help the agency achieve its health goals for the city.
Mayor Wu and Dr Bisola Ojikutu, executive director of the commission, hailed Galea's leadership and experience in a BPHC press release that announced his appointment and welcomed new board member Gregory Wilmot, president and CEO of East Boston Neighborhood Health Center.
Galea and Wilmot "will bring the necessary experience to the Board of Health to ensure our public health policy is responsive to the needs of all Bostonians," said Wu, and Ojikutu said both members will "add significant management, health communications, and academic rigor to the conversation about the future of public health in Boston."
A physician, epidemiologist, author, and professor, Galea has served as SPH dean and Robert A. Knox Professor since 2015, arriving from Columbia Mailman School of Public Health as the Gelman Professor and chair of the Department of Epidemiology. He received his medical degree from the University of Toronto, as well as graduate degrees from Harvard University and Columbia University, and has worked as a physician in remote and rural parts of the world.
Galea has studied and written extensively about the social determinants of health, structural racism, mental health, and trauma—all issues that are central to the work of the commission and the city, city prioritizes eliminating health inequities in Boston.
During the pandemic, Galea has served in city and statewide advisory capacities, as co-chair of the Massachusetts Emergency Task Force on Coronavirus and Equity in early 2020, as well as a member of Mayor Wu's COVID-19 Advisory Committee this past winter.
"I have hoped that my work can help to generate conversations in health and shift how we think about health, to the end of creating a healthier world," said Galea during a virtual public Board of Health meeting on Thursday, June 9, his first board meeting as chair. "I am excited to have the opportunity to have hands-on involvement in shaping Boston's public health planning and practice, and provide guidance to the Boston Public Health Commission rooted both in evidence and in the needs of the people who serve. This is particularly important at this time when Mayor Wu is prioritizing innovation, collaboration, across all of government to address these issues."
In addition to Galea and Wilmot (and Ojikutu, who serves in an ex-officio capacity), the other Board of Health members are: Kate Walsh, president and CEO of Boston Medical Center; John Fernandez, president of Massachusetts Eye and Ear; Rebecca Gutman, vice president of Homecare, 11999SEIU United Healthcare Workers East; and newly reappointed members Phillomin Laptiste, chief people officer of Community Care Cooperative, and Guale Valdez, president of the Mattapan Community Health Center. The next Board of Health meeting will be held on Zoom at 4 p.m. on July 13.