Alum Teaches New BU Course on Indigenous Food Cultures
.
alumni news
Alum Teaches New BU Course on Indigenous Food Cultures
The course, designed and taught by Ryann Monteiro (SPH'18), explores the relationship between the dispossession and disconnection of land, language, and culture, and the health inequities faced by Indigenous communities today.
In Indigenous America, food is not extracted from the land, it is gifted by it.
For Native nations, the practice of hunting, gathering, fishing, preparing, and consuming food is deeply tied to the land that surrounds them. They take only what they need, use and honor all they take, and always give thanks. This harmonious relationship has been central to Indigenous culture, identity, and tradition for millennia. However, colonialism and the subsequent violence imposed against Indigenous communities has resulted in the erasure of traditional Indigenous structures and institutions, which has had lasting effects that many within these communities continue to reckon with today.
A new Boston University course designed and taught by School of Public Health alum Ryann Monteiro (SPH'18) aims to explore this relationship between the dispossession and disconnection of land, language, and culture, and the health inequities and disparate health conditions faced by Indigenous communities today. The course, titled Indigenous Food Cultures and Communities, uses food as an entry point to better understand this relationship and its connection with cultural preservation and revitalization.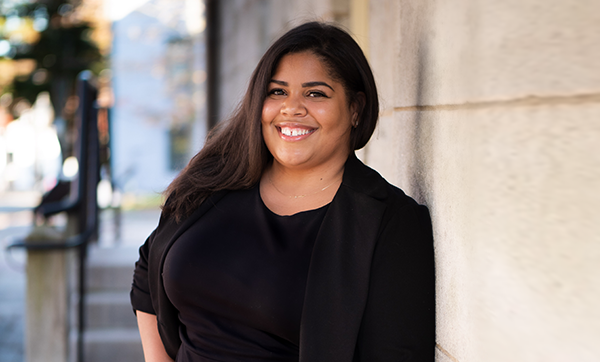 "I saw this course as an opportunity to set the foundation and to provide some context for the state of Indigenous health in America right now," says Monteiro, a member of the Wampanoag Tribe, highlighting that she often sees non-Native people interested and eager to engage in Indigenous issues but lack the knowledge around how to do so respectfully. "I want my students to understand the deep connection between food, language, culture, and land so that wherever they go and whatever they do after this class, they can feel confident in speaking up and engaging in conversations about important Indigenous issues."
Offered through the Metropolitan College Gastronomy and Food Studies program, the first-of-its-kind course is available to graduate students and advanced undergraduates, as well as non-degree students. Over the course of the semester, students dive deep into the traditional, current, and future Indigenous food systems; explore literature around Indigenous studies; and cover a range of topics, including Indigenous worldviews, the oral history of Indigenous foods, the social determinants of health, advocacy and allyship, food policy, and Indigenous food sovereignty.
A key component of the course is its focus on learning circles. The circle is a sacred symbol in Indigenous culture that represents the interdependence of all life, with no one person, place, or thing at its center. To integrate this idea throughout the course, Monteiro challenges her students to learn, question, and discuss class topics in literal and figurative circles to explore class material from a perspective that centers the Indigenous experience.
"In one of our first classes, we discussed how religious worldviews often inform power dynamics. The Christian worldview places humans at the center, while the Indigenous worldview shifts from ownership and dominion over to stewardship and harmony with," says Monteiro. "These learning circles are designed to show this reciprocal relationship, to show students this perspective that de-centers themselves and shows that the universe exists for reasons beyond them."
While designing the course, Monteiro highlights that she was very intentional about creating an environment that honors different ways of learning, knowing, and understanding. To translate this into the classroom, class materials incorporate readings, podcasts, movies, and YouTube videos to not only tell a story, but show students the context and environment in which the story takes place. Monteiro also developed a range of assignments for students, from voice journaling and writing reflections to developing multimedia projects. Students are also required to participate in weehpumeeh (which means to share a meal to Wampanoag), where they each bring two meals to share with their classmates. The first meal represents a story of their own that reminds them of home, and the second meal is a recreation of an Indigenous dish of their choosing.
In addition to developing engaging assignments, Monteiro wanted much of the class discussions to be informed by her students' own curiosities and interests. Having worked previously in student success in the Office of Graduate Student Life at SPH, Monteiro knew that her students would retain and be more engaged with class content that aligns with their own educational goals. At the beginning of the course, she asked students to come up with a list of topics by food system issue and geography that they wanted to know more about, and she has spent the semester incorporating these topics into class discussions through Indigenous guest speakers and experts from across the country working on these Indigenous issues.
"My time at SPH, both as a student and as a staff member, really helped me to create a teaching practice that centers around making connections for students, and gives them the freedom to express what they are learning in different ways," says Monteiro. "I also wanted to create a class that I would want to sit in. As a student, I was given the creative opportunity to explore different topics in unique ways, and I will never forget those professors that fostered an environment that challenged me to bring my thoughts, perspectives, and actions to the next level. I am grateful that I now get to bring this style of teaching into my own classroom."
Outside of teaching, Monteiro wears many hats related to her public health interests, working as a project manager at Cambridge Health Alliance on the health improvement team, the racial equity project manager for the Organic Farmers Association, and as a contractor to develop corporate DEI trainings. She also serves on the steering committee for the Boston Food Access Council.
As Monteiro continues to educate around Indigenous health and food sovereignty issues at BU and beyond (she recently hosted a two-part workshop on Indigenous public health at Harvard T.H. Chan School of Public Health), she hopes to make her educational materials accessible to all who are interested.
"My public health mission is to position people to be active participants in the food system," she says. "I believe my role in this work is to help educate people by providing information in a meaningful way so they are empowered to make the best decisions for themselves and their community."
Beginning in January 2023, Monteiro will be working to adapt Indigenous Food Cultures and Communities for an online format.