Traci Bethea (SPH'11): Studying Health Disparities in Breast Cancer 'Is My Calling'
.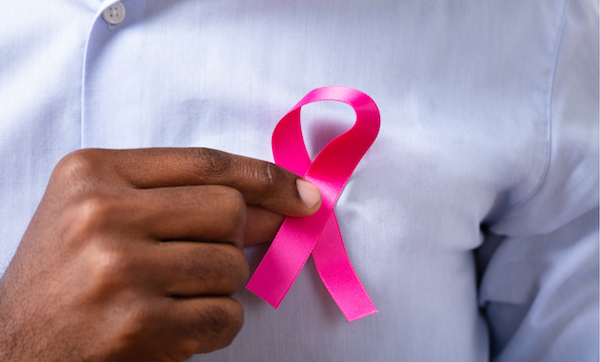 breast cancer
Traci Bethea (SPH'11): Studying Health Disparities in Breast Cancer 'Is My Calling'
The SPH alum studies breast cancer survivorship and modifiable factors among Black women.
From better representation of people of color in clinical trials, to growing community engagement around prevention efforts, the science and health fields have made real progress in addressing long-standing racial disparities in breast cancer, says School of Public Health alum Traci Bethea (SPH'11).
But there is a lot more work to be done to reduce the disproportionately high incidence and mortality rates of breast cancer among Black women, says Bethea, an assistant professor in the Office of Minority Health and Health Disparities Research, as well as in the Cancer Prevention and Control Program, at Georgetown Lombardi Comprehensive Cancer Center.
"We are doing the right work, but we need to do so much more of it," she says—such as increasing diversity of researchers within these fields.
"There are more researchers who are becoming principal investigators and bringing their soft skills and expertise of lived experiences to their work, and that is really important," says Bethea, who is a Black woman. This need for increased diversity in research is one of the many reasons why she decided to pursue a career studying cancer health disparities, focusing on race and ethnicity, and socioeconomic status.
After earning her PhD in environmental health at SPH in 2011, Bethea studied cancer risks among African American women, first as a postdoc and later an epidemiologist at the Slone Epidemiology Center and then an assistant professor of medicine at the School of Medicine and co-instructor of the Social Epidemiology course at SPH.
In 2019, she became an assistant professor at the Lombardi Comprehensive Cancer Center, which is part of Georgetown University Medical Center in Washington, DC. Bethea's current research focuses on breast cancer survivorship and modifiable factors among Black women, with an emphasis on estrogen receptor-negative breast cancer, and ovarian cancer. She also studies the social and environmental factors that can predict health disparities in cancer. One of her current projects is a National Cancer Institute-funded study, in which she is examining whether aspirin and/or vitamin D improves breast cancer outcomes among Black women and the modifying effects of genetic variants. Bethea penned a chapter with Yvette Cozier, assistant dean of diversity, equity, inclusion & justice, in the forthcoming book Black Women and Public Health: Strategies to Name, Locate, and Change Systems of Power.
Bethea also studies risk factors associated with sleep disturbances. While at the Slone Epidemiology Center, she published a study using data from the Black Women's Health Study that found that perceived racism was associated with an increase in insomnia among middle-aged and elderly Black women. She is currently conducting a pilot study at Georgetown to better understand the impact of environmental exposures on sleep among breast cancer survivors, as well as collaborating with a National Institute of Health-funded study led by Lauren Wise that is examining the role of environmental and behavioral factors on the risk of uterine fibroids among African American women.
Although progress has been made in diversifying research, Bethea says there are still investigators who claim that it is excessively difficult to recruit study participants of certain populations, whether by race, income, or primary language.
"In this day and age, it's not too hard," Bethea says. "You just have to do what it takes to reach people. That may mean you have to go back to the basics and go door-to-door in communities, or partner" with stakeholders, like churches.
Making active efforts to include more people of color in research will also help alleviate the distrust that some Black patients hold about a healthcare system with a history of racial bias and discrimination, Bethea says.
"This issue has received more attention because of the coronavirus and vaccinations, but a lot of it has been colored by a lack of conversation with individuals and communities," she says. "There are a lot of people who have legitimate concerns about the vaccine. Rather than dismiss people's concerns or say they shouldn't be afraid, I think we can make strides by talking about how people can act in the midst of their fear—take actions that are in their best interest in the midst of not being sure how it will work."
Bethea also notes that this fear among Black patients is not typically linked to the often-cited Tuskegee Syphilis Study in the community.
"People's relationships with the medical community are different for different reasons," she says. "If you ask the average person why they don't want to go to the doctor, they're not going to mention Tuskegee. It could be because of how they were treated last week at a clinic, or how their grandmother was treated by providers in the final hours of her life."
Physician burnout is also an issue that needs to be addressed to improve the provider relationship with cancer patients, she says. "Sometimes, a poor experience with a provider may not be racially motivated, it may just be that the provider only has 12 minutes to spend with you, and you don't have the language to describe what you're feeling, and they're hurried, and you're frustrated."
"Breast cancer is a very emotional situation that affects multiple parts of your identity," she says. While it is important to continue pushing for diversity in the field, "we also need to give providers the skills and the time to be able to build rapport and trust with their patients."
Bethea says she has experienced her own challenges as a Black woman in science and academia, but that her work is a calling with purpose and meaning.
"Health disparities work is really life or death for individuals within certain populations," she says. "Any work that I do that can help support initiatives and policies, and preserve, prolong, or improve life, is deeply important to me."