Sandeep Menon (SPH'03) Receives Inaugural Biostatistics Distinguished Alumni Award
.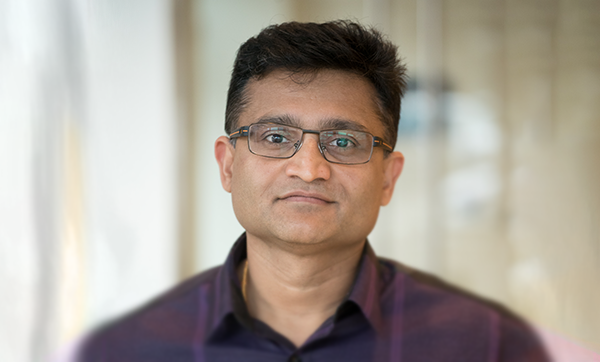 Awards
Sandeep Menon (SPH'03) Receives Inaugural Biostatistics Distinguished Alumni Award
In March 2021, the Department of Biostatistics at the School of Public Health named Sandeep Menon (SPH'03, GRS'10) the first recipient of its newly established Distinguished Alumni Award. For Menon, who is the senior vice president and head of early clinical development at Pfizer, the award is the latest in a series of professional accolades.
Last year, the Royal Statistical Society in the United Kingdom honored Menon with its Statistical Excellence in the Pharmaceutical Industry Award, citing his influential leadership and his role in "creating a culture of quantitative decision-making." In 2017, he was elected a fellow of the American Statistical Association, a significant honor given to less than 1 percent of its membership.
Menon says he is deliberate in his decision-making process. "I believe in data-driven decision making based on science," which has become the norm at Pfizer, he says, and he's proud to have contributed to that culture, at his own company and across the pharmaceutical industry.
Menon—who says he was always a well-rounded student who loved sports and extracurriculars as much as math and science—completed medical school at the top of his class in India in 1999. He later came to SPH with the intention of studying epidemiology. Hearing Professor Timothy Heeren's introductory lecture in biostatistics, however, set him in a new direction. "Tim spoke with so much clarity and passion on how medicine and mathematics can be blended," Menon says. "That was my game changer. After that first semester, there was no looking back."
Another turning point came during his final semester in the Master of Public Health program, when he enrolled in Professor Joseph Massaro's class on clinical trials. "I went to Joe's office a couple of times a week, just to talk about clinical trials," he says. "It was amazing how much I learned. I decided, 'This is my career. I will work in clinical research.'"
Menon went on to earn his PhD in biostatistics at BU, writing his thesis on adaptive designs in clinical trials, which, he explains, allows researchers to use interim data to make adjustments to an ongoing trial, giving flexibility and the potential to considerably save time and reduce costs as compared to traditional clinical trial designs.
Menon joined Pfizer in 2010, designing clinical trials as a mid-level biostatistician. He quickly moved up the ranks and today oversees early-stage clinical development of nearly all of Pfizer's drug candidates and reports directly to the company's president of research and development. Few statisticians reach the rank of senior vice president, Menon says, so he hopes his career path will inspire other statisticians to recognize their potential.
"Biostatisticians have the tools to enhance decision making in the health care industry," he says. The key to growing one's career is to have a passion for learning and for keeping abreast of innovations in the field. "Always be that curious student and be brave to try new things."
One of the best ways to keep upgrading your skills, Menon says, is to teach and collaborate on innovative research. Menon worked as a teaching assistant while he was a BU student and has continued lecturing and teaching ever since. He holds adjunct faculty positions at the Indian Institute for Management, Tufts University School of Medicine, and SPH, where he teaches a class on adaptive trial designs and is actively involved in research collaborations.
In addition to helping him stay on the cutting edge, teaching and mentoring students allows Menon to give back to the profession that provided him so much. "I come from a humble background," he says. "I came to the US with less than a thousand bucks. I went through a lot of hardships in my initial days in the US, struggling for even basic necessities." But he was soon on a path to academic and professional success, thanks to the support of family, friends, his BU professors, and his Pfizer colleagues. "My story is one of gratitude," he says.