BU Medicaid Policy Lab Advances Research with a Health Equity Focus
.
policy
BU Medicaid Policy Lab Advances Research with a Health Equity Focus
The new lab at SPH examines the impact of policy changes on health insurance coverage, access, quality, and eligibility for low-income populations.
"People often say, if you've seen one Medicaid program, you've seen one Medicaid program," says Sarah Gordon, assistant professor of health law, policy & management (HLPM).
That's because Medicaid, the nation's largest health insurance program and federal-state partnership is designed differently in each state and territory, creating wide variability in healthcare quality, access, costs, and eligibility—and therefore, health outcomes—for the more than 70 million low-income families and individuals that it serves. Medicaid is a critical lifeline for millions of Americans, including those experiencing pandemic-related unemployment, but the partisan divide on policies around expansion and eligibility requirements from state to state has exacerbated long-standing inequities in health insurance coverage and access that disproportionately impact people of color.
Amid this critical point in US healthcare, Gordon and two other School of Public Health researchers have launched an initiative at SPH that brings together legal, political, economic and policy expertise on Medicaid. Megan Cole Brahim and Paul Shafer, also assistant professors of HLPM, and Gordon founded and co-direct the BU Medicaid Policy Lab, which serves as a resource hub for researchers, policymakers, and anyone interested in developing or utilizing interdisciplinary research on a wide range of Medicaid policy issues. With an overarching goal to advance health equity, the lab evaluates the impacts of policy changes and care delivery models on health insurance coverage, access to care, quality of care, and health outcomes in Medicaid and other low-income populations.
On Thursday, May 6, Cole Brahim, Gordon, and Shafer will hold a virtual symposium on Zoom to introduce the lab and present a series of lightning talks on faculty and student-led research projects on Medicaid that address many of these issues. The event, which takes place from 3-4 pm, is open to the public and registration is available here.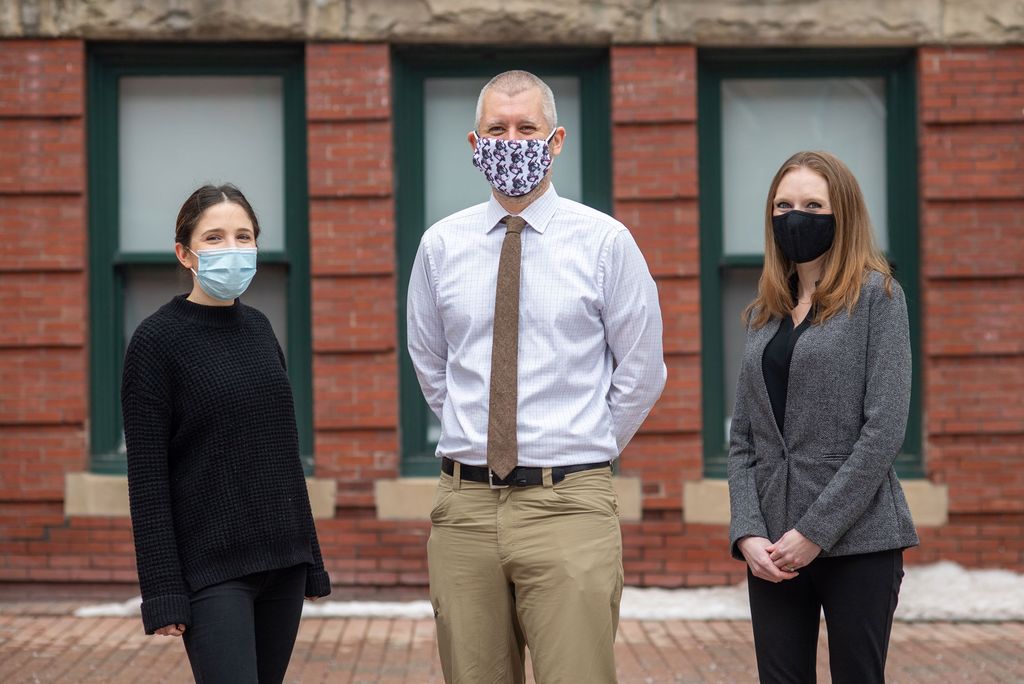 The idea for the lab arose when "we realized that we had a concentration of expertise across different disciplines, including health services research, political science, law, economics, and qualitative and quantitative research, that was really focused around Medicaid," says Gordon. "Since Medicaid is different in every state, getting data is often very difficult, and research collaboration becomes incredibly important. We saw this amazing opportunity to harness our collective brain power and expertise and become a go-to group for states and other entities interested in conducting Medicaid-focused research."
Funded by grants from public and private organizations such as the National Institutes of Health, Health Resources and Services Administration, and the Robert Wood Johnson Foundation, the lab is housed at SPH, but the directors aim to engage faculty members and other researchers across the university, who may already be studying cross-cutting issues that affect Medicaid populations. "In addition to growing internal collaborations, we are also excited to foster and expand partnerships with states, health systems, and other Medicaid-serving entities to answer real-world questions that are important to our partners," says Cole Brahim.
The lab reflects SPH's commitment to establish ongoing work around Medicaid, says Shafer.
"It's not uncommon for academics to do one-off projects on Medicaid, but we're trying to lay the foundation for a larger, continual effort that goes beyond our individual work," says Shafer, who hopes students will engage with the program, as well. "It's a great opportunity to catalyze the next generation of health services and health policy researchers who want to do this work. Creating this convergence point where students can learn the data and form dissertations is really powerful, and will amplify the work that we do."
Several projects at the lab are underway or already completed, and the data are urgently needed as certain states pursue legislation on work requirements or narrowing eligibility, while other states actively weigh options of expanding eligibility or services, such as expanding postpartum Medicaid coverage through 12 months postpartum or permanently reimbursing for telehealth services..
Shafer recently completed a study assessing the relationship Medicaid enrollment and unemployment in North Carolina during the pandemic, and previously examined changes in colorectal cancer testing and coverage under Medicaid Accountable Care Organizations (ACOs). Gordon is studying the disparities in maternal morbidity among pregnant women of color enrolled in Medicaid, as well as the impact of postpartum Medicaid coverage on healthcare utilization and racial and ethnic disparities. Cole Brahim is leading work that assesses the impact of Medicaid policies on quality and racial equity of care at Community Health Centers, in addition to several studies that evaluate how innovative care Medicaid delivery models, such as Medicaid ACOs, equity-focused telehealth, and behavioral health integration, affect healthcare utilization, quality of care, and access to care among Medicaid populations.
While data on health equity and program effectiveness is crucial, it's also important to understand the politics that drive Medicaid policy decisions, says David Jones, associate professor of health law, policy & management and one of the Lab's affiliated faculty members.
"Medicaid has been one of the most politically charged issues of the last decade, says Jones. "State-level fights over Medicaid mean that someone in Mississippi does not have insurance while their neighbors in Arkansas or Louisiana with the same income do. More research is needed on these political and legal issues, and our team is uniquely poised to integrate these elements."
Jones and Nicole Huberfeld, Edward R. Utley Professor of Health Law in HLPM and an affiliated faculty member of the lab, recently published an article in which they argue that the Trump administration's attempt to convert Medicaid into a block grant program through a waiver process is illegal.
"The last four years were an assault on the legal structure of the Medicaid program, with policies such as work requirements and block grants being promoted in order to limit enrollment and undermine Medicaid's core protections for the poor," says Huberfeld, adding that "though these rules have been struck down in federal courts, the work of stabilization remains."
"In our quickly changing healthcare policy landscape, there is a real need for evidence to guide states and to understand what the implications are for certain policies on different populations," says Cole Brahim. "To address this need, the BU Medicaid Policy Lab has the data infrastructure and interdisciplinary expertise to partner with states and answer timely questions about how to improve healthcare access, quality, and equity of care for Medicaid populations."
To register for the May 6 virtual symposium and learn more about the work of the Medicaid Policy Lab, click here.