'An Opportunity to Give Back to My Community'
.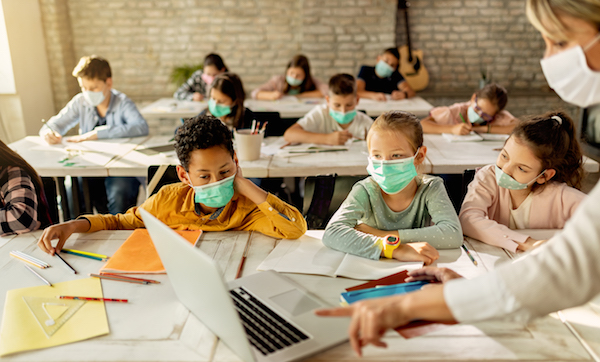 Reflection
'The Chance to Make a Positive Impact'
Helen Jenkins reflects on her experience as an advisor to the Cambridge Public School District during the pandemic, guiding officials, teachers, and families on COVID safety measures and school reopening plans informed by emerging science.
Helen Jenkins is an associate professor of biostatistics at the School of Public Health.
The pandemic has been a strange time for infectious disease epidemiologists. We have been thrust into the limelight, received hate mail and death threats, and become friends with the journalists who now message us regularly on our cell-phones. At least our families and friends finally understand what we do.
In the rush to help in the first crisis of this kind in a century, it's taken time for many of us to find our place and identity. I realized early on the real dangers of all infectious disease epidemiologists switching their focus to the pandemic—other infectious diseases aren't going anywhere and mustn't be neglected. So I stuck with my research on tuberculosis (TB), which until November 2020 was the most lethal infectious killer globally, and will certainly regain that title soon. But I still wanted to find an opportunity to do something to help in this pandemic.
That opportunity arrived in May 2020, when I received an email from a fellow parent at my children's public school in Cambridge telling me that the Cambridge Public School Committee needed an epidemiologist to provide guidance and expertise on COVID-related safety measures, and could I help? Suddenly this felt like a way that I could contribute to my local community, and do something positive during the pandemic. I knew it would be very frustrating to watch the process from the sidelines, so I said yes. I became part of the COVID-19 Taskforce and the Health and Safety committee, and so began an intense year of meetings and a crash course in local politics.
I brought my expertise in infectious disease epidemiology to the committee, which was comprised of a small group of local scientists with a variety of skills. We provided advice on safety measures to use in schools, e.g. masks, ventilation, testing, quarantining, as well as synthesized scientific evidence as it came out. For several months, we met weekly alongside experts from the Cambridge Public Health Department, plus teachers, parents, the facilities staff, and the Chief Operating Officer of the school district. We discussed the emerging science and put together a Health and Safety Manual for the school district. At the School Committee meetings, which were broadcast live, we answered questions about the scientific evidence around COVID and schools.
The debate on when to resume in-person learning at public schools has been one of the most fraught aspects of the pandemic in the US. Emotions have understandably run high. At our School Committee meetings, public comment has run to two or three hours with sometimes over 100 speakers, including distraught parents and frightened teachers. As a scientist, it has been hard—but critically important—to hear the emotions, but then answer questions with a focus on the science and facts, knowing that some people in the audience will not want to hear those facts because they conflict with their opinions.
In terms of communicating the science to the school community, one thing that has been particularly difficult is updating guidance when new evidence emerges—and helping people become comfortable with those changes. In TB research, we are used to things changing very slowly. But the emergence of new scientific evidence around COVID has moved so fast, it has given us all whiplash. Last summer, we made recommendations to our school district based on the evidence that we had at the time. If there were gaps in our knowledge, we took a cautious approach, such as using community spread metrics to make decisions around closing and using 6 feet of distancing between students.
Since then, we have learned from other countries and school districts that have opened schools, including in Cambridge. We have learned that when mitigation strategies are used, transmission in schools is incredibly low. But that when masks are not used and/or ventilation is poor, transmission and even super spreading events can occur in schools. During this school year in Cambridge, we stopped using community metrics for decision making and are now switching to three-feet distancing between students in schools. This has been hard for some of the school community to accept and I need to do better to help others trust me in recommending these changes, so they don't feel as though the goalposts have been moved without good reason.
I feel very fortunate to have had the opportunity to advise my local school district. While many people have felt helpless over the past year, I've had the chance to make a positive impact, and for that I am grateful. From this experience, I was also invited to work with other experts on the Schools and the Path to Zero report, which has been used in school districts nationwide to help children get back to school safely.
I'm also thankful to live in a district that has listened to the science and responded accordingly—that has not been the case everywhere. I've gotten to know (albeit over Zoom) several members of my community and I hope to meet them all in person one day, having been through such an intense experience together. There is a lot of diversity, and also division, in Cambridge and this experience has helped me to see things through the eyes of others and gain a better understanding of my community. I hope I can take that experience with me and achieve a greater understanding of others' perspectives in the future.