75 Percent of LBQ Women Have Experienced Discrimination in Past Year
.
LGBTQ health
75 Percent of LBQ Women Have Experienced Discrimination in Past Year
A new report that examines the social, economic, physical, and psychological well-being of cisgender and transgender women and girls also found that almost half of LBQ women have been assaulted since age 18.
Roughly 75 percent of LBQ (lesbian, bisexual, and queer) women have experienced at least one discriminatory event in the past year, and nearly half of LBQ women have been physically or sexually assaulted since they were 18 years old, according to a new report co-authored by a School of Public Health researcher.
Led by the Williams Institute at UCLA School of Law, the research is presented in a report titled Health and Socioeconomic Well-Being of LBQ Women in the US. It provides a comprehensive overview of the demographics, health, and socioeconomic status of LBQ women in the US, inclusive of cisgender and transgender LBQ women.
"Our main goal in creating this report was to offer researchers, public health program planners, and policy makers an updated account of the range of social, structural, and health outcomes relevant to the lives of LBQ women and girls who are often under-represented in conversations about LGBTQ health and public policy," says Allegra Gordon, assistant professor of community health sciences and a co-author of the report. "In particular, this report stands out because of the use of a wide range of national datasets, the ability to look at intersections by race/ethnicity, gender identity, age, and sexual orientation identity, and the broad range of social, economic, and health concerns included."
The research team found that about five percent of cisgender and transgender women in the US—nearly 7 million adults—identify as LBQ, and that 22 percent of girls—approximately 3 million high school students—identify as lesbian, bisexual, queer, or questioning (LBQQ). In addition, one-quarter of LBQQ girls have experienced sexual violence in the last year, compared to 15 percent of both straight girls and gay, bisexual, queer, and questioning (GBQQ) boys.
Results showed that LBQ women and girls, in particular LBQ women of color, experience disparities in many areas of life, including poverty, depression, criminalization, discrimination, and violence. Fewer LBQ women (60 percent) felt social support in their lives compared with heterosexual women (76 percent).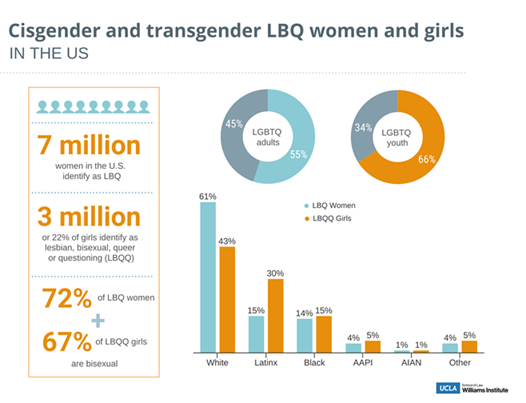 "It is important to note that these data were collected before the COVID-19 pandemic," says study lead author Bianca D.M. Wilson, senior scholar of public policy at the Williams Institute. "In many areas, such as economic insecurity, mental health, and victimization, LBQ women and girls may be faring even worse today. There is an urgent need for public policies that consider the significance of sexual orientation in the lives of all women, but also ones that address their multiple marginalized characteristics, including race and gender identity."
The study found that LBQ women comprise 55 percent of the LGBTQ adult population and LBQQ girls comprise 66 percent of the LGBTQ youth population. About 39 percent of LBQ women and 57 percent of LBQQ girls identify as Latinx, Black, Asian or Pacific Islander, American Indian, or another ethnic minority identity.
Among economic inequities, the findings showed that about 48 percent of LBQ women live in lower-income households, compared to 42 percent of straight women, 38 percent of GBQ men, and 34 percent of straight men. Only 46 percent were employed, compared to 52 percent of straight women, 55 percent of GBQ men, and 64 percent of straight men.
In terms of mental health, the data revealed that more LBQ women—46 percent—have been diagnosed with depression than straight women (23 percent), straight men (13 percent), and GBQ men (31 percent). There were also significant disparities in suicide consideration; 44 percent of LBQQ girls reported that they considered suicide in the last year, compared to 18 percent of straight girls, 13 percent of straight boys, and 32 percent of GBQQ boys.
Racial disparities in LBQ criminalization are also evident in the study. LBQ cisgender women comprise 33 percent of the women in prison, and the majority of that population—61 percent are women of color.
Despite these striking health inequities, there is an alarming lack of funding focused on the health of LBQ women and girls, says Gordon. She emphasized the need for federal and local policies that prohibit discrimination and abuse in school, healthcare, and public settings based on sexual orientation, gender identity, and expression, as well as the need to "address systemic racism in all corners of life.
"At the moment, however, many states are moving in the exact opposite direction from where we need to go to improve health equity," Gordon says, referring to the increasing anti-transgender legislation that conservative lawmakers have introduced across the country. "We hope this wide-ranging report will foster cross-sectoral thinking and collaboration to begin to dismantle some of the inequities we observed. We also hope it will serve as a resource for advocacy groups and service providers, and as a launch-pad for future research efforts."