Meet Craig Andrade: SPH's New Associate Dean of Practice
.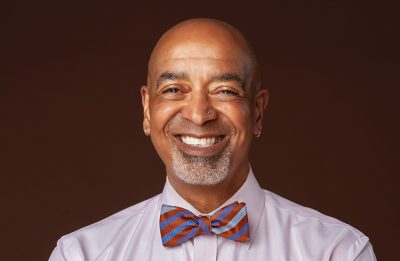 As a critical care and public health nurse at then-Boston City Hospital/Boston Medical Center in the late '80s and '90s, Craig Andrade (SPH'06,'11) grew to know his patients well—because he saw them again and again.
"There were many people who had been to the hospital five, six, seven, even double-digit times," says Andrade, who treated patients for 12 years in intensive care, oncology, and general adult care units. "We fixed their illness and then sent people back to the environments and circumstances that made them sick.
"That made no sense to me."
This experience, coupled with a lifelong desire to empower marginalized communities he called home, propelled Andrade to pursue service in health promotion, health administration, health education, and state government that enabled him to "serve" people at a population level, by tackling structural inequities through changes in systems, policy and practice.
After almost nine years at the Massachusetts Department of Public Health (DPH), most recently as the director of the Bureau of Family Health & Nutrition, Andrade joins the School of Public Health on June 1 as the associate dean of practice and director of the Activist Lab. The position will mark a return to SPH for Andrade, an alum of the school's MPH and DrPH programs. He will take the reins from Harold Cox, associate professor of community health sciences, who spearheaded numerous transformative initiatives during his 14-year tenure in the position, including the founding of the Activist Lab, the school's advocacy and activism arm.
"Dean Cox created an incredible portfolio for the Activist Lab and I am grateful to be able to pick up where he left off," says Andrade. "In many ways, the foundation of public health is social justice, and we're going to make sure that that foundation continues to be strong and inspires brave public health practice." People who are the least seen and the least heard will be "at our public health table, to ensure the best reach and impact," he says.
The oldest of four brothers, Andrade was raised by a single mother in public housing in Boston's Jamaica Plain neighborhood and in Brockton, Mass. Although he didn't realize it at the time, he witnessed the impact of public health resources on underserved communities.
"I grew up among mostly black and brown people who had less than most, but at the same time, lived rich lives," says Andrade. "It was then that I began to explore how I could learn to take better care of myself, give back to my community, and enable people to take good care of themselves."
A fascination with science and the human body led Andrade to obtain an associate's degree in nursing science from Massasoit Community College in Brockton (where he now serves on the Board of Trustees), followed by a certification in massage therapy, and a Bachelor of Science in physical education and athletic training from Bridgewater State University, while still working as a nurse.
After witnessing the "limitations of the Western healthcare system" that stops short of addressing the underlying causes of poor health, Andrade shifted his career toward the fitness and education fields, and founded Active Health, a health company that provided strength and conditioning training, sports medicine, and massage therapy to professional and Olympic athletes and weekend warriors. He also became the head athletic trainer and nurse manager at Buckingham Browne & Nichols School (BB&N), a private, affluent prekindergarten-12th grade school in Cambridge, Mass.
"I went from serving the poorest of the poor at Boston City Hospital to a privileged environment, and discovered there were more similarities than differences between these prep-school kids and those I grew up with, in terms of emotional development, risk behaviors, illness and injuries," says Andrade. "I understood that there needed to be a systems approach for creating environments, policies and practices that enabled people to be their best selves." In his eight years at the school, he developed an integrated health and wellness program, which brought together students, parents, counselors, nurses, and other medical specialists to ensure that students had access to all of the preventative and health resources they needed.
He took a similar integrative approach in 2005 when he became the associate dean of health and wellness and director of Student Health Services at Wheaton College in Norton, Mass., developing programs online and on campus, and incorporating student participation and input, from ongoing surveys on physical, mental, and emotional health, to a student-run EMT program.
Desiring to gain a deeper knowledge of population-level health programs and interventions that promote resilience-building among children and adolescents, Andrade pursued his MPH degree while at BB&N, and his DrPH degree while working at Wheaton. He studied maternal and child health, focusing particularly on adolescent health, including LGBTQ youth, youth of color, and youth with disabilities.
"What I treasured most at BU was the access that I had to faculty and staff," says Andrade. "I remember the incredible conversations I had with professors, and I viscerally felt their commitment to my success." Classmates also became colleagues and lifelong friends, he says.
After completing his practicum in the Public Health Commissioner's Office, Andrade recalls telling then-Commissioner John Auerbach that he hoped to work at DPH full-time one day; that opportunity arrived soon after Andrade received his doctoral degree in 2011. He joined the department in 2012 and served in a number of leadership roles, including director of the Office of Community Health; Child and Adolescent Health program; Division of Health Access; and the Bureau of Family Health & Nutrition. As director of these offices, he oversaw the development of programs and initiatives to promote healthy community design, adolescent health and youth development, rural health, oral health, sexual and reproductive health, equitable access to healthcare, and a broad spectrum of maternal and child health.
Andrade was also one of the founding members of the Bureau of Community Health & Prevention's Racial Equity Leadership Team at DPH, formed in 2014 in response to the killing of Eric Garner and other black and brown people. Six years later, Andrade helped advance efforts to filter DPH's public health work through a racial equity lens, through the Cross Department Racial Equity Collaborative (C-DREC), which developed staff trainings on structural racism, as well as the intersectional discrimination against LGBTQ communities, immigrant populations, and other marginalized groups. The team advises bureaus and programs on how to engage public health practices, resources and grants with community partners.
"The goal is to dismantle the vestiges of structural racism and to make sure that those who are less seen and less heard have more agency and are able to be the best of who they want to be," says Andrade. "I wholeheartedly subscribe to the ethos of 'nothing about us without us'—we have to show up regularly and partner with people in authentic ways, not just during Pride Month or Black History Month.
"Good public health practitioners build strong community relationships over time, based on kinship, respect, honest communication, and mutual learning and leading. In my experience, when you mix a big challenge with good people, good public health and hard work—transformation happens."
When he is not advancing health equity, Andrade engages in several pastimes. The self-described "black-Cape Verdean-vegan-Buddhist-meditating yogi" enjoys long-distance running, strength conditioning, yoga and music—particularly rap, jazz, and R&B, and any music by The Modern Jazz Quartet, The Roots and Brother Ali. He is also a voracious reader, and is currently reading The Half Has Never Been Told: Slavery and the Making of American Capitalism, by Edward E. Baptist, and How to Love a Country: Poems by Richard Blanco.
"I'm a very active person, but can also be still for long periods of time," says Andrade.
As he returns to SPH in the midst of an unprecedented public health crisis, Andrade says there is much to be hopeful for within the field.
"If there is any silver lining in this COVID crisis, it is that this challenge is both an individual and collective responsibility," says Andrade. "The power is in the people's hands to make a difference for those who are disempowered and marginalized.
"From Black Lives Matter to LGBTQ movements to champions for people with disabilities, these are the people who are making a significant difference now—lifting people up," he says. "I believe public health's future is in expanding the boundaries of research, teaching, and practice in partnership with ordinary, everyday people who see and feel the cracks in life we don't see. Our job is to walk humbly, to continue to tell engaging stories, to better show the power of public health, and to put some of that power in community members' hands so they can help guide change along with us public health practitioners."