Community Health Centers Face Telehealth Hurdles
.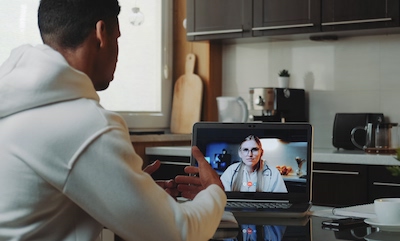 A new commentary by School of Public Health and Ariadne Labs researchers published in Health Affairs outlines the challenges that community health centers in the United States face in the time of COVID-19, as a significant portion of routine care has had to transition to telehealth.
Community health centers serve a disproportionate share of low-income, racial/ethnic minority, and immigrant populations—the populations hardest hit by the COVID-19 pandemic, for whom continued access to care is critical, write June-Ho Kim of Ariadne Labs; Eesha Desai of Ariadne Labs and an MS student in the Department of Health Law, Policy & Management; and Megan B. Cole, assistant professor of health law, policy & management.
"Well-resourced hospitals have quickly made the transition. Community health centers, which serve more than 28 million low-income and disproportionately uninsured patients in rural and underserved urban areas of the United States, have not fared as well since ambulatory visits have disappeared, resulting in furloughs, layoffs, and more than 1,900 temporary site closures throughout the country," they write.
In their review of 2018 Uniform Data System data—the most recent available—from all of the community health centers in the US, the authors found that the health centers were largely unprepared for this year's abrupt need to transition to telehealth. More than half of all community health centers didn't have any telehealth use, and of those using telehealth, 47 percent were doing so only with specialist referrals, rather than with patients at home. Among health centers not using telehealth, some of the most commonly cited telehealth barriers included lack of reimbursement, lack of funding for equipment, lack of training, and inadequate broadband.
Although the Coronavirus Aid, Relief, and Economic Security (CARES) Act infused $1.32 billion toward COVID-19 response and maintaining community health center capacity, and many states temporarily changed telehealth insurance reimbursement policies, the authors found that these steps leave multiple substantial barriers for community health centers transitioning to telehealth and staying afloat during and after the pandemic.
"Nonspecific federal and state funding will allow CHCs to survive; however, deliberate action is needed to enhance telehealth capacities and ensure long-term resilience," the authors write.
The authors make three major policy recommendations to protect community health centers—and the 28 million low-income patients that they serve, including those most vulnerable to COVID-19.
These recommendations are permanent all-payer parity for telehealth reimbursement; funding and guidance for equipment, personnel, training, and protocols; and telehealth support uniquely tailored to vulnerable patients. The authors offer several strategies to achieve these goals through policy, partnerships, and payment reforms.
"In the long run, telehealth can increase access and equity—but only if the right investments are made now to fill the gaps laid bare by COVID-19," the authors write.
Ariadne Labs is a joint center for health systems innovation at Brigham and Women's Hospital and the Harvard T.H. Chan School of Public Health.
Read the full commentary in Health Affairs here.