Stigma Is Barrier to Health Care for People Who Inject Drugs
.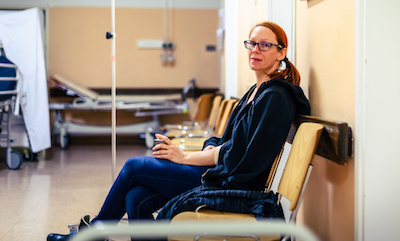 A new study led by School of Public Health researchers finds that stigma in health care is pervasive for people who inject drugs. To avoid that stigma, the study finds, people who inject drugs decide not to disclose substance use to clinicians, downplay pain, seek care at community-based organizations such as needle exchanges or HIV/Hepatitis C testing centers, or put off seeking care altogether until they wind up in the emergency room.
The study, published in Drug and Alcohol Dependence, drew from interviews with people who inject drugs in Boston and Providence, also used by the research team in other recent studies.
"Though we discussed many serious topics during the interviews (overdose, drug use, sex work), participants became noticeably emotionally charged when describing stigmatizing encounters in the healthcare system," says study lead author Dea Biancarelli, a master's student and senior research assistant in the Department of Health Law, Policy & Management.
"Other people may assume that people who inject drugs aren't affected by these negative interactions, when in fact these events are quite important and hurtful to them, so much so that they change how they interact with the system as a result," she says.
The researchers found that 29 of the 33 interviewees reported being treated unfairly or being discriminated against in a healthcare setting because of their injection drug use. "The minute they find out that you're [an] injection user, the doctors, you can see it right in their face," one participant said. "I don't like the treatment. I hate telling the doctor that I use drugs. Hate it. Their whole attitude changes…"
The researchers particularly noted a common theme of people who inject drugs feeling that healthcare providers and other staff believed that they were coming to the hospital to get pain medication, resulting in lower-quality care and rushed visits. "I had an abscess on my head. My whole face was swollen. I was in a lot of pain. And they would not give me any pain medication because I have an opiate problem," another participant said. "Your arm has to be like ripped off before they'll give you a Tylenol."
To avoid dehumanizing treatment, the study participants reported a range of strategies, including downplaying or denying how much pain they were experiencing to avoid being seen as "med seeking." Other participants said that they did not disclose their substance use to their healthcare providers. Both of these strategies could lead to incorrect diagnoses, insufficient care, and missed opportunities for preventative services, the researchers wrote.
Several participants reported not seeking care altogether until they needed emergency services. "A lot of the times that I need to get medical attention, I put it off and put it off and put it off," one participant said, "because I don't want to face the embarrassment that they make me feel, and that's not fair. It's not."
Many of the study participants described the contrast between how they were treated at large healthcare institutions and how they were received by community-based organizations such as needle exchanges and HIV/HCV testing centers. The described the latter as "safe havens," and felt they could be more honest and open with staff there. "They didn't look down on me [or] think I was crying because I wanted more pain meds," one study participant said. "They treated me like I was a human."
The authors wrote that the interviews overwhelmingly indicate that healthcare providers need more education and training for providing quality care to people who inject drugs, and other interventions to build empathy toward this population. They also wrote that, based on the positive attitudes toward community-based organizations seen in this and other studies, "the integration of preventive and specialized healthcare services into these organizations holds promise."
The study was co-authored by Ellen Childs, research scientist in the Department of Health Law, Policy & Management; Mari-Lynn Drainoni, associate professor of health law, policy & management; Richard Saitz, professor of community health sciences; and Angela Bazzi, assistant professor of community health sciences. The other co-authors were Katie Biello and Matthew Mimiaga of Brown University and the Fenway Institute, and Peter Salhaney and Alberto Edeza of Brown University.