Some Child Development Milestones May Be Too Early
.
Most nine-month-old babies can sit up by themselves, copy sounds, and play games like peek-a-boo, according to developmental milestone guidelines from the Centers for Disease Control and Prevention (CDC). But does "most children" mean almost all, or just more than half? Does "can" mean that they demonstrate these abilities often, or every once in a while? Developmental milestones are a key part of pediatric visits for children under five years old, allowing parents and pediatricians to "act early" if a child needs more support, but there is actually little data on what proportion of children reach milestones at different ages.
Now, a new School of Public Health study published in the journal Pediatrics provides more specific data on what is typical behavior at different ages—finding that, for some of the CDC guidelines, "most children" can mean over 99 percent or barely half.
For example, the study finds that 93 percent of nine-month-olds copy sounds, but only 44 percent demonstrate this ability "very much." While the CDC says to "act early" if a nine-month-old doesn't play games like peek-a-boo, the study finds that as many as one in ten children haven't reached that milestone at that age, and only 49 percent demonstrate the behavior "very much."
"The CDC guidelines are just that: guidelines," says study lead author R. Christopher Sheldrick, research associate professor of health law, policy & management. "Parents should know that medical guidelines of all kinds are frequently updated based on new information. In the meantime, parents should consider advice from a range of sources and ask their pediatric providers if they have concerns."
The researchers used data from 41,465 parent responses to the Survey of Wellbeing of Young Children (SWYC) in Massachusetts, Rhode Island, and Minnesota. SWYC was created by Sheldrick and study co-author Ellen Perrin of the Tufts University School of Medicine and Medical Center in 2010, and includes 54 questions about developmental milestones over a child's first five years.
For this study, the researchers compared 31 CDC milestones with 26 corresponding SWYC questions. Unlike the CDC milestones, which only refer to a child doing or not doing something, SWYC asks parents if a child displays a behavior "not yet," "somewhat," or "very much."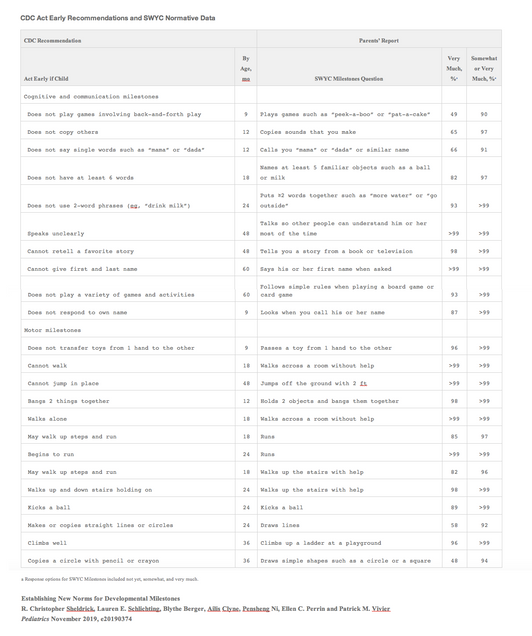 The researchers found that a very high percentage (generally over 90 percent) of children "somewhat" or "very much" demonstrated behaviors by the ages that the CDC says, and an even higher percentage by the age at which the CDC says parents should "act early." On the other hand, if only demonstrating a behavior "very much" counted as a pass, the researchers found that less than half of children reached several of the milestones at the ages that the CDC says "most" do or at the ages to "act early."
Consistent with previous studies, the researchers also found that factors such as social determinants of health (such as a family's Medicaid status and being subject to structural racism, and a child's exposure to smoking and substance misuse) and premature birth had significant effects on when children reached different milestones.
The study was co-authored by Pengsheng Ni, research associate professor of health law, policy & management. The other co-authors were Lauren Schlichting and Patrick Vivier of Brown University, and Blythe Berger and Ailis Clyne of the Rhode Island Department of Health.