Professor Awarded $3.2M to Establish Biorepository Network for Gulf War Illness Research
.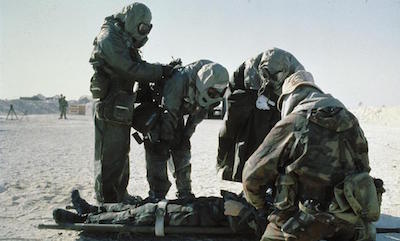 To go from knowing nothing about a "mystery" condition to developing targeted treatment for it in under 30 years is fast, says Kimberly Sullivan, research assistant professor of environmental health. But for the roughly 200,000 veterans suffering from the set of chronic and debilitating symptoms now known as Gulf War Illness (GWI), Sullivan says it is a very long time to wait for validation, VA benefits, and treatment.
"It is our responsibility to take care of our veterans who fought for their country and came back sick from chemical exposures during the war," she says. "Our veterans have been waiting a long time for treatments for these 'toxic wounds,' and it is urgent that we get this accomplished before other disorders of aging emerge."
To speed up the process, Sullivan is leading the creation of the Boston Biorepository, Recruitment, and Integrative Network (BBRAIN) for GWI research, thanks to a $3.2 million award from the Department of Defense Congressionally Directed Medical Research Programs (CDMRP).
Building off of the ongoing Boston Gulf War Illness Consortium (GWIC), BBRAIN will launch this summer with a new study of 500 veterans at four sites around the country (Boston, New York, Miami, and San Francisco), and will house previously and newly collected biological specimens and clinical data from Gulf War veterans with and without GWI.
To get veterans what they need as quickly as possible, Sullivan says, BBRAIN aims to get researchers what they need as quickly as possible. The samples of saliva, blood, DNA, RNA, stool, and urine, as well as brain imaging and mountains of data, will be available to researchers within and outside of the consortium. BBRAIN will have a centralized website for researchers to request samples and data from Sullivan's multi-site team, and from BBRAIN's collaborating repository site at Nova Southeastern University in Florida.
Meanwhile, Sullivan is also a co-investigator of the multisite, $8 million Gulf War Illness Clinical Trials and Interventions Consortium (GWICTIC) in collaboration with Nova Southeastern University researchers. GWICTIC is now testing several potential treatments for the disease, and Sullivan's team will use brain imaging before and after treatment to determine the best medications to bring to larger trials.
Research over the 28 years since the Gulf War, much of it by Sullivan and her colleagues, has revealed that one in three Gulf War veterans experiences a set of debilitating symptoms, including memory impairment, chronic pain, fatigue, gastrointestinal issues, and now earlier onset of age-related chronic diseases. Their research has also identified the cause: exposure to the nerve agent sarin during the war, as well as the pyridostigmine bromide (PB) pills meant to protect against sarin gas, and the pesticides meant to protect soldiers against insect-borne illnesses.
But so far, the evidence has been based on self-reported symptoms, making it difficult for Gulf War veterans to get VA benefits. This summer's inaugural study by BBRAIN aims to change that. With new blood tests and brain-imaging technology, Sullivan and her colleagues hope to gather enough data from the 500 veterans to identify objective diagnostic biomarkers for GWI, including visible changes in the brain's white matter.
Recent research has shown that GWI damages white matter, which can trigger other parts of the brain's immune system, called glia, to become overly active. The new BBRAIN study will try to identify how the white matter is being damaged, and to pinpoint which kinds of glia are overactive. "By understanding this, we can then identify exactly what treatments to try with our veterans," Sullivan says. "We now have FDA-approved treatments specifically targeting different types of glia that were not available even a few years ago."
It is not only neurological researchers who have a stake in understanding and finding treatment for GWI, she says, or even only those working to protect and improve veterans' health. The pesticides used on soldiers in the Gulf War are still used in agriculture in much of the world, she notes, and sarin nerve gas has been used on civilians in Syria's ongoing civil war. Identifying treatments for Gulf War veterans' toxic wounds can help these and other populations, Sullivan says.
With a treatment hopefully on the horizon, Sullivan says collaboration—between disciplines and through networks like BBRAIN—continues to be key. "This is how we've gotten as far as we have: teams of scientists with different expertise coming together to solve different pieces of the puzzle of this complex illness while there is still time."
Learn more about the Boston Gulf War Illness Consortium studies here or on Facebook here. 
The Boston Gulf War Illness Consortium is recruiting sick and healthy Gulf War veterans for a one-visit study that will include blood and saliva samples, brain imaging, and cognitive testing. This study is designed to develop diagnostic tests and treatments for veterans with Gulf War Illness. Compensation is available. Please contact Joy Ajama at 617-358-1717 or email GWIC@bu.edu if you are interested in learning more about participating.