'I Have Devoted My Career to Improving Latino Health'
.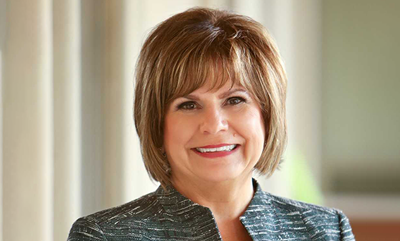 Born and raised in Laredo, Texas, Amelie Ramirez saw firsthand the barriers to medical care and other resources available to Latinos.
"I couldn't help but see that many people along the Texas–Mexico border face inadequate access to high-quality health care and battles with chronic disease," says Ramirez. "I decided that I wanted to do something to help residents in my community live healthier."
After earning degrees in psychology and public health, Ramirez launched a distinguished career of more than three decades in health disparities and health promotion research, and is currently professor and interim chair of the epidemiology and biostatistics department at the University of Texas Health Science Center at San Antonio and director of the Institute for Health Promotion Research (IHPR). On Monday, March 18, Ramirez will visit the School of Public Health to speak about the value of incorporating innovative multimedia tools in public health work during the Public Health Forum "Using Digital Strategies to Promote Public Health Advocacy."
Ramirez will discuss the work of a program she established at IHPR called Salud America!, a national Latino-focused program that creates culturally relevant and research-based stories, videos, and tools to foster healthy changes to policies, systems, and environments that can lead to health equity among Latino children and families. The work of Salud America!'s 250,000-plus network has led to more than 250 policy changes in the past year that have benefitted Latino children and families and supported health equity.
Ahead of the forum, Ramirez spoke further about the work of Salud America!, the power of multimedia, and her motivation to help improve the lives of Latino families each day.
Can you talk more about Salud America! and the strategies it has employed to shape more than 250 health policy changes for Latinos?
Salud empowers an online network of 250,000-plus Latino health-focused parents, community and school leaders, and healthcare providers toward behavior change and grassroots advocacy through its adaptable multimedia health equity communication structure. This structure allows rapid creation and dissemination of digital, video, and other content on its website, email, and social media. Content includes culturally relevant, theory-driven peer model stories and videos on healthy change; news on policy and system changes; interactive "action packs" to spur community organizations toward big on-the-ground healthy changes; multimedia campaigns to engage people to raise their voice for system change; and social media messaging to advance health behaviors.
Salud utilizes social marketing to change health behaviors and increase grassroots advocacy, through building efficacy to influence Latino audiences to advocate for changes in policy, systems, and environment, and to ensure such policy is based on an understanding of Latino people's lives and tailored to the desired behavior changes, making policy goals realistic and achievable.
Salud also utilizes digital content curation to develop its content and tools on its website, social media, and e-communication channels, as well as disseminate tools and action opportunities to build people's efficacy to drive health system and policy changes. Digital content curation is an emerging strategy that uses a systematic, refined process to create tailored online and social health messages and prevent mixed messaging and information overload for an audience. Our Salud America! digital content curation model creates research-driven, theory-based, culturally relevant, and engaging peer model content that inspires people to drive community change.
Do you think this upstream approach is the most effective way to improve the health of populations and create health equity?
As public health professionals, we absolutely need to shift focus from the downstream (individual chronic disease treatment) to upstream (prevention strategies that address social determinants of health and the conditions in which people are born, grow, live, work, and play).
Latinos often face "upstream" challenges and conditions of poverty. No money or jobs. No quality childcare. Inferior schools. Unsafe neighborhoods. Unstable housing. No social or legal support. Limited access to healthy food. Poor access to transportation. No health care. Latinos then face "downstream" effects. These are heart disease, stroke, cancer, diabetes, respiratory conditions, obesity, arthritis, pedestrian fatalities, and more.
That's why we at Salud America! have developed this online network that targets Latino childhood and family health equity issues.
Digital industry experts have predicted that 80 percent of the world's internet traffic will be video by 2021. How has Salud America! used video to enhance its projects, and do you think this medium is especially important for public health experts to embrace in a field that often focuses on complex data and statistics?  
We are always trying new and innovative approaches to reach Latinos. Because Latinos are among the heaviest users of mobile Internet, texting, and social media, we're utilizing the latest mobile technologies—mobile phone apps, text messaging programs, and social media innovations and videos, etc.—to reach Latinos where they are, in real time, to improve their health and empower them to advocate for healthy change.
Video is an especially impactful component of all these new technologies. Our Salud Hero video series (mini-documentary and social media versions) show leaders, parents, and health professionals who are achievable opportunities for change—like working with a school to open its school yards after hours for public use, pushing for removal of sugary drinks at day cares, building mental health curricula for schools, and much more. People watch our videos and see that real people are capable of making change.
What are the some of the challenges you've faced in conveying to policymakers the health disparities that Latinos experience and why policy changes are needed? 
Latinos comprise about 18 percent of the US population and is now the majority minority. This will reach 26 by 2045. Latino health will continue to be important, especially as this very young population begins to age.
Even as the focus on Latino health has risen over the years, more work is needed, in more areas of research, and raising awareness of the particular issues and how they can be addressed by decision-makers at the local, school, state, and federal levels. We are learning more about the impact of where Latinos live that affects their health, from residential segregation to poverty to access to social support, healthy food, safe places to play, and educational opportunities. We are increasingly looking into new Latino health equity areas, including trauma and adverse childhood experiences, education, chemical and toxic exposure, green and active spaces, housing, transportation and mobility, embracing immigrants, overcoming harmful biases, and understanding and reducing poverty. Getting policymakers to address these root causes of health inequity is critical.
What motivates you to do the work that you do and what is most fulfilling about it?
I have devoted my career to improving Latino health. I have about three decades conducting research, health promotion and communication, community outreach, speaking engagements, and student training to reduce health disparities and promote health equity and a culture of health, where everyone has a fair and just opportunity to be as healthy as possible.
What still motivates me is the daily challenge of creating unique interventions and digital communications that positively influence health behaviors, build people's capacity for health advocacy, and spur community-wide policy, systems, and environmental changes that have helped reduce disease and improve the lives of Latinos across the nation.