Alum Spotlights Global Mistreatment of Pregnant Women
.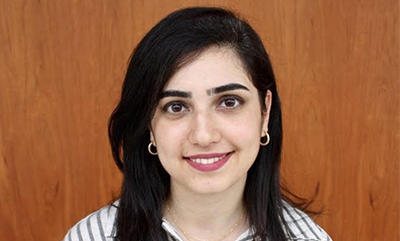 Alum Hedieh Mehrtash (SAR'13, SPH'15) has a passion for improving the quality of care in health systems. With a focus on global health, Mehrtash completed the Master of Public Health program at the School of Public Health to gain the skill sets needed to study and improve the user's experience of the healthcare system.
Now Mehrtash is translating those skills into real-world practice as a quality of life researcher in the World Health Organization's (WHO) Department of Reproductive Health and Research. She recently served as second author of a major WHO-led study that shows that more than one-third of women in four lower-income countries experienced mistreatment during childbirth in health facilities. The study, which was published in the Lancet, was the first to use WHO's evidence-based, standardized tools to measure how women are treated during childbirth. 
Mehrtash used Statistical Analysis Software (SAS)—a program that she learned at SPH—to lead the data analysis of the impactful study, which she has been working on since she began her current role in July 2018. 
On using SAS in her work, Mehrtash says "BU is one of the very few schools that prepares students in terms of statistics to actually do that. It really gives students a competitive edge."
Focusing on women in Ghana, Guinea, Myanmar, and Nigeria, the study showed that 42 percent of women observed during labor and 35 percent of women surveyed experienced physical or verbal abuse, stigma, or discrimination. Mistreatment was most severe 30 minutes prior to birth and 15 minutes after, and more likely to occur among younger women with less education.  
"Given that there is limited evidence around experience of care of women during childbirth, our study enables you to really understand better the nuances of what's happening across multiple settings with one tool," say Mehrtash.
By highlighting these nuances, Mehrtash hopes that quality of care and the overall experience of women during such a significant time in their lives will improve.

"It's not just about the final outcome of delivering your healthy baby," she says. "I think we have a lot to do in terms of improving the quality and experience of women, and overall user's experience of healthcare systems globally, whether it's maternal or cancer or other health issues."
Two human rights bodies, the United Nations and the Parliamentary Assembly of the Council of Europe, are now approaching the issue from a gender and human rights lens. While the study focused on lower-income countries, Mehrtash says momentum is growing for policy change surrounding the mistreatment of women in childbirth internationally, including in more developed countries such as the United States.