Advocacy 101: Physicians Are in 'Unique Position'
.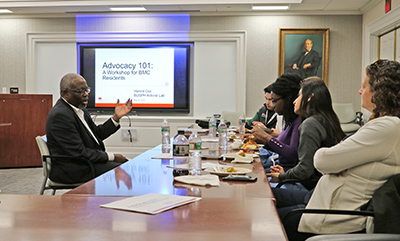 Patient advocacy is a core value among physicians, who have the distinct ability to be a voice for young, elderly, vulnerable, or distressed patients.
On Wednesday, May 15, The Activist Lab at the School of Public Health conducted an Advocacy 101 workshop for Boston Medical Center residents, to equip them with strategies and tools to advocate effectively for patients and improve their health outcomes. The training was led by Harold Cox, associate dean of public health practice and associate professor of community health sciences, and Emily Barbo, communications manager for the Activist Lab, and it was offered in partnership with the BUMC Center for Health Equity.
"In order to effectively advocate for any kind of change, you have to work in a coalition, and those coalitions work best when they're interdisciplinary," Barbo said. "It's important for people at SPH to know and understand the roles of physicians in patient health and population health."
"The term 'advocacy' can mean a lot of different things to different people," Cox said to the residents, including a third-year surgery resident and several pediatric interns in the Boston Combined Residency Program. "Advocacy is how you influence policy and resource allocation, and bring awareness and engagement to a particular issue, which can take place at the local, state, or federal level."
The residents shared examples of ways they have already advocated for their patients, and how they hope to strengthen their dual roles as physicians and advocates to protect and improve the health of their patients on an individual level—described during the event as "Little A" – or on a broader systematic or policy level—referred to as "Big A."
Pediatric intern Beverly Aiyanyor, described one of her first "Little A" experiences of patient advocacy, which occurred just two months after she became a physician. A young patient was struggling academically, and the patient's mother became frustrated when teachers suggested the patient repeat a grade level. Aiyanyor said it was evident that the patient needed extra assistance, but did not need to be held back in school – so she addressed the issue directly with the school administrators.
"I said, 'I am the doctor of this patient, and I am mandating that your school completes a team evaluation of this patient,' to determine the underlying causes of her academic performance issues," Aiyanyor said. "The patient's mom, who didn't feel like her voice was being heard by the school, was grateful that they listened to me."
Cox noted that despite physicians' ability to engage in advocacy and impact health policies and programs at any level, doctors maintain the lowest voting rate among any other professional population in the United States.
"Why do you think that is?" he asked the group. "Voting is one of the most important things you can do to exercise your involvement in 'Big A' advocacy."
Answers from the group centered around apathy and a burdensome work schedule.
"There's a general sense among physicians that we do good work every day, we helped people, and so we're done" at the end of the day, said Megan Janeway, resident leader of the Socially Responsible Surgery group in the Department of Surgery at BMC.
Rohini Jain, a pediatric intern on the urban health advocacy track, said it is shocking how so many physicians are able to stay in the "bubble of medicine."
"There are days that go by where you may not look at any type of print outside of medicine. It's scary how complacent you can get, and then you realize there's a whole world that you haven't been involved in," she said.
Cox then guided the residents outside of their figurative bubbles and into real-world scenarios as he explained the six core elements of advocacy: defining an issue and goal; identifying and engaging decision-makers; identifying obstacles and groups that will oppose the goal; establishing partnerships; creating a tactical plan; and developing advocacy messages.
Working in small groups, the residents practiced identifying each element for a case study on the implementation of safe injection sites in Boston, with two groups arguing in support of the sites, and two groups opposing the supervised facilities.
The residents in favor of the sites deliberated on which stakeholders would be able to approve the facilities. City Council? The mayor? A hospital?
"Remember that safe injection sites are technically illegal—there are federal laws that say you can't do this," Cox said. "So, who can pass the particular law that allows you to do this? It's at the federal level."
But, he pointed out, marijuana is technically illegal at the federal level, too. However, since there is wide public support in many cities for medicinal, and now recreational, marijuana shops, "the federal government is basically ignoring these shops, and they are less likely to shut them down.
"It's important to understand how the system works, in order to get the results that you want," Cox said.
After the groups identified partnerships, oppositions, and messaging on both sides of the issue, Cox provided the residents with parting advice: creating narrow and clearly defined issues will maximize the chances of achieving an intended goal.
"It's important to engage stakeholders, and remember that the process is not linear," he said. "There will be mistakes, but you will get to the place where you want to be."