What is the Transgender Rights Initiative
?
Iris is an MPH candidate at BU SPH and was recently appointed as the Activist Fellow focusing on the transgender rights ballot initiative through the fall. As the fellowship is ramping up, we sat down with Iris to learn about their experience.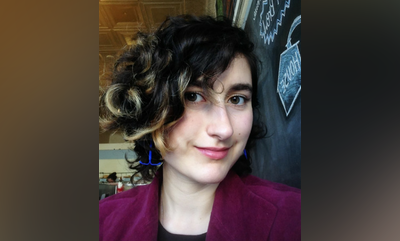 Iris Olson
Activist Fellow
Breakfast: Each morning is different. I tend to make a smoothie for the road. If I'm slowing down to enjoy my morning, I will pull out my waffle maker and brew tea.
Hometown: Growing up I was pretty transient, moving every few years. At this point, home tends to be wherever my art supplies are.
Extracurriculars: I started a project called Sexistential Joy with a few friends; it's a sex and gender education website that reflects on topics as well as makes information more accessible to various communities. I've also been involved with the blues dancing community in Cambridge. Other than that I'll tend to stay in and make animations and zines when I have free time.
What made you apply to be the Activist Fellow?
I was new to Boston University and greatly missing my friends and fellow activists at Antioch College. Boston is a pretty big place compared to the town of Yellow Springs. I wanted to get involved and had been watching the Activist Lab for opportunities and contributing to some actions when I had the time. I noticed the fellowship and was already aware of the work that Freedom Massachusetts was doing so I decided to apply.
This fellowship also hits close to home because I am gender nonconforming and know and care about many trans people. I want to make sure that all of them are safe and have the ability to live in a world where they can be themselves. This fellowship allows me to take action in trying to take care of them and make Massachusetts a safe area for trans people.
What is Freedom for All Massachusetts and why is it important?
Freedom for All Massachusetts is a broad-based bipartisan coalition that previously helped add gender identity as a protected category in the Commonwealth's public accommodations law alongside age, race, creed, color, national origin, sexual orientation, sex, religion, and marital status. This was passed and put into effect in 2016, adding Massachusetts to the list of 18 states to fully protect transgender people from discrimination under the law. There is an Anti-Discrimination Veto Referendum that will be on the ballot November 6th, 2018. This referendum has the potential to remove gender identity from the list of characteristics for which discrimination in public places is prohibited by state law. The goal of the Freedom for All Massachusetts campaign this coming year is to continue building the Commonwealth's familiarity with transgender people and to continue growing support for fair and equal treatment. Full transgender equality is the law in Massachusetts now and Freedom for All Massachusetts is working towards keeping gender identity protected from discrimination.
What are you working on now?
For this fellowship, I will be working with the Greater Boston South team on a variety of advocacy goals. I will be focusing both on recruitment and public education concerning transgender equality. I am currently helping research and identify locations and organizations to approach so that we can grow our affiliates as well as find places that would also have supporters of this issue.
What advice would you give members of the SPH Community who are interested in getting involved with this issue?
Email me at iris@freedommassachusetts.org and keep an eye out for future efforts that Freedom for All Massachusetts will have on campus!