Student Receives Reach for the Stars Scholarship
.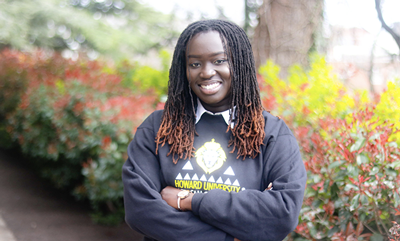 Khadyja Sarr, a first-year Master of Public Health student, has received a Reach for the Stars scholarship from Sister to Sister International, Inc. The $1,000 scholarship is awarded annually to deserving students.
Sister to Sister is a nonprofit organization that mentors middle-school, high-school, and college-age girls of African descent globally. Its programs focus on health and wellness, education, and global affairs, and include health symposia, personal and professional development workshops, academic enrichment programs, and more.
Sarr received the Reach for the Stars scholarship thanks to her dedicated involvement in the Westchester, N.Y.-based organization. She volunteered with Sister to Sister during her high school years, as well as during visits home to Westchester after moving to Washington, D.C., to attend Howard University, from which she graduated in May. She participated in Sister 2 Sister's STEAM (Science, Technology, Engineering, Arts, and Math) Camp each summer in high school, first as a student and then as a camp counselor.
Sarr, who is planning to complete the Healthcare Management certificate, says that she was really surprised but appreciative to receive the scholarship, and that she will continue volunteering with Sister 2 Sister in New York whenever she can. She recently served as a panelist at the organization's annual "Black Women and Girl-Child" event, speaking about public health and empowerment in professional settings.
"They made a really huge impact on the person that I am today," Sarr says of Sister 2 Sister. "I think it's really important that I give back and continue to be the mentor that I had during high school."
After receiving her MPH, Sarr says she would like to become a health administrator or consultant. She was originally on a pre-med track at Howard, where she majored in health science with a concentration in health management, but she changed her mind and decided to pursue an MPH degree so that her work could create change on an institutional or societal level, rather than an individual level.
"A lot of times there is a misconception that if you have to be in health care, you have to either be a doctor or a nurse, or someone who is doing something clinical," Sarr says. "I want to do my part to share my knowledge and experience with Sister to Sister girls and show that there are other options in the healthcare field."
Sister to Sister was founded in 1994 as a family group and has since grown into a global network of hundreds of women, including professionals, entrepreneurs, elected officials, students, and activists.