Eligibility, Communication Issues Barriers to Substance Use Disorder Treatment
.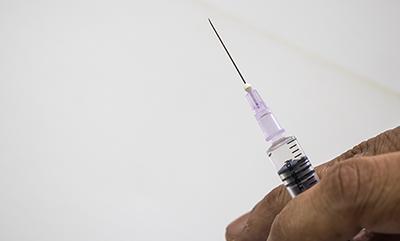 Issues related to patient eligibility, treatment capacity, understanding of options, and communication problems all contribute to delays in getting treatment for patients with substance use disorders, according to a report co-authored by a School of Public Health researcher.
The study, published in Journal of Addiction Medicine, underscores the difficulties patients face in receiving prompt treatment for substance use disorders.
"We need to unlock the complexity of the health care system for every American, but in particular for persons in crisis with addiction and other mental health disorders," says co-author Michael Stein, professor and chair of health law, policy & management. "How do we help people arrange the services they need and will be most effective for them? How do we help these persons find and communicate with community service providers in a seamless way? We need to build new models of delivery."
The ongoing opioid crisis has drawn attention to the widening gap between the high need and limited access to substance use treatment in the United States. A recent Substance Abuse and Mental Health Services Administration report found that of 21.7 million Americans in need of substance use disorder treatment, only 2.35 million received treatment at a specialty facility.
"The demand for substance use disorder treatment is increasing, fueled by the opioid epidemic and the Affordable Care Act mandate to treat substance use disorders," the authors wrote. "The increased demand for treatment, however, is not being met by a corresponding increase in access to or availability of treatment."
The researchers performed a series of interviews with 59 stakeholders in the treatment referral process. The study gathered input from those who make referrals for substance use treatment, including emergency medicine physicians, addiction specialists, and other medical providers as well as those who receive referrals, including substance use treatment facility staff and administrators.
The researchers identified several barriers in the referral process, including: difficulties in determining patient eligibility, lack of transparency regarding treatment capacity, referral source knowledge/understanding of options, and issues with communication between referral source and recipient.
Based on the results, the authors made a number of recommendations for improvements to the referral process, including a database of clear eligibility criteria, real-time information on treatment capacity, and increased education and training for providers on substance use treatment. They also proposed ways to improve communication and reduce treatment waiting times, including new information technologies.
"Substance use treatment providers lack true population-level data, including patient need, organizational capacity, referral processes (where and for what conditions), and long-term tracking of treatment outcome," the authors concluded. "By improving systems that enhance communication across organizations, patient referrals may be more easily completed, improving access to care and expanding the use of appropriate treatments for the many patients in need."
In an accompanying commentary, David Rosenbloom, professor of health law, policy & management, discussed the underlying reasons for the current "dysfunctional referral system."
"Discharging a person who is likely to go into withdrawal should be considered malpractice," he wrote. "Patients can still refuse care, but as treatment results improve and stigma is reduced, they will seek it.
"Build it. They will come."