Eggs of Urban Chickens Contaminated with Lead
.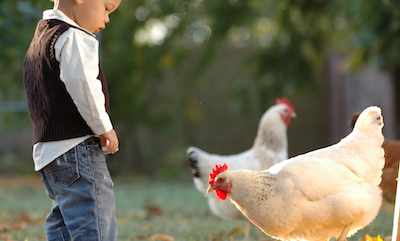 Chicken ownership has become increasingly popular in the United States in recent years, including in cities. Although wanting more nutritious, tastier, and safer eggs is an often-cited motivation for backyard chicken owners, eggs from urban chickens can contribute to lead exposure in young children, according to a new study led by School of Public Health researchers.
The study, published in Environmental Research, finds eggs from backyard chickens in Greater Boston contain notably higher concentrations of lead than market eggs, and eating these eggs could increase blood lead levels in children, particularly those younger than a year old.
"Backyard chickens can be a great way for kids to learn about animals and nutrition," says Jessica Leibler, assistant professor of environmental health and the study's co-lead author with doctoral student Komal Basra. "However, even low levels of lead exposure can harm child development, so testing your coop soil for lead and replacing it if necessary is important to protect children's health."
Leibler and her colleagues recruited 51 households with backyard chickens in Greater Boston for the study. They collected and analyzed the lead concentrations in 201 eggs from the participants' chickens and in soil samples from 48 coops.
The researchers detected lead in the yolks and whites of the eggs from 98 percent of the households that provided egg samples, with a strong association between lead levels in eggs and in the soil from the coops where the eggs were from.
Egg lead concentrations ranged from below the limit of detection, 0.0014 micrograms of lead per gram, up to to 1.798 micrograms per gram, with an average concentration of 0.10 micrograms of lead per gram. The authors noted that these concentrations were much higher than those found in a US Food and Drug Administration (FDA) analysis of a small number of market eggs from 2006 to 2013, where the average lead concentration was 0.0004 micrograms per gram and the maximum was 0.014 micrograms per gram.
To calculate how much of an effect the lead in these eggs could have on the children who eat them, the researchers used the Integrated Exposure Uptake Biokinetic Model for Lead in Children. As the baseline, the researchers calculated the blood lead levels of children under 7 years old based on the FDA's estimate of the amount of lead in the average diet of children in the US.
In modeled scenarios, the researchers predicted children's blood lead increased by 0.9 to 1.5 micrograms of lead per deciliter of blood due to consumption of backyard eggs. Children younger than a year old would experience the greatest increases in predicted blood lead from eating backyard chicken eggs, from a baseline of 3.0 micrograms of lead per deciliter of blood from an average diet to as much as 4.5 micrograms in a diet including the backyard eggs.
The authors noted that the maximum lead concentration found in the eggs in the study was six times higher than the maximum concentration reported in a study of eggs from community gardens in New York City. "Our study participants produced eggs in their backyards, in close proximity to older-stock housing, while the New York City eggs were produced in a community garden environment, at perhaps greater distance from buildings," the authors wrote.
Based on the strong correlation between lead levels in coop soil and in eggs, and on the comparisons with eggs from New York City community gardens and industrial egg production, the authors wrote that their findings suggest urban households should ideally take steps to reduce the soil lead levels in their backyards before raising chickens.
The study's other SPH co-authors were Wendy Heiger-Bernays, clinical professor of environmental health, and Donna Vorhees, adjunct assistant professor of environmental health. The other co-authors were Thomas Ireland of the College of Arts & Sciences, and Marieke Rosenbaum, Alyssa McDonagh and Catherine Ressijac of the Cummings School of Veterinary Medicine at Tufts University.