During Pregnancy, Smoking and Diabetes Are Riskier Together
.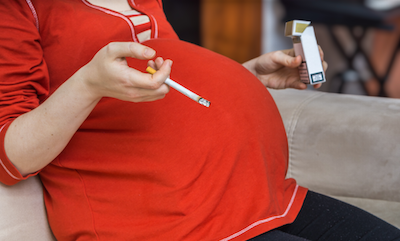 Smoking tobacco during pregnancy is one of the main modifiable risk factors for pregnancy complications. Having pregestational diabetes—that is, having diabetes before becoming pregnant—is the most common chronic condition complicating pregnancy.
Now, the first population-based study to look at the joint effects of smoking and pregestational diabetes during pregnancy, co-authored by School of Public Health researchers, finds the increased risk is greater than the sum of its parts.
The study, published in the Journal of Diabetes Research, finds the interaction between tobacco and pregestational diabetes increases the risk of preterm birth by an additional 11.7 percent beyond the risk from each factor added together, and increases the risk of congenital abnormalities by an additional 2.2 percent.
"Our findings are consistent with previous observations that tobacco smoking can have a negative effect on blood sugar levels among diabetic women," says study co-author Martha Werler, professor and chair of epidemiology.
The researchers used hospital discharge data from 5,780 deliveries in the Emilia-Romagna region of Northern Italy between 2007 and 2010, including 992 deliveries to women with pregestational diabetes. They used self-reported data on smoking at any time during pregnancy. To identify women with pregestational diabetes, the researchers used self-reported data, as well as data from diabetes registries for women in the Emilia-Romagna provinces of Modena and Reggio Emilia. The researchers used data from birth certificates to identify preterm births before 37 weeks and congenital abnormalities.
Although the proportion of smokers was similar among women with and without pregestational diabetes, the prevalences of babies born prematurely or with a congenital anomaly were higher among those with pregestational diabetes who smoked during their pregnancies compared to those who did not.
The effects of the interaction between pregestational diabetes and smoking were greater than additive for both preterm birth and congenital abnormalities, adding an excess prevalence of 11.7 percent for preterm birth and 2.2 percent for congenital abnormalities. The researchers calculated that about half of the preterm births and congenital abnormalities among babies born to women who had diabetes and were smokers was attributable to the interaction between the two risk factors.
The study was co-authored by Kenneth Rothman, professor of epidemiology, and Marco Vinceti, adjunct associate professor of epidemiology and a faculty member at the University of Modena and Reggio Emilia. The other co-authors were: Lucia Borsari, Carlotta Malagoli, and Marcella Malavolti of the University of Modena and Reggio Emilia; Rossella Rodolfi and Fausto Nicolini of the Local Health Authority of Reggio Emilia; and Gianfranco De Girolamo of the Local Health Authority of Modena.