'We Don't Get Anywhere as a Country If We Don't Invest in Our People'
.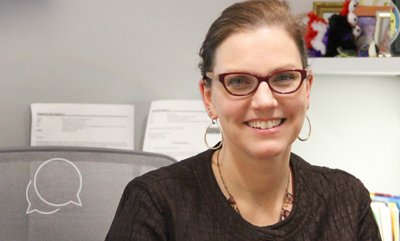 Stephanie Ettinger de Cuba ('03)
Doctoral student; Data Coordinating Center project director; Children's HealthWatch research and policy director
Hometown: Iowa City, Iowa
Breakfast: "The honest truth is I grabbed a piece of bread as I was running out the door, late for a meeting, and it had nothing on it."
What first brought you to SPH for your master's in public health—and what kept you here?
I've always been a very practical thinker and a pragmatic person. I really like the orientation at SPH toward public health to be applied now. Not to put it on a shelf and maybe in five years it'll be relevant, but to ask what we can do that's relevant to what's happening in the world right now, or how we think the world should be.
I have two hats that I wear. One is the more internal DCC-focused job where I'm working closely with several people here on data management and planning the analyses, and I also oversee all of the research sites, the site coordinators and data quality. All the nitty-gritty, behind-the-scenes stuff that happens with big data sets.
Then there's the more outward-facing role with Children's HealthWatch, where I'm working with our PIs from all the research sites on our analyses and watching the state and federal policy scene and trying to figure out where the opportunities are to insert our work.
What is Children's HealthWatch?
We're a nonpartisan network of pediatricians, public health researchers, and children's health and policy experts. We interview caregivers of children under the age of 4 who are bringing in their children for care in hospitals in five cities. We talk to them about their lives, their children's health, the hardships they experience, and the public assistance they do or don't receive. Then we bring those data together to analyze the social and economic factors that impact children and families. A central goal is watching trends over time. If a policy changes, what can we say about kids six months after, or a year after? We're trying to connect those dots between health and development and public policy and the economy in a timely way.
The cool, core goal of Children's HealthWatch is to bring research into the policy-making process at the state and federal levels—and the local level to some degree—so a lot of it is building relationships with policymakers, with legislative staff, with advocates who can use our work to support theirs.
How does Children's HealthWatch help turn data into policy?
We've actually built some relationships with congressional offices over time, and some of them are close enough that they reach out and say, "What do you have for us?" or "We're thinking about doing this, can you help us with it?"
For example, we have a really good relationship with the office of Representative Rosa DeLauro from Connecticut—she's awesome, she's totally passionate, and she was very worried about WIC and about young kids. In the last presidential administration, they were reauthorizing the Child Nutrition Act, which covers school meals, summer food, childcare feeding programs, and also WIC. We have a sister project started out of our Philadelphia research site called Witnesses to Hunger, which is made up of moms living in poverty who speak out about their experiences with poverty and the solutions they want to see, and we heard these moms saying, "Look, my kid got cut off of WIC at age 5 but he doesn't start kindergarten and get school meals for another four or five months, and in the meantime I have no nutrition support for him." The pediatricians in our group were also hearing the same thing from patient families in their clinics. So we started looking at our data and put together a policy brief looking at kids who were currently receiving WIC compared to young kids who had dropped out of WIC, and found how much better not only the WIC kids were doing but also how much better their moms were doing.
We made that a key piece of our advocacy around the Child Nutrition Reauthorization, closing what got dubbed the "WIC to 6 gap," and Representative DeLauro actually wrote some of our research into her bill. That's the kind of thing you want to be able to do: feed really credible, solid research to people who can use it and shape their policies built on research, based on science.
Are facts enough to change policy?
That's the whole challenge of this work. Trying to talk about science in an accurate way but also in a really compelling, public-friendly way is always hard. That's the tightrope.
Frankly the goal is to have the snippet, the little soundbite, that is totally backed up by research but doesn't mention research at all. We've been working with some partners on that, trying to figure out how we counteract the harmful, negative narrative about people on public assistance. We're trying to flip the conversation to things like, "SNAP is about children's health. SNAP is about families sitting around a table having a meal together."
What do you think of the current role narratives are playing in government?
The appealing to base instincts that's happened in the national cultural narrative, pitting people against each other and making it "us against them," is very disturbing to me. And personally as the child of immigrants, that whole angry, negative narrative about immigrants is really horrifying.
The core of this work is trying to remember that we all have dignity, everybody has something to contribute, and treating other people respectfully is a really big part of who I am and of my work—whatever the policy is, whether it's a public assistance program or more generally about a particular vulnerable population. We don't get anywhere as a country if we don't invest in our people and are just chopping programs up and cutting people off. It's a really disturbing direction we've taken.
What keeps you motivated?
My kids are pretty central to my thinking about my work. I have two boys, and just thinking about the example I want to set for them with the type of work I do, and the type of world that I want them to live in, is core to how I make decisions for what work I'm really going to put my effort into.